Web browser is one of the most important apps in our daily life. Most of the services and activities are done via a browser nowadays. iPhone is shipped with a stock browser called Safari.  Though it has many unique features that are different from Chrome, Firefox or IE,  it is still not favored by most of iPhone users. So what are the best alternative to Safari in App Store? Please check out the list from here.
1. Firefox Focus  (Elegant and Fast Web Browser)
It doesn't surprise me if Firefox made it our list because the Firefox developers team have updated the browsers, and they are looking sharp on the paper. Firefox nailed desktop browser for the advanced features of the Mozilla Quantum, and the developers launched Firefox focus. The Focus edition browser developed keeping privacy, so you don't need to turn on incognito mode to maintain security. The Focus browser stealth mode is always turned on, so you don't get victimized by the web trackers.
Firefox Focus Features:
Privacy is top priority to protect you from all known types of web trackers.

Elegant design and smooth performance.

Open multiple tabs easily within one page.

Smart search prediction and access multiple search engines in seconds.

Get frequent updates and surprisingly new features being added consistently.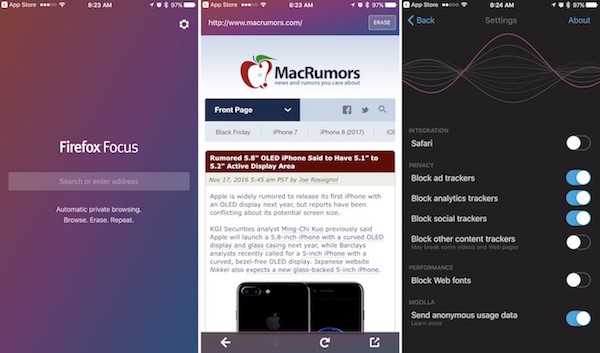 More reading: Clean browser cache and junk files on iPhone
2. Adblock Browser (Keep Ads Free)
Adblock browser's primary purpose of keeping you safe from advertisements. Unfortunately, advertisements have plagued our privacy by stealing data like IP as well as other personal information. That's why we need ad-free browsing experience. Adblocker offers decent security against the ads and the hidden tracking activity that comes with it.
Adblock Browser Features:
Best Ads blocking algorithms in the world.

Disable social media sharing buttons that can track your location and device as well.

Incognito mode available to surf the Internet anonymously.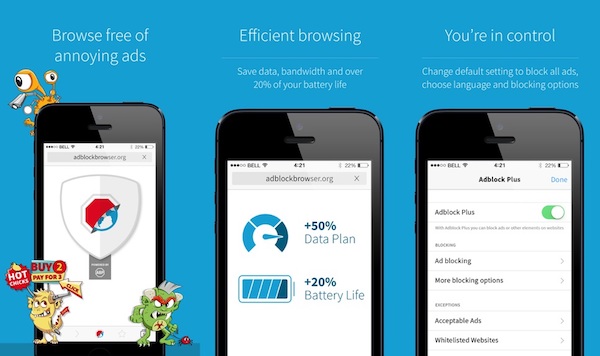 3. Google Chrome (Most Popular Web Browser)
Google Chrome is one of the leading browsers in the world right now, and they are known for perfection. However, allow us to tell you more about the Google Chrome performance and features because it has made it our list, but in the fourth position.
Chrome Features:
Sync data across multiple devices with Google account.

Access previously visited pages quickly.

Support searching web page via voice.

Auto translate web pages in foreign languages.

Tons of extensions available to rich the browsing experience.

Optimized well for the latest the iPhone X-series.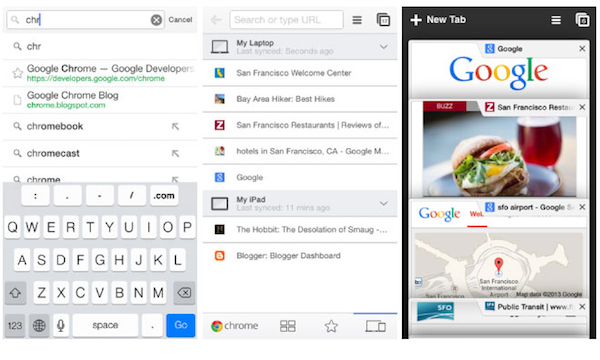 4. Opera Mini (User Friendly for Old iOS device)
I have been using Opera Mini since 2009, and I can tell you that it is one of the best browsers for older iPhone's. In case, if you are running iOS 9 on your iPhone 4S or 5S, then you should try the Opera Mini, and I don't recommend it for the newer devices like  iPhone X-series. Opera Mini offers many new features for the users like making pages lighter, and increase the loading speed. It comes with Incognito mode, so you can maintain your privacy without compromising.
Opera Mini Features:
Sleek new design of iOS app.

Get tuned with the latest news across the globe.

Block annoying ads.

Reduce mobile data dramatically.

Smart night mode for better reading.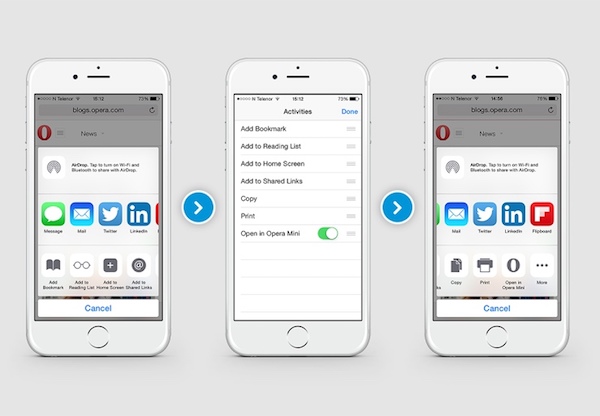 5. Ghostery (Best Private Web Browser)
Ghostery Privacy Browser enables you to learn about the websites that have trackers on it because the browser alerts you when a web tracker is following you. The browser journey began as a tracking blocker add-on, but they later developed the browser to offer more control over your privacy.
Ghostery Features:
Display webpage tracking your browsing activity.

Build-in feature to block and remove intrusive ads.

Private search engine powered by Cliqz.

Warning messages on potential fraudulent website.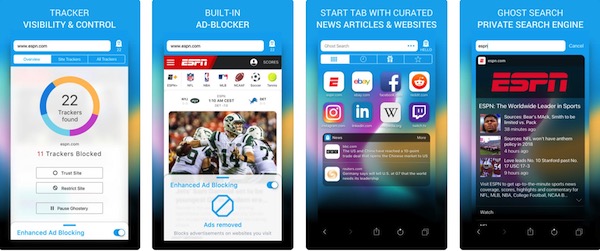 Conclusion
Mozilla has surprised me in 2018 after they launched Quantum browser, and now they Firefox Focus that offers excellent features. Try Focus browser because it is my primary browser now.