iPhone is very user-friendly and highly advanced gadget, but over the time by incessant usage unnecessary, unused, damaged files get clogged up in your device storage. Removal of these damaged or junk files is very much mandatory for smoother device operation. Many users who are new to using iPhone or any other apple products are not full adept with the technicalities and intricacies of apple products and thus they fail to keep their devices clean.
But don't worry, here in this article we would demonstrate you 2 very effective methods to offer a spring clean to your iPhone to remove unwanted files which in turn will definitely improve the system performance and speed boosting. The methods are basically the implementation of certain third party iOS cleaning apps, which are deliberately discussed in the below article.
Method 1: Clean iPhone App Caches and Junk Files via iTunes Restore
This is the best free methods you can find out to totally clean app caches and junk files on iOS devices. The process is secure and completed with the help of iTunes. First, connect the device to computer via USB cable and open iTunes app on the computer. Now backup this device with iTunes. After that, click "Restore" button on the main screen and restore iPhone as a new device.

The iPhone will run faster than before. This is 100% sure but this really takes time. In general, it is a good consideration but not the best if you keep reading the suggestions in below sections.
Method 2: How to Clean Junk Files with iOS Content Wiper
If you don't like the above suggestion, then TunesBro iOS Content Wiper should be a good consideration. It is a wonderful iOS device cleaning app with powerful functions. It is easily available on Apple store or you download it directly from the internet. It is especially compatible with the latest iOS 11. There are many other third party programs available but most of them are not free, rather paid. Thus this program is the most useful and efficient amongst all of them. Read the manual instructions on how to use the app in steps below:

Deletion is permanent. Zero possibility for data recovery.
5 data scanning and erasing engines you can choose from.
Get more free space than other clean app or software.
Compatible with Windows 10 and macOS 11.13.
Step 1

Download iOS Content Wiper and Connect iPhone to Computer

Firstly download the software on a computer and install it properly to avoid any further mishap. Connect your iPhone with your PC using USB cable and tap on "Trust this computer" notification when pops up on your iPhone screen.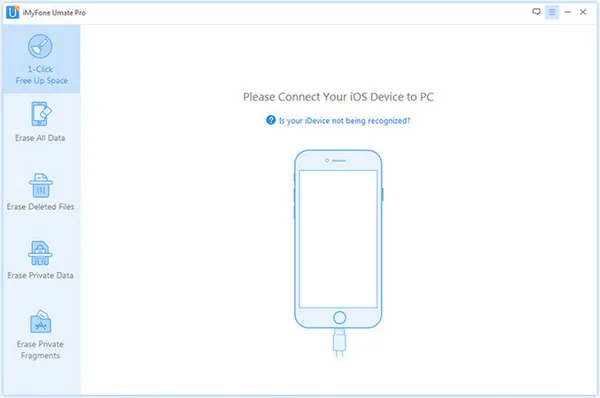 Step 2

Click "1-Click Free Up Space"

Open the app and from the main UI, click on "1-Click Free Up Space" from the left side panel and then click "Quick Scan" button on the right side to begin the scanning process. The scanning will extract all the collective junk and cache data on preview where you can check the volume of the junk files ready for removal.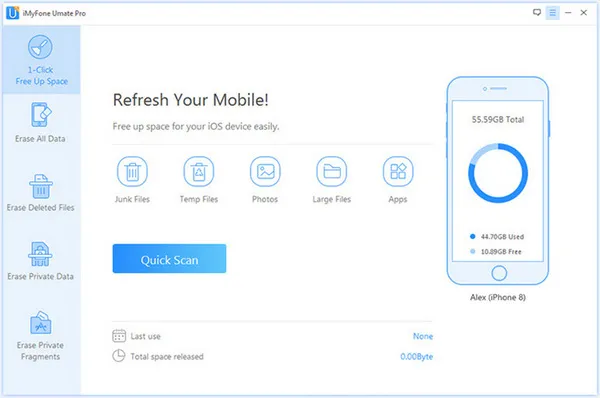 Step 3

Remove Selected Junk Files and Cache Data

After the scanning is completed, click on "Clean" button at the bottom right corner of the tool's screen and the cleaning process will begin instantaneously. Your iPhone will be completely refreshed in few minutes, and will be ready for smoother operations.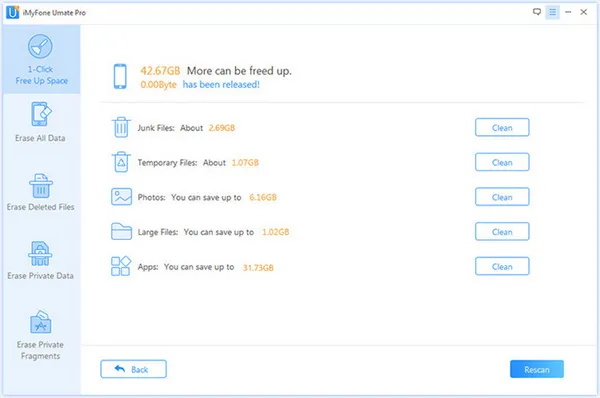 As you can see from the screen, there are 42G junk files and cache data being released from target iOS device. You can store more music, photos or videos on the device and there is no longer an issue for you any more.
Method 3: How to Easily Clear iPhone Junk Files and Cache ( Mac User Only)
PhoneClean is a free utility tool available on the internet market. You can also download it from your Apple Store for free. The tool is very small in size and can easily be installed in your device. Once it is installed you can use it any number of times to keep cleaning your iOS device so that it can remain in an intact form. Go through the steps instructions detailed below:
Step 1. Download the app from Apple Store or directly from the internet to your Mac computer and install it accurately.
Step 2. Connect your iPhone with your computer using USB cable.
Step 3. Now run PhoneClean and click "Scan" button from the main interface screen. Once the scanning is finished, it will display all the unnecessary junk files for removal.
Step 4. Click on "Clean" button and your cleaning process will commence instantly.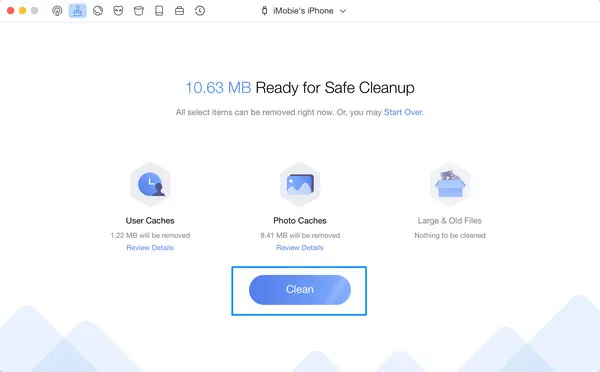 PhoneClean actually is a great app and you can use it for free. However, you can see the data being deleted (11 MB) is much less than iOS Content Wiper.
Conclusion
The three methods mentioned above in this article are fully functional and can easily be operated even with minimal technical knowledge. Thus utilize the tools with the same step instructions as written above whenever your system seemingly appears to be compromised by excessive junk or temporary files acquisition.

---
---