iPhone users might want to change from their old iPhone to a new one, by selling, donating, recycling or trading. In such situations, they have to remove data from their old phone to keep them safe from falling into the wrong hands. These include Contacts, Safari Bookmarks, Call History, Memos, Messages, Photos, and videos. These specific phone features create a high concern when marketing across used iPhone devices since the device user is not accustomed to the random online buyers. Other iPhone devices may also contain emails, banking information, logins and other useful information that needs to be permanently erased. Deletion is primarily through erasing of browsing caches and history to ensure the safety of your information so that it does not fall to data criminals.
Solution 1 : Manually Delete Everything on iPhone, iPad and iPod (100% Recoverable)
When we plan to sell our old iPhone or iPad device, we often consider initially to delete everything on device one by one. The method of deletion is very basic and easy to use. We take messages as an example. Just navigate to Messages app and choose the individual text or a thread you want to delete, then click delete button.
Another fastest method to delete unwanted text is to hit the Clear All button in the top left of your screen. This will delete entire conversation.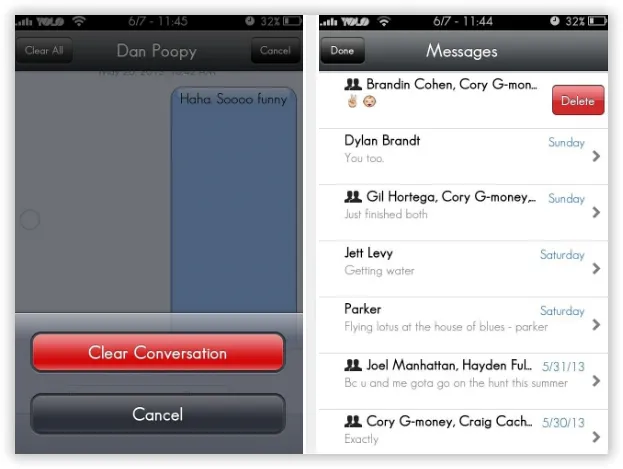 Were deleted messages gone forever? No, they still remain on your device's storage and easily recoverable.
Simply delete content may seem like a pretty simple task, but more often than not, those "Already deleted" messages can still be accessed even when you delete them from your iPhone.
The deleted content still remain on your iPhone's internal memory and until iOS system actually writes new data over the sectors containing the contents of the file so the file is still easily recoverable. However, there are many iPhone data recovery could scan these deleted content and recover them. If the data was overwritten by new data, the data recovery programs still can recover most of the data. It will be terrible. 
Warning: Tests revealed the already deleted messages were all scanned out and recoverable.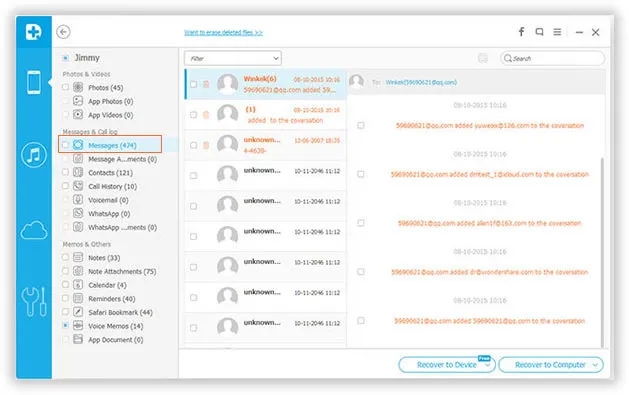 Users may wish to keep their device but want to make confident that their previously deleted data is unrecoverable, or inaccessible even with the latest software. Simple deletion does not guarantee the iPhone user information privacy; hence there is the need for a competent tool - TunesBro iPhone Data Eraser, which can help erase everything from iPhone, iPad and make it safe before handing over.
Solution 2 : How to Completely Erase Everything on iPhone, iPad and iPod ( Zero Recovery Possibilities)
TunesBro iPhone Data Eraser is a professional data shredder that helps you to deeply format iPhone device before passing them on efficiently. By using the US Military method of destroying data, it is more secure for iPhone users to eliminate the unwanted files permanently while keeping the required ones. The Data Shredder allows you to erase everything in such a way that it is impossible to recover them by software or hardware means.
Only three steps required: Connect your device to PC => run the program, and let the program to deeply scan all already deleted data and existing data => then completely smash data.
Supported iDevice: Available for all iDevices: iPhone SE, iPhone 6s plus, iPhone 6, iPhone 5, 4 and older versions, as well as iPad, iPod.
Supported Files of Type: Messages, contacts, photos, call history, videos, Apple ID, password, etc.
Tutorial: How to Completely Erase Everything on iPhone,iPad and iPod
Step 1

Install and Launch the Application on Your Computer, Connect Device to PC

Before beginning, download, install the program on your computer and run it. In the meanwhile, you should connect your device to computer as usual. As long as it connected, you can see main window show up as the sample below. Then select the "Erase All Data " option and next.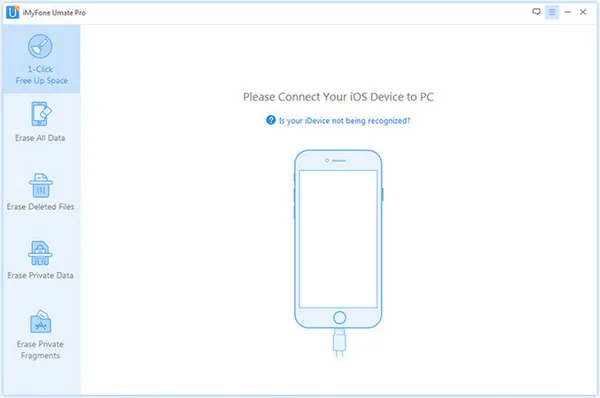 Step 2

Start to Deep Scan Already Deleted Content from iDevice

When the program detects your device, then click "Erase" Scan button to start scanning. It may take a few minutes to finish, during the time, you will see your files deleted one by one and you can click Stop button to stop scanning.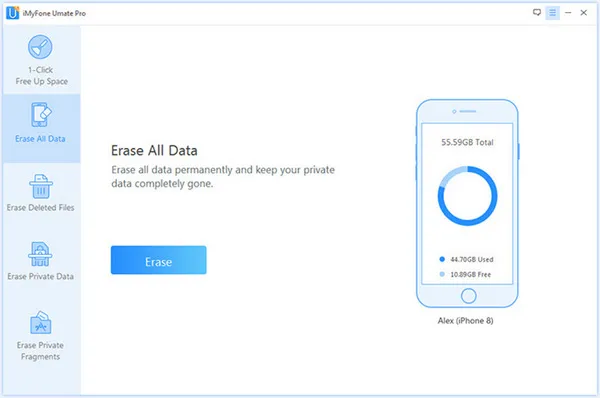 Step 3

Start Erasing All Content and Settings from iPhone

After scanning, you will be asked to type the word of "delete" to confirm the deletion of the content. Just click "Erase Now" to delete selected items from your device. And show you a messages 'Successfully erased'.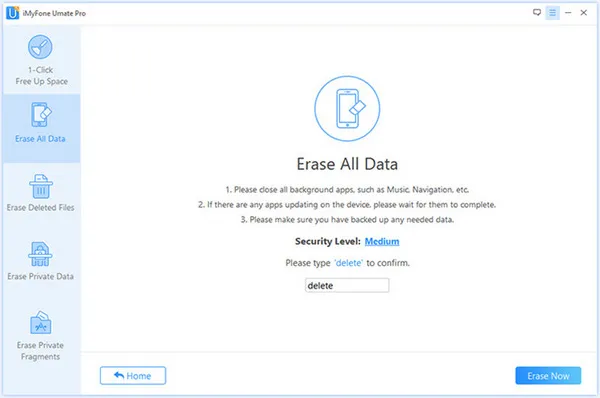 Conclusion:
It is also worth stating that even government data recovery software cannot retrieve the erased personal information, hence iPhone users can rest assured of no personal information leakage after iPhone transactions.
To safeguard an iPhone device against private data, when donating, selling or trading there is the need to delete personal information, then utilize this tool to wipe out all their personal data with zero recovery possibilities. This is the one true method that will work without a doubt,

---