If your iPhone is too cluttered with countless miscellaneous photos and attachments then obviously you won't be able to load any new data and hence it may result into not saving new photos with your camera, taking new photos or downloading new data from the internet. Of course, you may get an upgraded iPhone with more space but sooner or later your iPhone will encounter the same issue again. On the other hand, if you are selling your iPhone to other person who you don't know then the first you must do is to permanently delete all the data from the iPhone, like pictures.
Now, you may think that a simple factory reset or the use of delete function key may resolve this issue but truth to be told, these erased data are still vulnerable to data recovery tools. It means, powerful data recovery software can scan your entire iPhone and recover the deleted files within minutes hence, compromising the total security and privacy of your files and data. That's why, in this article we will be looking for permanent solution so that no hacker can retrieve the data from your iPhone ever again.
Method 1: How to Manually Delete Photos on iPhone (Not Safe)
If you played with iPhone for a while, then you must know there is a 'Delete' option when pressing a photos column for 2-3 seconds. Almost everyone knows about it. But this is not really recommended. First, the deleted photos are still stored on the phone unless new data comes in and overwrite it. It still occupies the internal storage. Second, they can be retrieved easily with the help of data recovery software. So this is big flaw with this method.
NOTE : Have a look at the following test,  the already deleted photos were all scanned out by Android data recovery! In other word, they're so recoverable!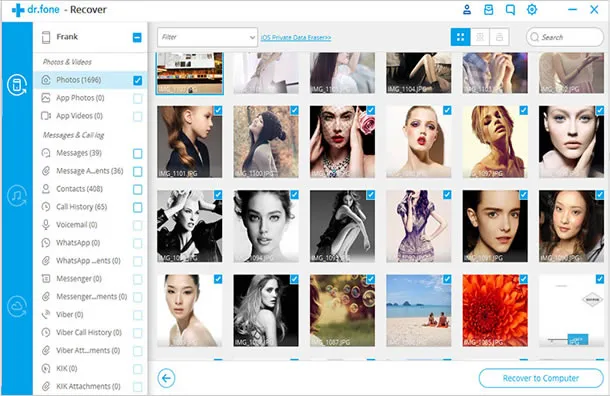 Don't miss: How to completely erase everything from iPhone
Method 2: How to Erase Photos on iPhone from Computer (Recommended)
The safest way to get rid of data from iPhone is by using a commercial iPhone data eraser. Usually, this type of software adpot military standard algorithms to remove all trackable data on iOS devices, like iPhone, iPad or iPod. In this guide, we will be using TunesBro iOS Content Wiper to destroy all data from your iPhone. The best thing about this tool is that no data can be recovered after erasing even with the most sophisticated data recovery software. That is the most important reason why we recommend this method at first place. We all know privacy matters in today's world.

Permanently delete data from all iOS devices like iPod, iPad and iPhone.
Erase 10+ data types including SMS, photos, videos, music, call logs, apps and so on.
One-click option to free up more space on iPhone.
Scan and erase all deleted files on iOS device.
Step 1

Install TunesBro iOS Content Wiper and Connect iPhone to Computer

Download iOS Content Wiper on a respective Windows or Mac machine and run the tool as an administrator to see the main UI of this software for the first time. Connect your iPhone to PC and make sure to unlock the iPhone so that the program can detect it automatically.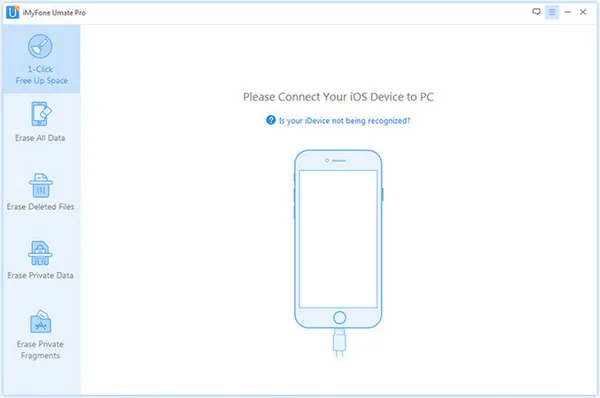 Step 2

Select Data Erasing Method

The program offers 5 ways to erase data from your iPhone. But since we are erasing all data from the iPhone, the best option will be to choose "Erase Private Data" and then select "Scan" from the given option.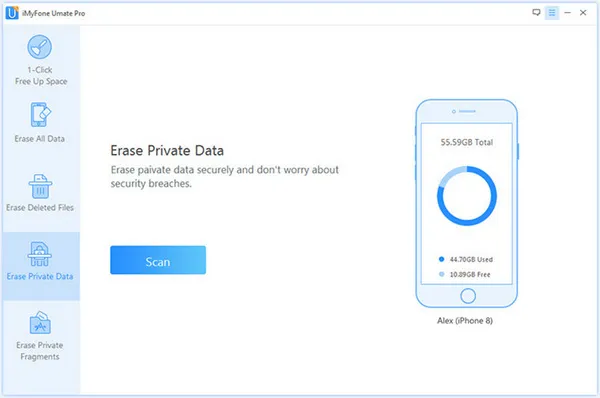 Step 3

Erase Selected Photos from iPhone

The program will thoroughly scan your entire iPhone after you select the erasing medium. This step may take several minutes depending on how much data you have stored in your iPhone. If you need to erase messages on iPhone, just select the "Messages" tab to preview.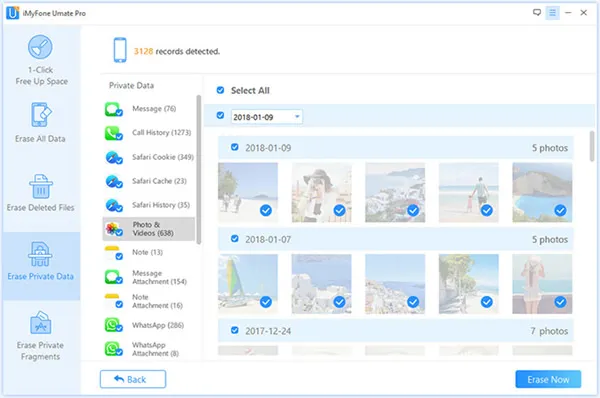 After the data are totally scanned, you can click "Photos & Videos " tab at the middle of window and select the photos you want to delete. After that click on "Erase Now" and you may now say good bye to your iPhone data forever.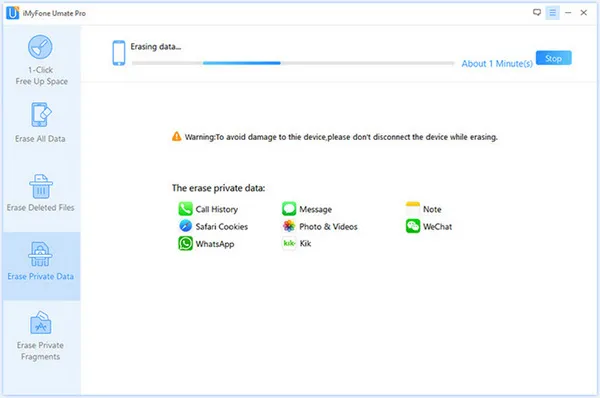 That's all. Your job here is now finished. Your iPhone will be restarted after erasing all data and you will notice your iPhone is totally empty now.
Method 3: How to Erase iPhone Pictures from iTunes
The secord way to erase all data from your iPhone is to upload the dummy backup from your iTunes and restore the iPhone as new. With the help of iTunes program, you can restore the phone as new, just like the moment when you bought the iPhone. Let us show hot do it correctly.
Step 1. Connect your iPhone to PC and wait for the iTunes to launch automatically. You will have to update the iTunes program to its latest version first.
Step 2. Click on the iPhone icon located on the top corner of iTunes program followed by Summary.
Step 3. Choose the backup from "This Computer" and choose the dummy backup from the computer. Now, let the program restore the backup file and it's done.
Step 4. All the data will over-written and your iPhone will be empty and loaded with the only files that came with the factory manufacturer.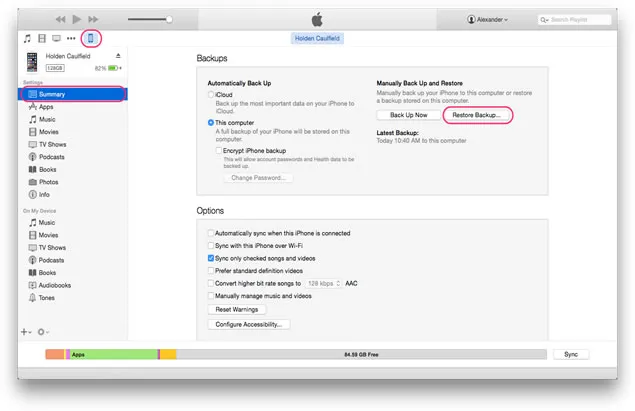 Method 4: How to Delete Pictures on iPhone by Factory Reset (Not Safe)
Another way to erase everything from iPhone is to factory reset it. It will certainly erase all the data from your iPhone but yes, they can be recovered using any iPhone data recovery tool. So use this method only for personal purpose.
Step 1. Unlock the iPhone, tap on Menu and find settings.
Step 2. Scroll down and select "General". Look at the most bottom option and click on "Reset".
Step 3. On the following page, tap on "Erase All Contents and settings". A pop up message will appear, simply select "Erase iPhone"
Step 4. Now, within few moments, your iPhone will automatically erase all data by itself and reboot. You may check your Gallery and file manager, all the data should be safely removed now. But as we mentioned, if anyone scans your iPhone with a free data recovery tool then there's a high chance of retrieving your data without any effort.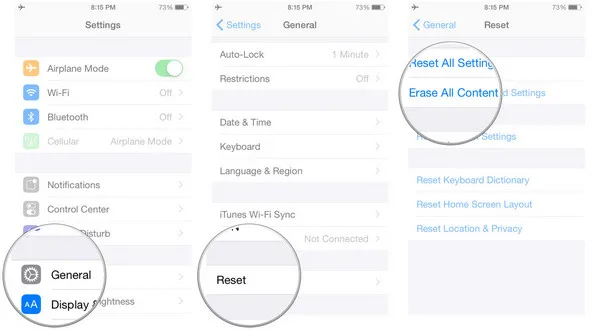 Conclusion
As we can all conclude, there are many ways to erase photos from iPhone but you can only erase them permanently using Tunesbro iPhone Wiper tool. Other methods may work but it has loopholes that can be manipulated to recover the data. A fair warning to all of you that before applying any method shared in this article, make sure to have a full backup of your iPhone or else you may end up losing all data.

---
---