Is your iPhone showing Low Storage Memory warning every time you are downloading a new video or installing a new game? This happens quite often on iPhone with less memory capacity. Well, I know how frustrating it is because the overall performance is down dramatically when storage is in short. So you may be asking how can I make more spaces on my iPhone? What are the hidden tricks to do this?
Well honestly speaking, every problem has a solution. And in this case, you can actually save up tons of space on your iPhone if you simply followed the instructions shared in this guide. Basically, we will be showing you how to free up more space on iPhone effectively; so that you don't lost any valuable data yet end up having loads of free space to load new data. Obviously, we won't ask you delete your important stuff to make up some room but did you know that most phones have thousands of duplicate data? Moreover, there are GBs of junk files that are useless. We will help you to spot those useless data and delete them from your iPhone to get more space to speed up the phone.
Part 1: Make More Space on iPhone by Deleting Unused Apps or Games
There are several types of content that eat up storage sharply like photos, videos, apps and games. The first move we can do to get more space on iPhone is by deleting unused or less used apps or games. You can check how much storage an app or game takes in iPhone settings. Kindly unintall the ones not frequently used.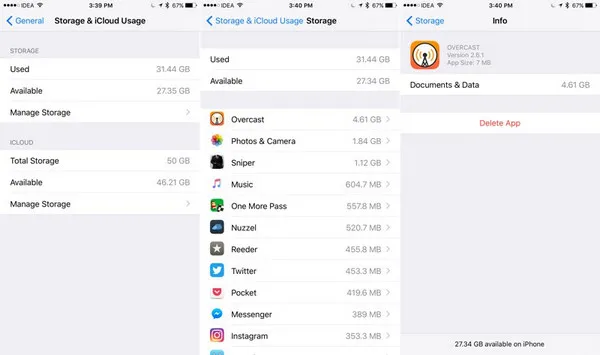 Part 2: Free up iPhone Storage with a Single Click
It won't be an easy job if you chose to find the junk or cache files manually on your iPhone. Human being is not good at this kind of job. Instead, computer is much better for sorting out the problem. TunesBro iOS Content Wipe is one of the best programs to free up spaces on iPhone, iPad and iPod. With the smart engine, this tool can quickly identify what kind of files eatting up the disk by analyzing the device with its powerful algorithms. Thousands of junk and duplicate files on your iPhone will be cleared up and GBs of empty space being available again. It is currently available on Mac and Windows platform and has the following characteristics to dazzle your mind.

Clear junk and temp files by root to make countless empty space.
Compress existing photos and remove duplicate items from your iPhone.
Backup data to PC so that you can remove them from your iPhone.
Remove all app cache, browsing cookies and miscellaneous useless data to save big space.
Step 1

Download iOS Content Wiper and Connect iPhone to Computer

Download iOS Content Wiper from the official website and install it by accepting the TOS of the program. The trial version is free, so free to download it now. After the installation is finished, connect your iPhone to PC with thunderbolt. Make sure to unlock your iPhone first so that the computer can recognize it.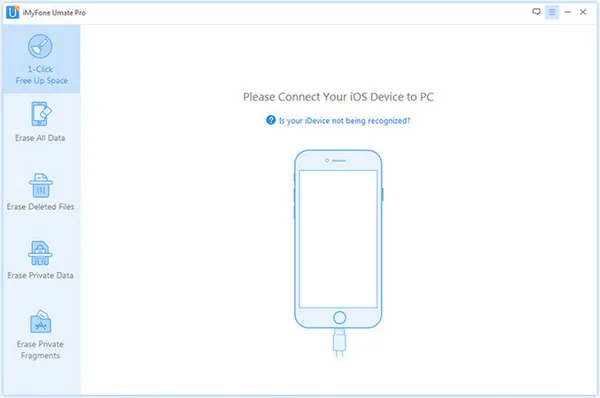 Step 2

Scan Junk/Temp/Large File on iPhone

Run the program and click 1-Click Free Space from left sidebar. Here, you will be able to see the current storage details and a few options about data type this program will scan. Now, please click Quick Scan button to start the file analyzing process. This will take a few minutes. The larger capacity the phone is, more time it will take.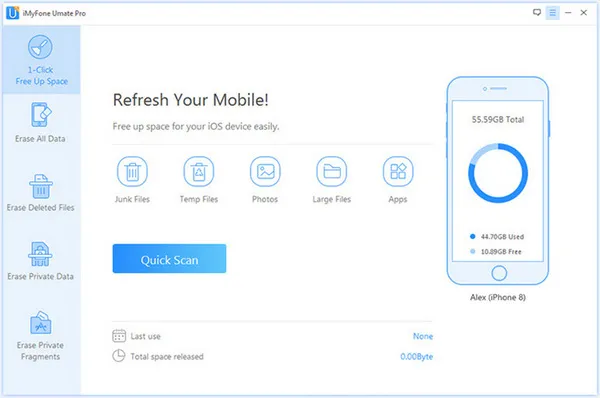 Step 3

Free up More Space by Deleting Junk or Temp Files

When the scanning step is completed, the program will list all available content to be deleted. As the following screenshot tells, you can see the file size of each type. Now, click Clean button to save more space on the phone.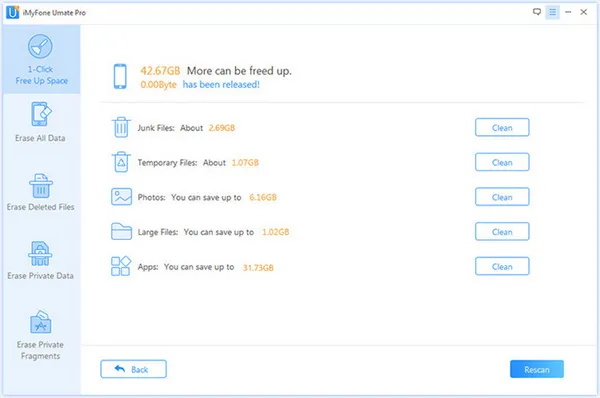 After removing so many data, you will observe the space on your iPhone is pouring up and it should now have enough space to load tons of new data on your iPhone.
Part 3: Backup iPhone and Delete Everything from it
Another way to free up tons of space on your iPhone is to backup your entire iPhone with iTunes then delete everything from your iPhone. This method is only recommended if you have no important data on your iPhone. Secondly, it is not a viable solution because even if you backup the data on your PC, your iPhone will still overload with new data and you will face the same situation again and again. But still if you want to implement this method then follow these steps:
Step 1. Connect your iPhone to PC and launch iTunes software if it is not launched automatically.
Step 2. Click on your device name and go to Summary.
Step 3. Click on Backup iPhone and select a local driver to save the backup.
Step 4. After the backup process is finished, unplug the iPhone from PC. Tap on Menu followed by Settings.
Step 5. Go to General > Reset > Erase All contents and settings > Erase iPhone. That's all. Your iPhone should be clean as new and you can start filling it up with new data again.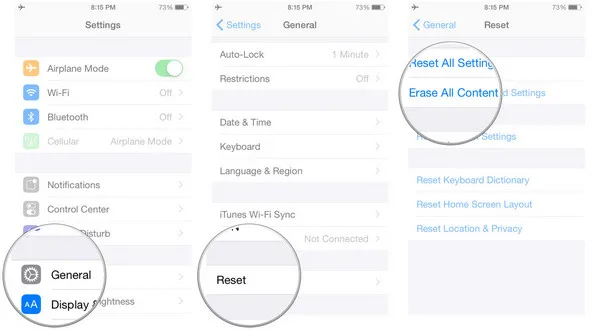 Summary
But like we mentioned, it is not a recommended method as it is not very reliable. But if you want to keep all the important data on your iPhone and only want to get rid of the useless files then the best option would be to use TunesBro iOS Content Wiper. It only deletes the junk and temp files from your iPhone as well as the duplicate items that are taking up all the space on your iPhone. It is a must have tool for all iOS users that can help you to save up tons of free space on your smartphone.

---
---