Whether you're giving away your old iPhone to a family member or selling it to someone else, one of the first things you should do is to completely wipe all the data and personal settings. Why? Because nearly everything on that phone is personal to you: contacts, messages, photos and other content, as well as login information and other account details.
What does it mean to erase all content and settings? It means all personal data and settings are wiped clean after the action. It's not that you can't trust your own family, but why burden them with the risk of keeping your data safe when there are easier ways to take care of it? The better option would be to completely delete everything and bring the device's state back to the state when you bought it.
What happens if I erase all settings on my iPhone? After easing, the data and settings on iPhone are gone and not seen by physical eyes. However, the data may be visible to data recovery programs, depending on which method to you take. Actually, there are several ways in which you can do this, but before we explore the options, the first thing you need to do is take a backup of absolutely everything on that iPhone. In short, you need a fully recoverable snapshot of everything that device contains. That's so you can restore it to the device you'll planning to switch to.
We're not getting into the details of doing backups, but suffice to know that there are several free and premium tools to get it done if you don't want to use iTunes or iCloud for your backup storage. You also need to sign out of all your accounts because certain apps will automatically restore your settings if someone else downloads them - for example, your Google account. So be sure to sign out of everything, including your Apple ID. For the data wiping part, here are three methods to clean out your phone's content, settings and so on.
Method 1: Erase All Content and Settings via iPhone (Not Safe)
The simplest way to do this is from your iPhone's Settings section. Simply go to Settings >> Reset >> Tap on Erase All Content and Settings.
While this method is easy to implement, it may not take care of the whole problem. There could possibly be fragments of private information that won't get deleted, for example, which means they may be accessible by the person who uses the phone after you.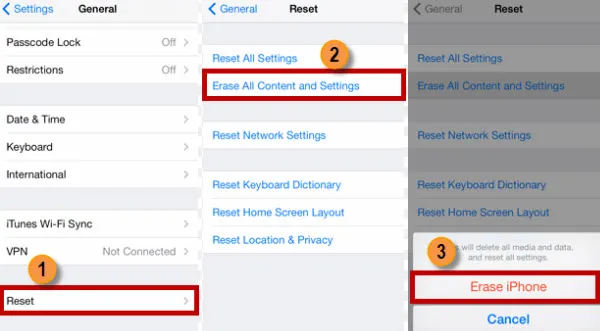 Method 2: Wipe Your iPhone Remotely via Find my iPhone App or iCloud
If you've activated Find My iPhone, then you can do the same thing from another device. You can do this either by launching the Find My Phone app from another device or going to iCloud on a web or mobile browser.
After signing in with your Apple ID, you must have your phone on and connected to the Internet. On the other device you'll be able to see your iPhone; when you tap on the icon the map will zoom in, showing your device. Now, tap on Actions at the bottom of the screen and select "Erase this Phone".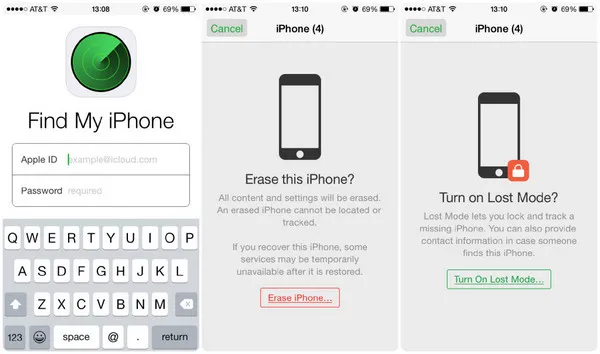 Method 3: Permanently Erase Everything on iPhone via Software Utility (Most Secure)
Erase all content and settings not working on iPhone? Is there any alternative choise? Want to thorough delete every last bit of data from your device thoroughly? In such cases, a utility like TunesBro iOS Content Wiper comes in handy.
There are five types of data deletion methods you can choose from. The most important part is that it is impossible to get a single byte of data from the erased device after using this program. Even FBI agents can't do that. Each method has its own specific features, but for erasing content and settings from your iPhone you can try the free version to see what the software's interface looks like and what data is available to delete from your device.

5 choices you can choose from to erase data on iPhone
Military based algoritms to destroy user data permanently
Get more space in a simple click
Selectively delete private content as much as you want
Step 1

Download and Installation

First, download and install iOS Content Wiper on your PC or Mac. The software is available for both Windows and macOS platforms.

Open the app on your desktop and look at the left side of the interface. You should be able to see several options. The first one, 1-Click Free Up Space is a great tool for optimizing your device's memory. But since you want to wipe the device completely, check out the other four options.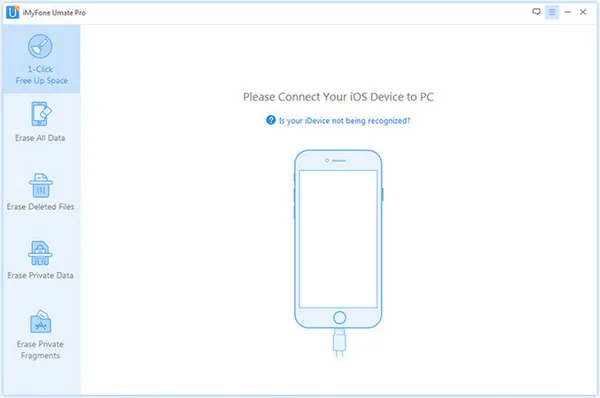 Step 2

Connection

Connect your device to the PC or Mac via a USB cable. Once it recognizes your device, you'll see "Erase" button shown on the main screen when clicking "Erase All Data" tab. Now, you need to input the word "delete" to authorize the operation becuase all the data will vanish in minutes.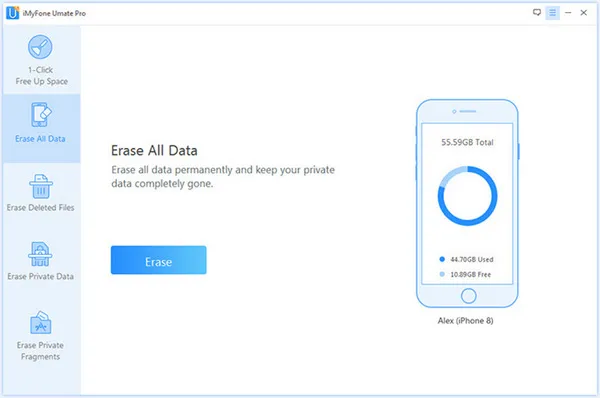 Step 3

Erase All Content and Settings from iPhone X/8/7/6S/5S

The final step is to choose a security level. The higher you choose, more time will be spent. In return, more secure to protect your data. The default level is Medium and it is OK for normal usage. After all settings are completed, kindly click "Erase Now" button to start the process. Please keep the device attached during the task.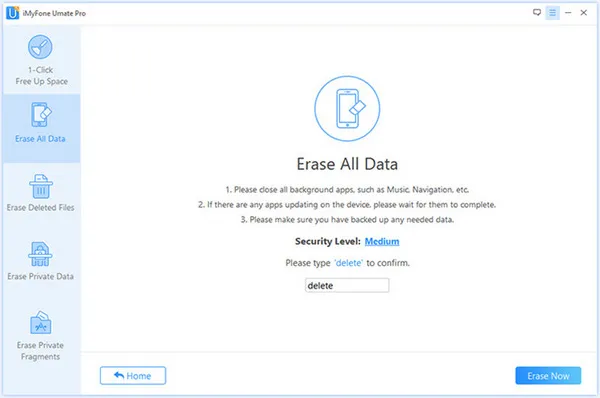 And that's all there is to it. Your device is now as if just came out of the factory. And you don't have to worry about anyone getting their hands on any information that's private to you.
Summary
As we know, there are multiple options you can choose from in regards of wiping data on iPhone. My advice is to select the most secure one if there was valuable information on it. Your data would be recovered or resued with insecure methods. So you should be very careful about it. Money is less important than privact you want to keep it secrect.

---
---