Contacts are essentially the most valuable asset that one can ever have on iPhone. At the same time, our privacy can be easily compromised if personal or confidential information fell into the wrong hands. Now coming to the forefront of this article which is basically about erasing private contact information from iPhone. The deletion is very important if you are going to trade or sell the device to someone you don't know.
Thus it is highly advisable by mobile experts to permanently erase contacts to avoid the rask that the phone was hacked. What is worse, your personal data was stolen and misused in future.Continue your reading and learn the methods mentioned in this article as you work your way down.
Method 1: Delete an iPhone Contact Manually (Insecure)
In this section, you will learn how to delete the contacts directly from iPhone. It is actually a manual attempt to get rid of contact information. In case of hurry or when you don't have enough time to install any data erasing app in your device this conventional method would help you a lot. Read the step instructions carefully to know how to delete a contact from iPhone:
Step 1. Tap on Calling app, which is usually located at the botton.
Step 2. Navigate to Contacts and search for the contatcs you want to delete.
Step 3. Tap "Edit" button on the upper right corner and you will find a lot of information about this contact.
Step 4. Scroll to the bottom of the screen and there is an option called "Delete Contact". Tap on it to remove it from your iPhone.
However, this manually deletion is not safe. The deleted contacts is just hidden from seeing and it is still stored on the device. So if the next owner knew some tech knowledge, then he or she can easily access the contact information.
Method 2: How to Permanently Delete Multiple or All Contacts on iPhone in 1 Click
There are two major disadvantages of the first method: not safe and time consuming. It would take hours to erase all contacts from the iPhone if the list was long enough. In addition, the deleted contacts can be easily recovered with the help of third-party programs. So what is the better option in here?
My suggestion in here is to use professional data erasing software, which is more secure and much faster. Taking TunesBro iOS Content Wiper as an example, it only takes a few minutes to delete all contacts on iPhone; no matter how mnay contacts on the device. Most importantly, the deletion is complete and there is no chance to get a single informtion from the device even the device was handed to the smartest hacker. Also, it supports the latest iPhone, iPad, iPod as well as the old models.

Keep your private information safe from data theft
Erase deleted private content from iOS device.
Clean junk and cache data to save more space.
Support the latest iOS 11 device, like iPhone X, iPhone 8, iPad Mini 4, iPad Pro, etc.
Step 1

Install and Connect iPhone to Computer

Download the program file and install it on your computer with proper step instructions. Run the program on your PC, and setup a connection between your iPhone and your computer via USB cable.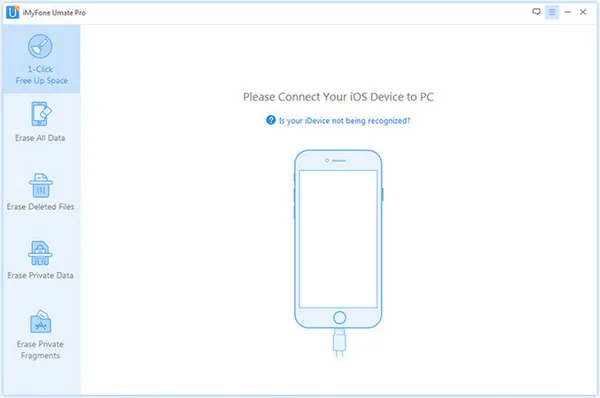 Step 2

Choose Erasing Algorithm

Next go to "Erase Private Data" tab and start scanning your iPhone.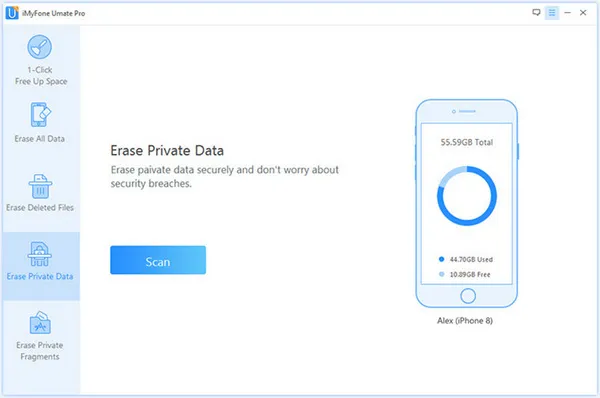 Step 3

Delete Selected Contacts from iPhone

You will get a preview of all the data it contains. Smartly choose contacts you wish to delete and then click on "Erase Now" button. Your contacts will be erased permanently from your device.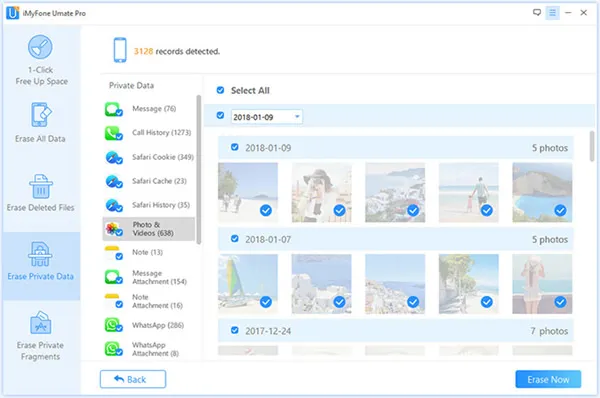 Method 3: How to Delete All Contacts on iPhone from iCloud (Be Careful)
iCloud can do a lot of things for iPhone, iPad and iPod and as you may not know, it is more than a cloud storage service. Actually, you can use it to delete a or multiple contacts from iCloud remotely. However, the deleted contact will be gonne forever from iPhone as well as your iCloud account. So be warned about this operation.
Step 1. Make sure iCloud sync is enabled on your iPhone, iPad or iPod.
Step 2. Go to iCloud.com with a web browser and login with account details.
Step 3. Click "Contacts" and you will be lead to a new page. For all contacts deletion, click "Gear" icon located at the lower lefe corner. Click "Select All" option from pop-up menu and click the icon again. At this time, choose "Delete" options. After that, all contacts will be removed from this Apple ID and all devices associated with this account.
Step 4. For single contact deletion, please click on the contact name and click "Edit" tab on the top menu. Now click "Delete Contact" filed at the bottom with red text.
Conclusion
Deleting contacts from iPhone is as equally important as it is to keep it stored for sudden usage. But it is much safer to keep the contacts backed up to an secure place like your PC or cloud server, rather than keeping them stored in your iPhone. It not only puts your privacy to potential risk and but also takes up a lot of internal space and impedes smoother system function.
Of all the methods mentioned above, the third method of iOS Content Wiper is the most suitable solution to carry out this task. So if you are looking for an efficient and guaranteed output, choose this program for your benefit.

---
---