Every other day, you come across several new features in technology. You may not change your iPhone now and then, however; after a certain period, you would surely love to get rid of the old versions of iPhone and upgrade to the latest and lavish iPhones. Whatever is the reason to stop using the present iPhone, you cannot simply leave it as it is. It contains a large number of private information like contacts, text messages and some of the data may be quite sensitive. It may create troubles if the data gets into some evil or unwanted hands. You may desire to delete everything from your iPhone, however; you cannot simply delete text messages or other data on iPhone as they're pretty easily recoverable.
For text messages, When you received text messages, it will be saved in phone's internal memory, you're trying to delete text messages from your iPhone, and yet, you feel frustrated to see that the deleted messages is still traceable and recoverable by some data recovery applications. You try all the steps and procedures to delete; nevertheless, you fail to delete messages permanently. What should I do?
Here there are three ways to delete your text from iPhone.
Solution 1 : Manually Delete Messages from iPhone (100% Recoverable)
In fact, to fast and simply delete entire conversation from iPhone, just click Delete button, but sometime you need to delete individual texts within the conversation, this instruction will tell you how to delete individual texts on iOS device and it only apply to Apple's Messages app.
1. Tap the Text Messages to open it, tap the conversation that contains the messages you need to delete them.
2. Hold the messages you need to delete until the menu pops up, then click the More in the menu.
3. Tap the circle next to the text messages and select the messages you want to delete. Now a checkbox pups up and telling you it will be deleted.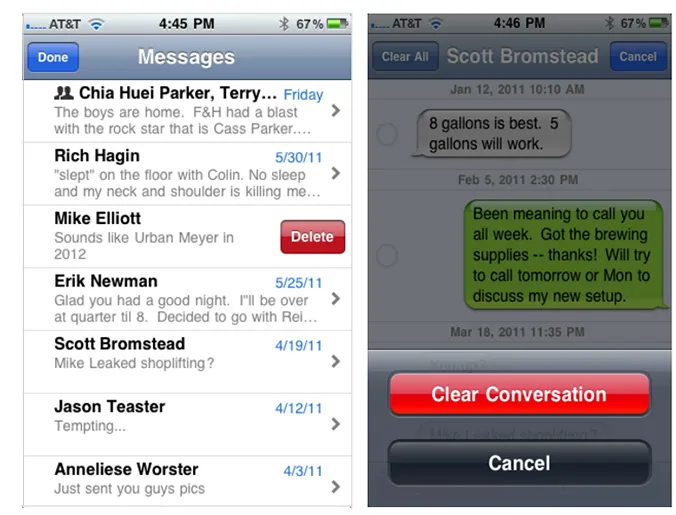 The Messages Actually Won't be Wiped And Be Easily Recoverable
It is not at all a difficult task to delete messages from iPhone, but you need to know that simple deletion can't completely clear the data header, it means the so called deleted messages will still remain in phone's internal memory and easily be accessed and recovered. In the software market, there are so many professional and free iPhone data recovery softwares can easily scan already deleted messages and other data, then directly recover. It will be terrible. 
NOTE : Have a look at the following test,  the already deleted messages were all scanned out and recoverable.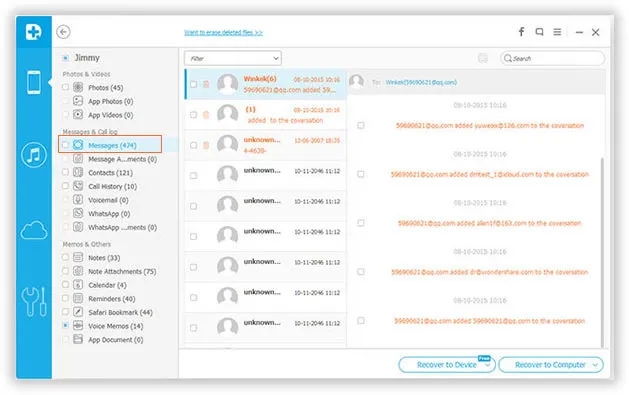 What should you do now? Well, what you require is to update your awareness and knowledge about the latest apps available to fully erase iPhone and delete the data forever. Using the iPhone Data Eraser program is one of the best ways to erase iPhone messages permanently, and you should surely make it an indispensable part of your iPhone, see how it works in Method 2.
Method 2: How to Completely Erase Messages on iPhone ( Zero Recovery Possibilities)
In fact, It isn't hard to understand why the texts are not wiped from your iDevice. When you perform the delete action, you won't actually erase internal memory's data, but only erase the location information for a particular data and mark it Lost to the iOS system. However, the data is still there and waiting for new data to be overwritten.
Tunesbro Data Eraser for iOS would be a best choice to permanently delete everything on iPhone, iPad and iPod. By using the US Military method of destroying data, it will rewrite the data sectors on internal memory with pseudo-random numbers to make it impossible to recover your personal data. Kill your messages permanently without recovery possibility. 
Supported iDevice: Available for all iDevices: iPhone 7/SE, iPhone 6s plus, iPhone 6, iPhone 5, 4 and older versions, as well as iPad, iPod.
Supported Files of Type: Messages, contacts, photos, call history, videos, Apple ID, password, etc.
Step 1

Install and Launch the Application on Your Computer, Connect Device to PC

First of all, you need to download, install the application on your computer (Windows and Mac are available for download). Then connect your iPhone to PC via USB. Then select the option "Erase Deleted Files" from the list and next.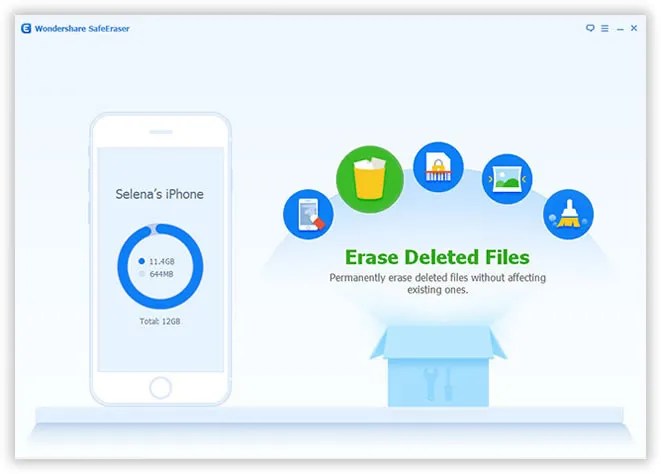 Step 2

Begin to Deeply Scan 'Deleted Content' from iDevice

Once your device was recognized by program, it will shows your device's information, then click Start scan button to being scanning your already deleted data including messages. This will take some time to finish based on the size of the data.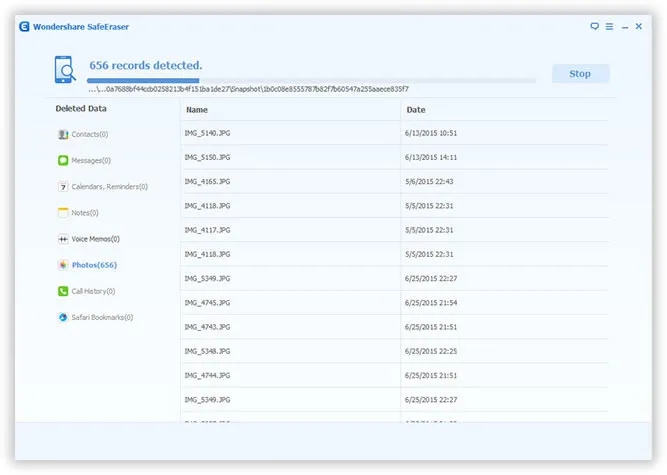 Step 3

Preview the Found Content After Scanning

After scanning, the program will display all the scanning results and list them by category, you can directly click the type and preview the messages content, deleted date, contacts,etc.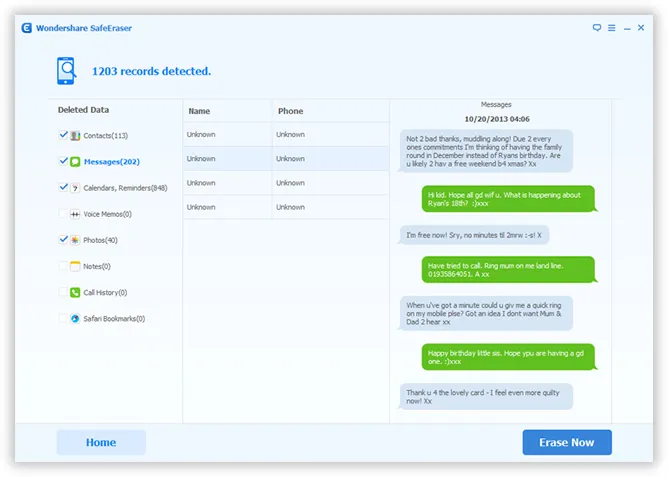 Step 4

Click 'Erase' Button Now to Delete Text from iPhone

After the messages are chosen, just click the Erase Now button, and a window will pop up asking you to type the delete word to confirm the deletion of the contacts. After them, your messages or other files will be gone forever.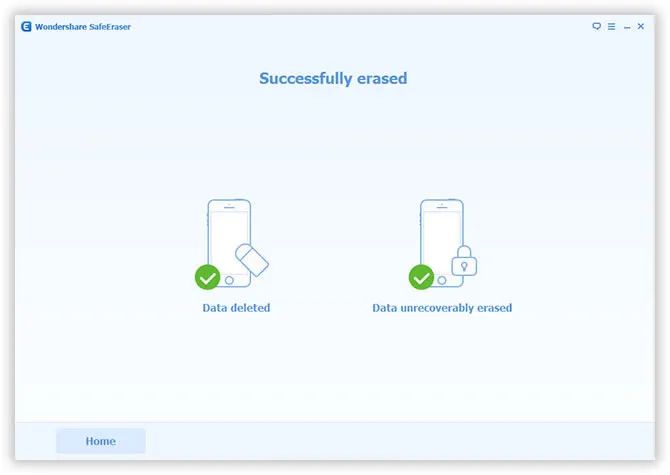 Conclusion:
Clear iPhone before the data reaches into some evil or unwanted hands You may be highly excited to sell the present iPhone and get a new one. No one keeps the same iPhone lifelong. If you don't erase messages on iPhone, you will risk exposing sensitive personal data that you previously deleted. So, we highly recommend you erase your messages or other sensitive information from your iPhone device before selling or recycling.

---