When you give your Android phone to someone else, it is a good idea to prevent them from opening the private apps. Facebook Messenger, Gmail, and Photo apps can contain private contents that you need to keep them seen by others. But you should not worry since you can easily protect  sensitive information from prying eyes with the help of app locks.
The Android lock screen has been improved over the years. There are now several unlock methods and OEMs have also put their own spin on things. When opening Play Store you can find a lot of lock screen apps that can do even more. Smartphones nowadays come with a fingerprint scanner or even Face ID, so we recommend you to use it to bypass the lock screen altogether. Below are the best lock screen apps for Android device.
The lock screen apps are now more popular. As a result, you should still stick to the regular lock screen. In most cases, you put a fingerprint reader to entirely bypass it. Additionally, third party lock screen apps are also secure and have more features than the inbuilt features.
#1 App Lock from Keepsafe
Price: Free
Keepsafe is the first app in our recommendation. First of all, in fact, the app doesn't require  authorizations. The setup process just asks for the type of lock, including PIN code, pattern, or fingerprint. It does not require you to register your fingerprint again because the app just uses the fingerprint already set up in your Android phone. It's completely safe since the app can't send  fingerprint to the app creators.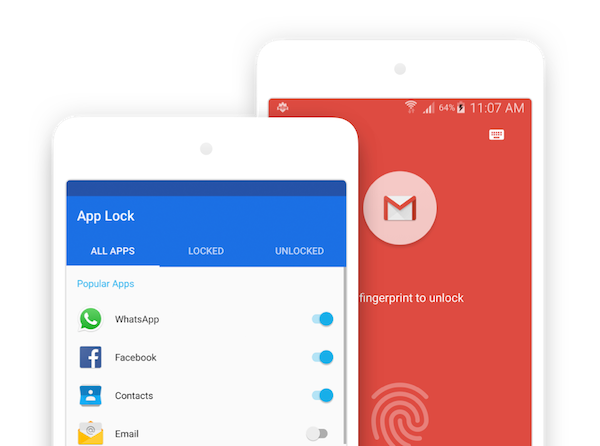 The app needs your email address for better security, but you can also skip this step. The app will bring you to the system settings to grant access to the data usage. Without granting it, the app will not know if it has been opened. You can then go back to App Lock, choose your favorite apps to lock. Common apps like Photo or WhatsApp, Messages are usually listed on top, and the rest will follow alphabetically.
Download App Lock from Keepsafe for free
#2 Security Master Applock 
Price: Free
Security Master  has the same functions to App Lock of Keepsafe, and there is a pattern covering protected apps. You can use  fingerprint as an alternative. For the first time setting up the app, it will prompt you to grant an access to your contacts. Furthermore, the app also requires an access to data usage during the setup process.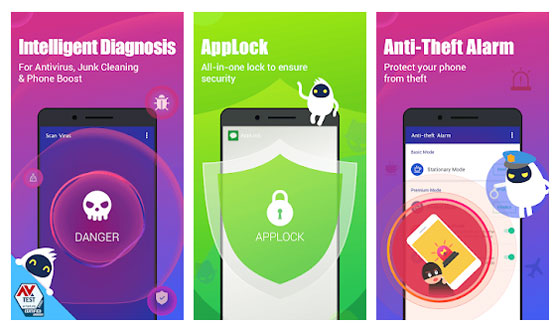 Security Master Applock can even hide all notifications on your Android phone after you give it permission on request. However, it's a pity when this app can't block apps too fast. Strangers can still have a quick glance at the recent notifications.
Another con of the app is the annoying internal advertising. Since Security Master app wants to recommend more apps to its users and to explain how their smartphone is horribly optimized.
Install CM Security Antivirus Applock for free
#3 App Lock (By DoMobile Lab)
Price: Free
DoMobile Lab AppLock is a very popular Android lock app that receives a lot of positive feedback from users. You can use it to password protect any app installed on your Android phone and prevent unauthorized accesses. It allows you to hide photos and videos from your Photo app and then store them in a private folder.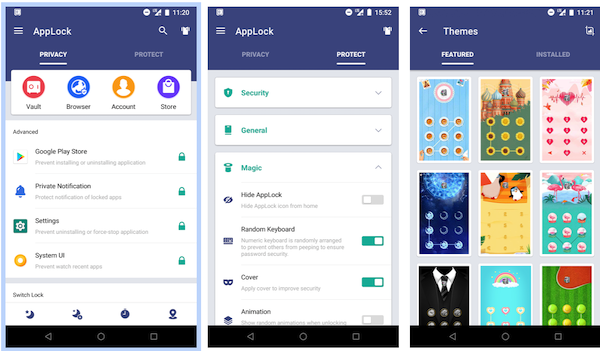 Once you install the Android lock app, you just need to create a pattern lock and then use it every time you access the app. You can also even hide app icon from app drawer so that strangers cannot access it. Additionally, you can choose different profiles for locking different apps, enable fingerprint recognition, and other great features.
#4 Privacy Knight – Ad Free Applock & Hide Apps
Price: Free
Privacy Knight is also a well-known locker app for Android when it covers a few great excellent features to protect your app privacy. This is ad-free app and does not contain in-app purchases. Once you installed the app on your phone, there will be different methods for you to lock apps. It allows you to use a PIN code, fingerprint reader, face unlock, or even a Disguise cover and a crash message for the unlock.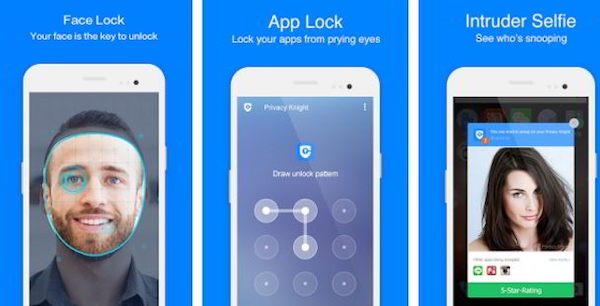 All your private photos and videos can be easily hidden, and you can prevent app uninstallation, hide app notification preview. Another interesting thing of Privacy knight is that it can capture a picture of anyone who types the wrong password you set for the locked app. While it's not too popular like App Lock for Android, it still has all the essential features.
#5 Hi Locker App
 Price: Free / $1.99 Pro version
Hi Locker is also one of the famous Android locker app. The app will show you the common basics such as weather, notifications, calendar, etc. You might also be greeted with funny quips. It has the fingerprint support if your Android phone comes with a fingerprint reader.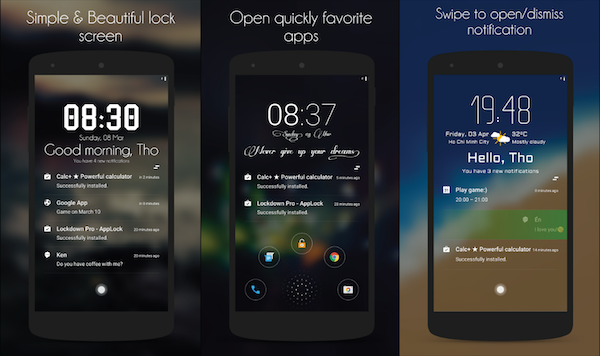 Inside the app settings, you can find other customization options as well. For example, you can easily hide notifications from certain apps so that your friends or strangers will not see it. While it's not close to other complicated lock apps, it's still a great replacement for those who don't like the complexity.
Conclusion
Locker apps for Android is a good idea, but honestly, their effect on security should be only good enough. Android resources are harder to find a way around. However, there are still reasons for using an locker app, and these apps above are great choice for you. If you are using other great apps to lock your apps, let us know in the comments section below. We are on the lookout for cool lock apps for Android phones.