Console emulators have been popular for several years now, but not all of them are up to scratch. A few are still quite laggy and slow, which is not at all ideal for intensive games with rich graphics. However, many have evolved over time, and there are now several really good PSP emulators on the market. This piece looks at the best six PSP emulation apps for Android devices.
What is an Emulator?
An emulator – in the context of this article – is a program that lets you experience the UI of one platform on a different one. As examples, you can have iOS emulators for Android, Windows emulators for iOS, and so on. In other words, it's a way to get one OS platform to be emulated on a different one. In this particular case, we're talking about apps that can enjoy the PSP experience on an Android device. Now let's look six of the best emulators for PSP on Android.
#1 PPSSPP –   Free PSP Emulator for Android, iOS and Windows
With over 50 million installs on Google Play Store and reviews from more than a million users, this one should definitely be your first stop in the search for the best PSP emulators for Android, PC, and more. PPSSPP doesn't come with games, but you can use your existing PSP games by dumping them in  external memory card in a particular location. The mobile app, which you can download from the Play Store, contains the main emulation engine. Whatever games you put on your Android device will be accessible through the emulator.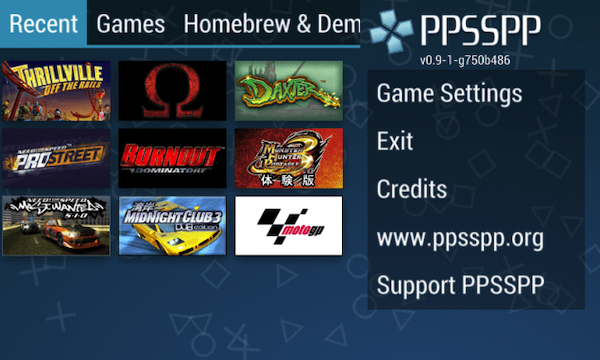 The big difference between PPSSPP and most other emulators is that you don't need to download a BIOS file to Android device. All you need is the mobile app and  PSP games dumped into ISO format and placed in a folder in your memory card. If your PSP has custom firmware, you can even dump them directly to your phone. Some games may be available in the CSO format, a compressed version of ISO. Don't worry, both file types are supported in PPSSPP.
Pros:
Support multiple operating systems, including Android, Windows, Linux and macOS.

Directly import ISO and CSO files if PSP has custom firmware.

Free to make changes or improvement to existing features.
Cons:
Premium features like better resolution only available in Paid version.

Some of the latest PSP games are not working properly
#2 Rocket PSP Games Emulator for Android
As a much newer player in the segment, Rocket PSP Emulator doesn't have the polish or UI appeal that PPSSPP does. However, it's completely free. If you're okay with a less sophisticated product, this one might be right for you. Rocket PSP Emulator also has a reputation for realistic audio, which is a huge part of the gaming experience. It also does a great job of restoring your old classic PSP games and refreshing them with crisper graphics and enhanced textures.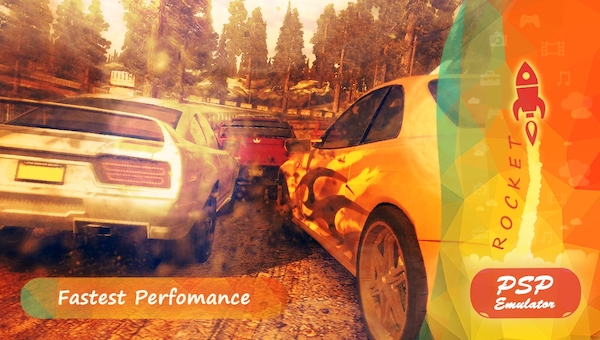 Reviewers are divided about this emulator because of its rough edges, but if you have a fast device with ample RAM, you won't find Rocket PSP Emulator to be a poor product. The strengths are better clarity for older games, and near-true audio rendering, both of which are essential to the gaming experience. And Rocket delivers well on both counts.
Pros:
100% free

Great for classic PSP games

Similar experience as PPSSPP since it is built on the same open-source project
Cons:
Not suitable for older devices

Lack distinguishing features to make it stand out

Not easy to get started

.

Failed to download ROMs at sometimes
#3 RetroArch PSP Emulator for Android
If you want an emulator that can not only run PSP but a host of other environments on Android, then RetroArch might be the emulator for you. It works differently from most of its peers because it utilizes plugins to create an emulation environment. From a user's perspective, it might seem a little complex, but that's only because of the sheer number of options in RetroArch. You can essentially run almost any console environment as long as the plug-ins are compatible with your device.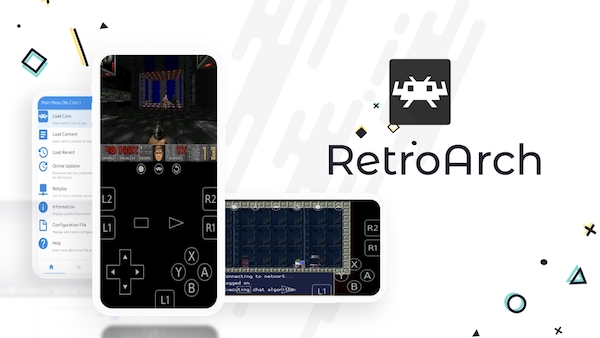 The development interface of RetroArch is called Libretro, which brings the magic of emulation to this app. By downloading "cores", or modular programs, you can access several platforms like PSP. What's more, RetroArch will also scan your device for any compatible games and add them to your collection.
Pros:
Unique interface built on Libretro

Shipped with a set of games in default.

Support Control remap.

Scan games on Android and add them to collection automatically.
Cons:
Complex user interface.

May not suit new users.

App crashes without reasons.
#4 PSPlay PSP Emulator for Android
One of the most recent entrants into this segment, PSPlay has proved itself to be a robust PSP emulator for Android. You can save and load states, and access its networking capabilities. In general, it's a lag-free experience, but the higher your device specs, the better this emulator will perform. However, the specialty of PSPlay PSP Emulator for Android is that it is designed to be compatible with a wide range of devices.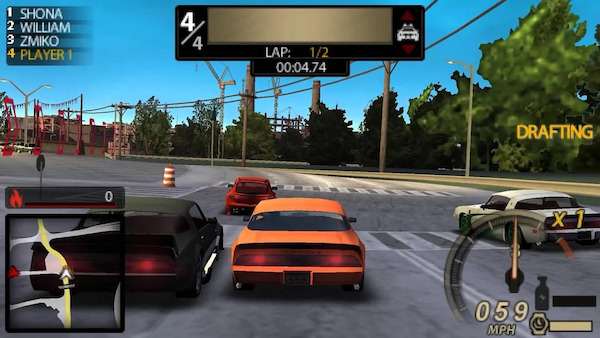 There's an on-screen controller, but the software also supports third-party Bluetooth hardware. The UI has a modern look, and you won't find anything lacking from a gaming experience perspective. If you're new to emulators, this is probably a good one to try in the beginning. Your experience mostly depends on your device, but PS Play definitely delivers an above-average PSP experience on Android.
Pros:
Good for first-time users

Slick interface
Cons:
Very similar to PPSSPP.

Game lags and stuck at loading screen.

Too many ads

.
#5 Rapid PSP Emulator for PSP Games
Essentially a watered-down version of PPSSPP, this emulator was designed for lower-end Android devices. It runs great even if your device is resource-crunched, so it's best to try this out on an old device you might have lying around. One of the best features is backend support for nearly any game or even PSP homebrew.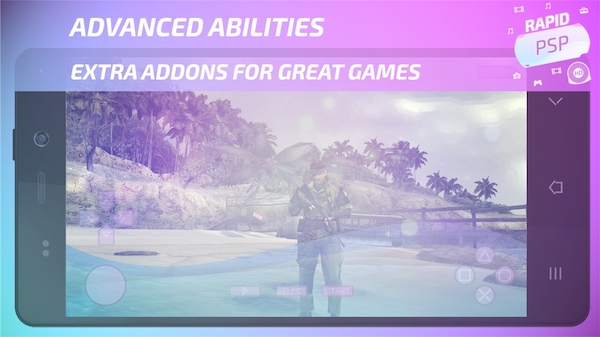 Rapid is open-source, like most of the other emulators showcased here. You can import ISO, CSO and even ROM formats since all of them are supported by this emulator. The developers claim that over 10,000 PSP games are now supported by the emulator, so it's likely to be compatible with most of your PSP game collection.
Pros:
Support thousands of PSP games.

Fast and smooth gaming experience.

Able to load games from ISO, CSO and ROM formats.

Good for non-premium devices with average specs
Cons:
Game freezes for L button.

Sometimes not able to detect a legit PSP games as valid.
#6 Goldenn PSP EmuLator 2019
This is another relatively new PSP emulator for Android, but it brings speed into the emulation game. In fact, the developers say that game speed on an Android device with this emulator is the same as on the PSP. An ambitious claim, but Goldenn PSP Emulator does offer wide game compatibility, a battery-saving emulation engine and more personalization depending on device screen size.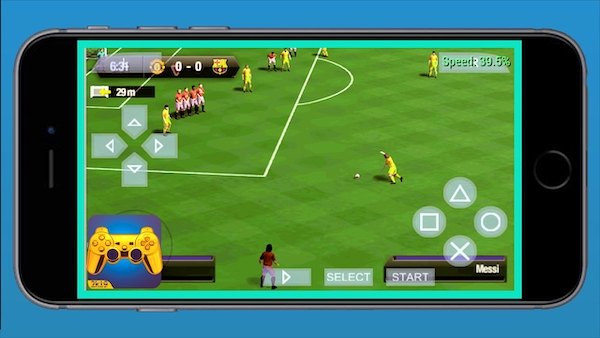 Network capability, and save and load game states are standard. The graphics require a special mention as they provide one of the most realistic experiences available. If you have a quad-core device, you can even take advantage of the graphics enhancement at twice the original resolution. As such, it's ideal to play older, more classic games in a higher resolution.
Pros:
Solid 3D graphics capability.

Customizable layout for the controls.
Cons:
Downloaded game files not showing up.

Can't play games outside of this emulator.
These are the best 6 PSP emulators for Android that are available in the Play Store. There are even more available only as APK files that need to be installed in a different way, but many of them are too complex and therefore more suitable for developers to build and test their PSP games in an Android environment. The advantage of getting an app from the Play Store instead of downloading an APK is that it is more secure. Google does regular checks on all its Play Store apps to make sure that the chances of malware infecting your Android device are minimized.