Back in March, Apple announced Apple Card, the company's first ever credit card. Apple Card marks Apple's big step into the banking industry, where it will compete with financial giants like Bank of America, Citibank, or American Express. Of course, Apple Card is not a tough rival that challenges those big names, but it shows Apple's plan to significantly expand its footprint in other sections.
The Cupertino firm has begun rolling out its Apple Card to some iPhone users worldwide as part of the final test ahead of public release. Luckily, we were among the early testers to try Apple's first credit card. And we have got our first hands-on experience to share with you guys.
First, What is Apple Card Used for?
Apple Card is a credit card that's linked to your Apple Pay account and built right into the Wallet app on your iPhone. Basically, Apple Card can be used as a traditional credit card, but it is specifically designed to be used via Apple Pay whether it's online or in stores.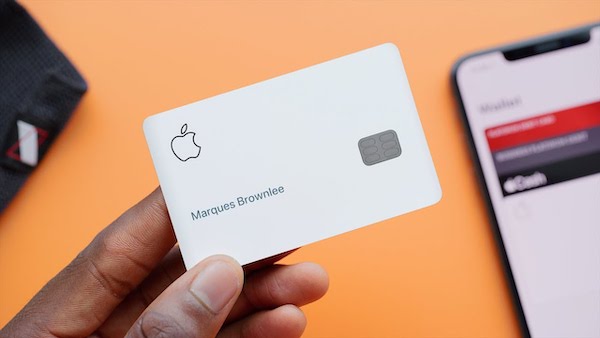 In terms of design, Apple Card is made of titanium, thus offering a premium look. In reality, it's thicker and more durable than a traditional credit card. On the front, you should see your first and last name, and an Apple logo that's laser-etched into the card. On the back, you have a magnetic stripe, Goldman Sachs, and MasterCard logo.
The white color makes the card super clean but also leads to the risk of being discolored over time. We are not sure and we have to wait and see.
Apple Card Features
#1 Cash-Back
Apple Card is a big part of Apple's ecosystem, so it offers rewards every time you make purchases using the card. For instance, if you use your Apple card at a physical Apple Store or at the App Store, you will receive 3% cash back for every purchase. Plus, you will get 2% cash back on everything you use Apple Pay for and 1% cash back on every single purchase.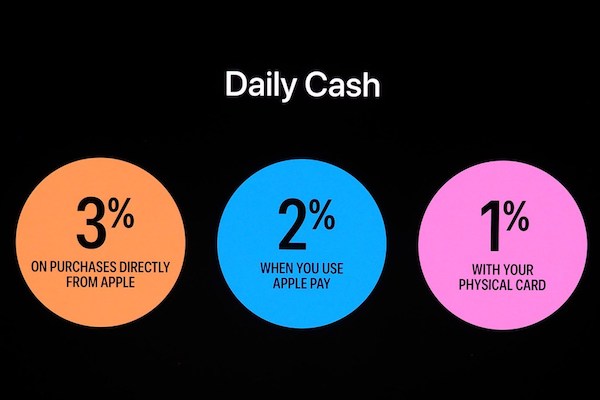 The cash that you receive from your purchases will be dispersed on a daily basis. This eliminates the need to wait weeks for your money to show up on your account balance. The best part is that you can send your Daily Cash (Apple Cash member) to your friends in the Messages app or transfer your money into your bank account.
For some background, Apple Cash allows you to pay and receive money in Messages. If you have already set up Apple Cash on your iPhone, you will get your daily cash bonuses in the Wallet app.
#2 No Annual or Additional Fee
Another big advantage of Apple Card is that there is no fee associated withe card. Unlike traditional credit card, you will be charge for annual  fee,  over-the-limit and other hidden fees you are not aware of. Apple Card has no fee currently.
Now, Apple card is tied into the Wallet app on your iPhone, so you are going to need to use the app regularly. Luckily, the Wallet app gets a new look in iOS 12 with clean user interface and color-coded categories, thus offering users a detailed look on their spending habits.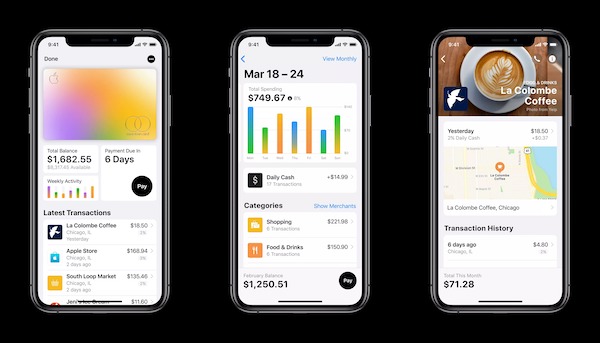 #3 Card's Colors Change Depending on What You Buy
The Card starts off completely white before you make purchases using the Apple Card. The coolest part is that the Card will change colors every time you spend some money, giving you a useful and detailed look on your daily spending, which is pretty cool.
#4 Purchase Notifications
Apple Card also offers a few other cool features. One such feature is purchase notifications. Basically, you will get a notification on your iPhone every time you make a purchase using Apple Card. This helps you quickly recognize potential unauthorized purchases and identify each purchase. In other words, you should find all the details here, like merchant names, addresses, and money.
#5 No Credit Card Number
You might be surprised that there is no credit card number listed on the card, which protects your card from the prying eyes. In reality, there is a 16-digit card number assigned to every Apple Card owner that can be used at retailer outlets that do not support Apple Pay.
Drawbacks
One major drawback is that Apple Card is primarily designed for Apple users. Indeed, Apple Card only works with an Apple device, meaning that you need to give up your Android device to get one of those fancy cards. In other words, Apple Card may be a tool that ties you into Apple's ecosystem.
Another downside is that it offers fewer rewards than its rivals out there. In reality, there are some better reward systems out there with different cards. If you now have a credit card issued by Discover it or Capital One, then there is no reason to carry Apple Card with you.
How to Get or Apply for Apple Card
Apple Card is a new service provided by Apple and it is still in public test. So not everyone is eligible for applying Apple Card. Below is a short list of requirement to get a physical Apple Card:
Must be a US citizen more than 18 years old

Own an iPhone with latest iOS 12

An Apple ID with two-factor authentication enabled

Need to verify personal identity with photo ID or drive license

Should life credit freeze before applying Apple Card
How to Does the Apple Card Work
Activating Apple Card is pretty simple. All you need to do is to wake up your iPhone, then bring it near the card inside the envelope, and your phone will recognize and activate your Card. Once you are done, you now can add your Card to the Wallet app. To do this, open the Wallet app, then tap on the Plus button at the top right corner, and select Apple Card. From here, enter your information as required.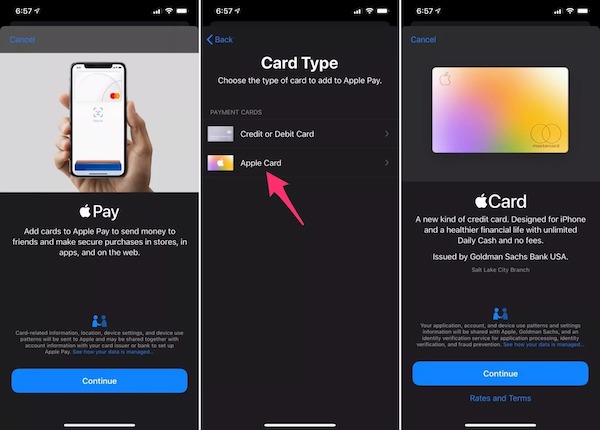 To make a purchase in store with Apple Card, just simply double-click the Side button on your iPhone, then bring it near the checkout terminal and authenticate with Face ID.
To make a purchase online with Apple Card, head to the online store, then select the item you wish to purchase and select Check out with Apple Pay. Now double-click the Side button and authenticate with Face ID.
Wrapping Up
Pros
Great features with Cash Back and instant notifications

Clean and intuitive UI

Fast Activation
Cons
Only works with Apple devices

Fewer rewards than other cards
Apple Card is still in early stages, meaning that it needs some polishing. It's early to say that it will succeed, but it shows great potential on the market. For now, if you heavily rely on your Apple device, then Apple Card should be a good option.