iTunes has been around for years, allowing users to buy apps, movies, and music right on their devices. However, iTunes is now just a mess in Apple's ecosystem and Apple finally agrees. The end of iTunes paves the way for three separate apps, including Apple TV, Apple Podcasts, and Apple Music.
iTunes is officially gone on macOS 10.15 Catalina, and if you are looking for the best iTunes alternatives, you have come to the right place. Indeed, we have rounded up the best iTunes replacements below, so you can decide which one is right for you.
iTunes Alternative #1: FoneTrans for iOS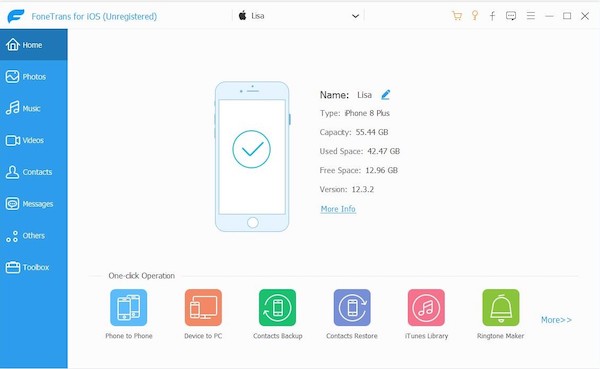 FoneTrans offers a great iTunes-like experience for any user.  And it does many more than iTunes could help for library management and data backup. It can export personal data on iOS device into computer individually. This is great if you only want to backup the important data on the device instead of a full backup.
 The best part is that the user interface is simple and intuitive. Indeed, you should see everything you need at first glance. Another col features lies in the ability to manage files between PC and iOS devices. Indeed, it keeps all of your files well organized within separate folders and you can access them across all devices.
More Unique Features:
Copy data from one iOS device to another.

Transfer media file from iOS device to iTunes.

Make ringtones for iPhone.
To be honest, I have no issues with FoneTrans, as it works fine as advertised. If you are now in the market for the best iTunes alternative, then give FoneTrans a shot.
iTunes Alternative #2: iMazing iPhone, iPad & iPod Manager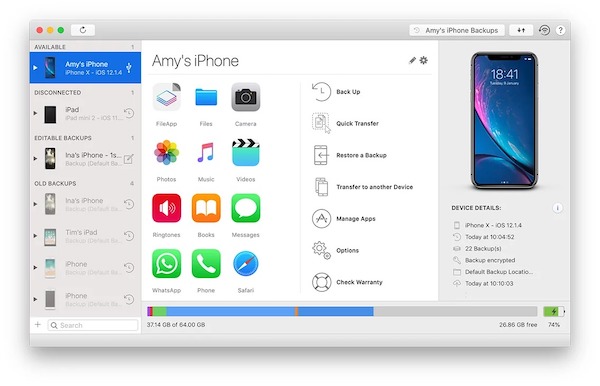 iMazing is one of the most used data transfer and backup software for iOS device out there. Indeed, it lets you quickly backup your messages, files, videos, and data from your iPhone to the cloud or an external device. The coolest part is that you don't need to jailbreak your device. All you need to do is to head over to its website and download it to your computer.
iMazing also serves as an ideal backup and data manager. Unlike with iTunes, you can store your files anywhere you'd like with iMazing. Just simply save it in your desired folder and iMazing will put everything in order.
In addition to managing your files and transferring data, iMazing now includes the ability to move your ebooks and PDF documents to iBooks app on your iPhone or iPad. The best part is that you can easily move your photos from PC to an iOS device using the drag-and-drop feature.
However, iMazing has its limitations too. One such limitation is that certain data types like messages, voicemails, or call history are only accessible to users from a backup. That means you cannot get them from your device's local drive.
More Unique Features:
Scheduled backup option with AES-256 encryption. 

Manage iPhone contacts on computer.

Directly transfer files from computer to target app.

Install app on iOS device without  iTunes.

Reinstall iOS or update firmware.
In short, iMazing is a great iTunes replacement as it does many cool things Apple's software management app can dream of. iMazing also does a better job of transferring medial files and managing your data and backups.
iTunes Alternative #3: AnyTrans iPhone Manager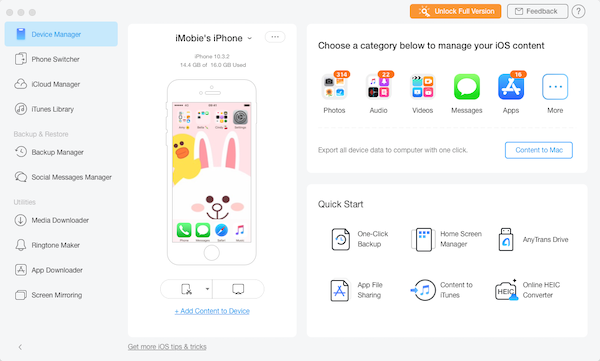 AnyTrans is another great alternative to iTunes, but it can do a lot more than Apple's mobile device management application. With AnyTrans, you can quickly transfer music between your iTunes library and iPhone or iPad without having to download any additional software.
However, AnyTrans is not just about data transfer as it serves as a comprehensive content manager. Indeed, it organizes and manages your iTunes music independently, and you can easily add or export any music tracks without even launching iTunes on your device.
One of the best features of AnyTrans lies in the ability to rebuild your iTunes library when your Mac or PC crashes or stops working. Plus, you can move your entire library to a new device without any restrictions.
More Unique Features:
Download, install, uninstall or update apps from computer. 

Backup & restore WhatsApp chats.

Download music or videos on iPhone from various sources.

Record screen on iOS device.

Easily manage iCloud library.
In short, AnyTrans is one of the best iTunes replacements you can find right now. It does more than iTunes and supports all Apple devices out there. With some simple clicks, you can access your music and export your favorite tracks to iPhone or iPad.
iTunes Alternative #4: Dr.Fone Toolkit for iOS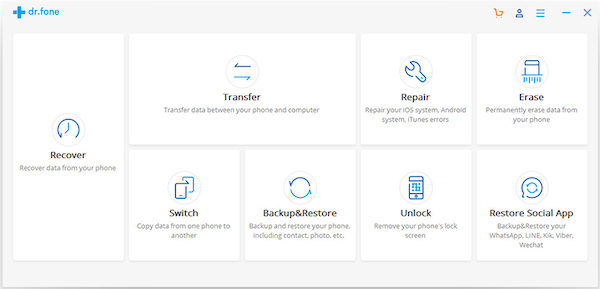 Dr.Fone is a comprehensive data backup and recovery software for iOS. Indeed, it can quickly recover your data, backup saved data, and then restore it to any device with a few simple clicks. Dr. Fone also offers a number of useful tools, including the ability to manage your iOS devices. However, data recovery still stands out when it comes to Dr. Fone Toolkit.
Dr. Fone features an easy-to-use and intuitive user interface. Indeed, you can find everything you want at first glance, ranging from quick scan, cloud backups to iTunes backups. Dr. Fone also lets you transfer files between multiple devices. Just simply import your files and let Dr. Fone do the rest.
More Unique Features:
Recover lost data on iPhone. 

Transfer data between Android and iPhone.

Repair iOS and iTunes system issues.

Remove lockscreen passcode from iPhone.

Backup and restore social apps like WhatsApp, Viber, Line.
In short, Dr. Fone Toolkit for iOS  is a solid option for those who want to securely back up their data to their computer. Or for moving their data from an old device to a new one. However, it is also a perfect solution for a regular user who wishes to store their important messages and contacts.
Wrapping Up
iTunes will be replaced by other apps soon and it is quite necessary to find proper alternative to replace iTunes so you can easily manage data on iOS device. The above 4 suggestions are the best iTunes alternatives you can get.