Dark mode is the new Orange! It has introduced by Apple on macOS Mojave. Everyone has it, not just device makers like Apple, Google, and Samsung, but also OS makers like Microsoft. Dark Mode is essentially a visual theme for operating systems that puts everything on a dark-colored background. The benefits are better readability and less eye strain, but the way it is done is by filtering out 'colder' light frequencies that mess up your brain's biological clock.
This mass-craze for dark mode has now firmly embedded itself into the Android ecosystem after Android 9.0 Pie was released last year. You could already enable it some of the pages on Android Oreo using dark wallpaper themes, but this version brought more control over settings and options for dark mode, with the Android Q version topping it off. Here, we'll show you how to enter and exit dark mode on an Android device running Android Pie and Android Q beta.
How to Enter Dark Mode on Android Pie 9.0
Entering dark mode in Android is as easy as turning it on. But the benefits you get from it could be plenty. First, the steps to turn it on:
Step 1: Under Settings > Display, you'll see an Advanced option. Tap it.
Step 2: In the Device Theme pop-up, you'll see three options. It will be on the default one linked to your wallpaper. Next is Light and the last one is what you want: Dark. Click on the radio button next to it, and your Android Pie device is now in dark mode.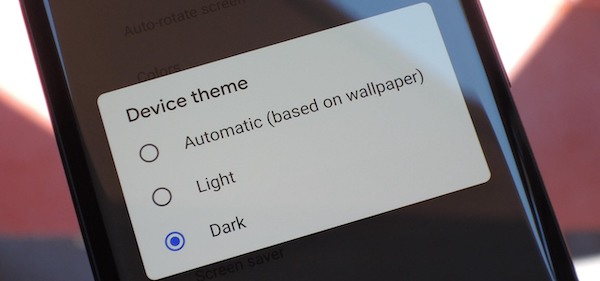 Although it's still virtually the same as automatic mode on Android Oreo, dark mode in the Pie version can even be paired with a light-themed wallpaper or used as a permanent theme for the device's UI. Night Shift (iOS), Dark Mode and dark themes haven't been proven to help you sleep better at night, but several studies show that there are undeniable benefits to be had.
How to  Exit Dark Mode on Android Pie 9.0
To turn off dark mode in Pie, while dark mode is on, you can again go to Settings > Display > Advanced and tap on Light or Automatic. This will turn off dark mode on your Android Pie device.
Dark Theme in Android Q 10.0
The process for turning it on or off might differ slightly depending on whether or not you've moved from Android Pie to Android Q beta. In the upcoming version of the Android operating system, Google has provided three ways to turn the Dark theme on or off.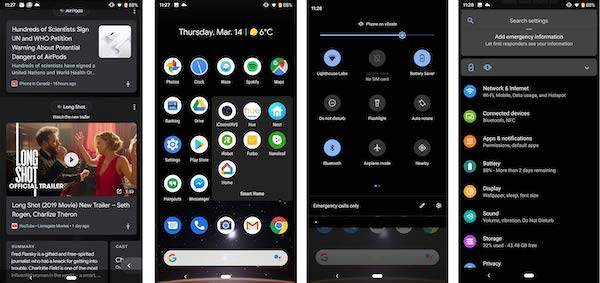 Method 1: Go to Settings > Display > Theme (new settings option) and toggle it on or off.
Method 2: Once it's enabled, there will be a Quick Settings tile added to your notification tray.
Method 3: Turning on Battery Saver mode automatically invokes the Dark theme on Pixel devices running Android Q. Support for this feature from other OEMs might come in the future.
To be used within an app, the app itself must be updated to inherit its function from the DayNight theme in Android Q. Developers can also leverage the Force Dark feature, which is independent of the DayNight theme and can bring an instant dark look to a particular app. Since nearly all OS platforms now have a dark theme, it's likely that most app developers will factor that into subsequent updates. So, get ready to move over to the dark side!