What is a 4K Computer Monitor?
4K generally refers to one of two high definition resolutions: 3840 x 2160 or 4096 x 2160. A 4K screen has about 8 million pixels, which is four times what a 1080p set can display. In other words, a 4K image is 2160 rows high and 3840 columns wide. That's nearly twice the numbers – in both directions – of a 1080p image.
What is 4K Monitor Good for?
One of most obvious benefits of TVs or monitors with native 4K resolution is that they offer more detailed and sharper pictures. That makes sense as 4K (3840×2160 pixel) is four times the pixel resolution of 1080p (1920×1080 pixels).
Another benefit is that a 4K screen delivers better image depth. That means 4K can render more details at the same time, so you can see more objects even on a big screen. Also, 4K images can produce better picture quality on bigger screens. In other words, details retain their original quality even when you sit closer to your TV.
How to Connect Mac to a 4K Monitor
All modern Macs (2016 or newer) is shipped only with Thunderbolt 3 (USB-C) ports in default, so you will need a right adapter or cable in order to connect 4K display to Mac. In this guide, we are going to connect a 2017 MacBook Air to a DisplayPort monitor. Before we get started, make sure you now have Thunderbolt 3/USB-C to DisplayPort adapter.
Step 1: Connect a Mac to the external 4K monitor using the adapter.
Step 2: Now turn on the Mac and you are good to go.
Step 3: Open System Preferences > Displays and then select the Arrangement tab
Step 4: Make sure the Mirror Displays box is not selected
Step 5: Now drag the illustrated displays into your desired arrangement and the white menu should show up on the main screen. Just simply drag the white bar to screen you wish to be the main screen.
Step 6: If the UI elements are not optimized on your Mac, then open System Preferences > Displays > Scaled.
Here are now the best 4K monitors for your Mac computer or laptop.
LG 27UD88-W (27 Inch 4K UHD IPS LED at $649)
LG is a big name in the industry. Last year, the South Korean firm shipped millions of 4K monitors on the market, beating out its main rival, Samsung in terms of sales. The good news is that the company has its own monitor range for Apple Mac and MacBook.
The 27UD88-W is a solid choice for your shiny MacBook as it combines perfectly the attracting look and amazing performance. Indeed, the display delivers an incredible color accuracy, which acts as an ideal tool for those who want to do some creative work.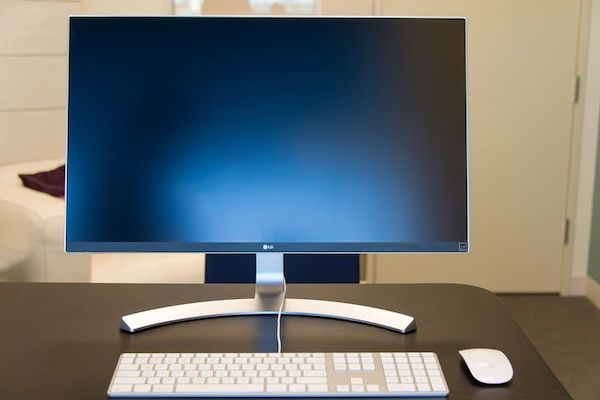 The LG 27UD88 attracts users at first sight. Indeed, it comes with smaller black bezels and white chassis, which helps it keep a low profile in an office environment. The 27UD88 is basically a gaming monitor thanks to its support for AMD's FreeSync technology. This gives it a little advantage when running some intense-graphics games like Battlefield 5, The Witcher 3, and Call of Duty Black Ops 4.
One major drawback is that it only has 60Hz refresh rate and lacks HDR support. This is a shame seeing that its rivals like the Acer XB281HK or Dell UltraSharp UP3218K already have higher refresh rates and HDR.
The LG 27UD88-W features a USB-C port on the back, which helps you seamlessly pair it with your Mac.
Dell UP3216Q (32 Inch Ultra HD Monitor at $1399)
The Dell U3216Q is one of the best 4K monitors for your Mac you can buy right now on the market. The monitor features great input lag and high response time, making it ideal for both gaming and professional use.
Unlike LG 27UD88-W, theU3216Q includes support for HDR, allowing for better picture quality and smoother scrolling. The monitor also includes numerous calibration features that guarantees a high level of color correctness.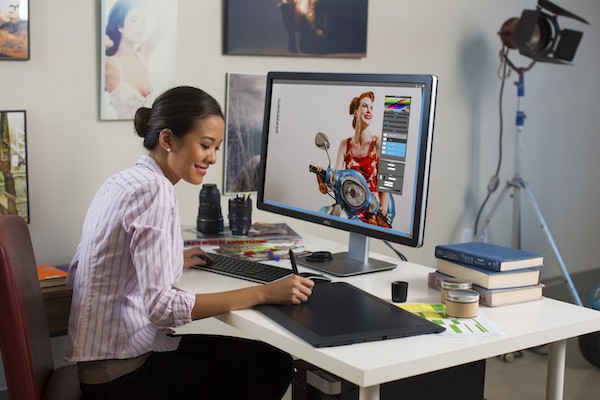 While the DellU3216Q is a solid choice for any user, one major downside is that it is missing a USB-C port. In reality, the monitor only has DisplayPort, mini DisplayPort, a USB 3.0 hub, HDMI, and a 3.5mm headphone jack.
The lack of USB-C makes it difficult to connect to a modern MacBook. In this case, you can buy a USB-C to DisplayPort adapter for around $16 at Amazon.
HP Z27 (27-inch 4K UHD Display at $539)
HP's Z27 is a great 4k monitor for all Mac users out there thanks to its appealing look and superb color. The Z27 features a slim build design with adjustable stand and wide viewing angles. The monitor has a 60Hz refresh rate and a response time of 8 milliseconds, allowing for smooth scrolling and visuals.
The Z27 features plenty of connectivity options, including USB-C, DisplayPort, mini DisplayPort, and HDMI. To be honest, this is my favorite 4K monitor to use with my MacBook Pro. Indeed, I did not notice any hiccups while working or gaming on the Z27.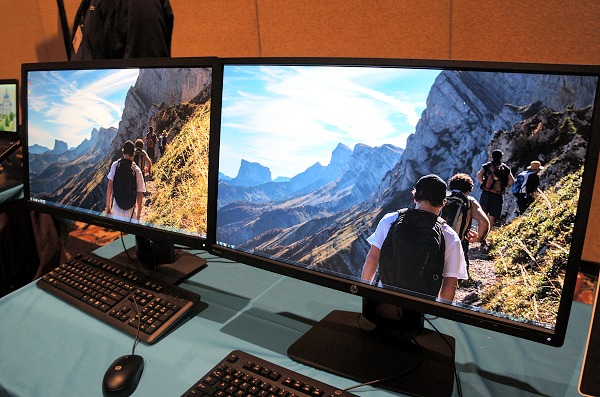 HP's Z27 now costs $539 at Amazon and offers a great value. If you are now looking for a 4K monitor under $600 for your Mac, then the Z27 is worth your shot.
LG 27UD58-B (Classic 4K UHD IPS Monitor at $349)
If you are in the market for a budget 4K monitor for your Mac, then LG 27UD58-B is a perfect choice for any user. It features 4K UHD resolution with 3840 x 2160 pixels and includes support for HDR10. Like the Z27, the 27UD58-B has a refresh rate of 60Hz, wide viewing angles, and a gaming mode.
The monitor also has USB Type-C, two USB-A ports, two HDMI ports, and headphone jack, making it an ideal connectivity hub for your Mac. Plus, it supports AMD's FreeSync technology, making it a fantastic monitor for video editing and gaming.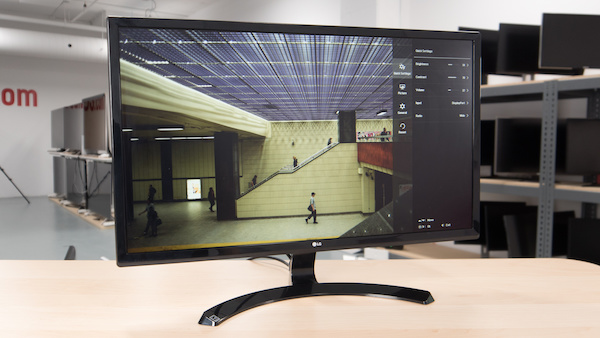 LG 27UD58-B now costs $349, making it one of the cheapest 4K monitors on the market. If the price is all that matters to you, the LG 27UD58-B is probably the monitor you should grab right now.
BenQ PD3200U (32 Inch 4K UHD Monitor with sRGB at $699)
BenQ's 32-inch is a great monitor that all professionals are looking for. It comes with everything you expect from a premium 4K monitor, from Darkroom mode to a built-in SD card reader and a 5-port USB hub.
The BenQ PD3200U features a beautiful look with thin bezels and adjustable stand. The handle at the top makes the display super portable. The PD3200U takes up a considerable amount of space on my desk because of its large 32-inch panel. However, this is not a big deal.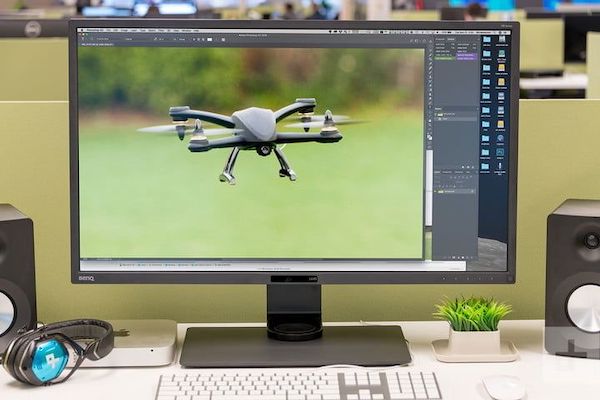 The PD3200U performs very impressively when it comes to editing photos, gaming, or watching videos. 4K and HDR look great, especially when you are watching 4K Ultra HD Blu-ray films.
When it comes to gaming, the monitor does a good job of handling high-resolution details and textures. However, we recommend you have at least NVIDIA RTX 2017 plugged in your PC to run 4K games.
These are the best 4K monitors for your Mac. If you have got a favorite, let us know in the comments below.

Related Post