Android is a popular mobile operating system developed a team lead by Andy Rubin. Google acquired the company and team in 2005 so Google owns and controls Android  OS since then. The company has invested billions of dollars every year in  research and development to keep it up with iOS.
Now, Google sells Android  OS to mobile hardware manufacturers like Huawei, Samsung, LG, OnePlus, Nokia and many others. It  gives the freedom to the manufacturers to tweak the software to make it compatible with the latest hardware. That's why Google pushes a major update to Android around 2 years.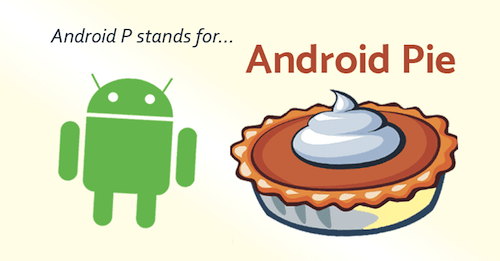 What is Android Pie 9.0?
Google has a tradition to name their major update as sweet food like Gingerbread, Jellybean, KitKat, Lollipop, and more. This time they have selected the name Pie for the 9.0 version. Why it has two names?
Android Pie: Android is a complex OS, but the average consumers aren't technical, and it sounds industrial at the same time. The Google wants people to remember the name and put a smile on the face, so they used a sweet, delicious food name that we all enjoy PIE. The ninth version of Android is called Android Pie.
Android 9.0: There's no secret that software come in version numbers. Android select numerical order 9.0, and if there's any further development in the same version, then they will release the update to Android 9.1 version.
Android 9.0 or Android Pie is a major update because it is going to support the latest technology in the market.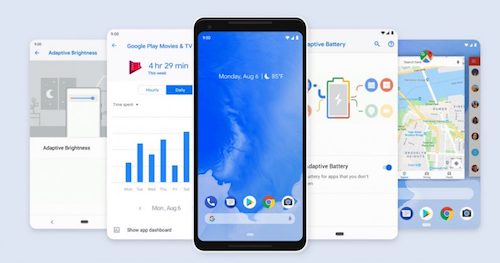 Android Pie 9.0 New Features
I have already mentioned that Android P is a major software update in last two years because it is going to support the latest developments in the hardware side. I will list the important features one-by-one to reveal the support and new features you are going to get in the latest devices.
#1 – Notch Display Support
Samsung and Apple launched the notch display last year but  Android team did not anticipate the major changes.Manufacturer like Nokia, Oppo, Vivo, OnePlus, Xiaomi, Asus and others are following the trend.The Android developers did not get enough time to support Notch Display because they had no idea about it. 
Can you imagine Nokia 6.1 is launched  high-quality notch display with SnapDragon 635 SOC under $300 budget? They have done a great job because they are following the trend.
Android Pie supports notch displays to give you advanced options to customize the display. It comes with Stimulate a display with a cut-out  option, and you can enable it from Developer options > Drawing > Simulate a display with a cutout. The latest feature enables you to select cut-outs like tall, narrow, wide, and more.
#2 – Auto Rotation Feature
Android P introduced many new features, but they have also made many improvements to the existing features like the auto-rotation.
You no longer have to depend on the traditional auto-rotation button in the notification because the auto-rotate button appeared in the navigation bar when your Android P smartphone rotated to watch a video.
Let's assume that you have locked auto-rotation, and then the rotate button appears so that you can view the video in landscape.By tapping on the button, you will lock the phone in landscape until you are willing to exit it by tapping one more time. A neat design with a simple touch – create thinking by Android P developers.
#3 – Adaptive Features
Asus Zenfone 5 (2018) surprised the world when they launched a phone under $500 that runs flagship SnapDragon chipset. The highlighted part of Asus Zenfone 5 is that it has adaptive features to save you battery and enhance performance as per the user.
Android P has added adaptive functions to Battery and Display to provide you better performance for a longer period of usage.
Adaptive Battery: It focuses on the number of apps you use in next few hours, and the number of apps you probably won't, then it utilises the battery life on the apps you care about it.
Adaptive Brightness: The brightness sensor records the adjustments in a different environment. Then, the Android P will automatically adjust the brightness, when you are in the same environment.
Battery Saver and Background Apps: The Android P machine will learn about the apps you are not using for a few hours, and it doesn't let them turn on in the background until you open it. It also suggests you few recommendations like which apps are using more charge, so you can save battery by uninstalling them or by using app timer.
#4 – App Timer
Many Android apps are running at the background for hours to days that consumes plenty of battery  for no reason. Now, Android P allows you to set a timer on each app, so you can stop them from running at the background after a specific period of 1 minute to 1 day.
A notification pops up on the screen to warn you that the timer has reached the limit and the application will stop working till you restart it. It will improve the performance by saving RAM and saves you battery charge as well.
#5 – Indoor navigation with Wi-Fi
I always wan this feature when I am using my Samsung Galaxy phone. I have been thinking about this feature for two years before the Android P release, but I did not expect that it would come this early.
Android P has added IEEE 802.11mc WiFi protocol support, and you can keep track of yourself in indoor GPS style tracking while roaming around your building. In short, if you are in a mall, and you are trying to find a store in the mall, then you can use the GPS style tracking system to find the store within the mall building.
Tips: How to backup data on Android 9.0
Android Pie 9.0 Powered Devices
Android 9.0  Pie is currently only limited to  a few manufacturers who are willing to pay an exclusive price for per license. Yes, the reason why manufacturers couldn't release Android P update early because Android business team is selling the license at a high price when you compare it to the regular license. Only a handful of phones are going to receive Android P or Android 9.0 update.
Google:  Pixel, Pixel XL, Pixel 2, and Pixel 2 XL
Samsung: Galaxy S9/S9+, Galaxy S8/S8+, Galaxy S7/S7 Edge, Galaxy S6/S5 and Galaxy Note 9/8/7/5/4 and Galaxy Tab
LG:  G6 and G3
Sony Phones:  Xperia XZ1/ XZ1 Compact, Xperia XZP,  Xperia XZ2/XZ2 Compact, Xperia XA2/XA2 Ultra/ XA2 Plus
Huawei:  Mate 10 Pro,  P20, Honor 10, and Honor V10
Moto: Moto Z3/Z3 Play, Moto Z2 Force/Z2 Play, Moto X4, Moto G6 /Moto G6 Plus/ G6 Play
Nokia : Nokia 7 Plus
OnePlus: OnePlus 6
Oppo:  R15
Vivo  : Vivo X21
Xiaomi:  Mi Mix 2S
Currently, these are phones  will receive Android P software update, and they have confirmed by the brands. The complete list  is here.
How to Upgrade Your Phone to Android 9.0 Pie
The beta version of Android 9.0 is available, and the official version will release soon for your devices. Android P stable update is not currently available for any device, but you can install BETA version on the smartphone.
I recommend waiting for the official version for your device to release, but those whose devices are not in the Android P update list can opt for this method. You can also follow the same steps to root Android 9 device.
Step 1: Boot to TWRP recovery software by holding Volume up + sleep/wake key or Volume down + sleep/wake key.
Step 2: Now, select WIPE, then select "Dalvik, System, and Cache" from the smartphone.
Step 3: It will begin the wiping the smartphone system, and click on "Reboot" to complete the process.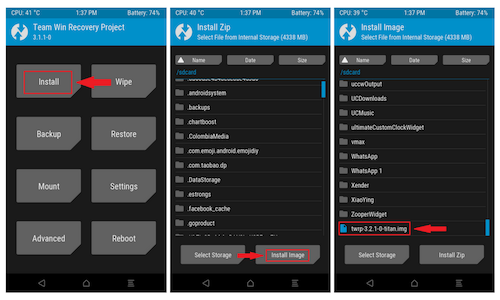 Step 4: Now, go back to the recovery mode and tap on "Install" and browse for the custom ROM like Lineage OS 16.
Step 5: You have to select the custom ROM Lineage Android P OS, and then tap to install it.
Step 6: It takes 10 minutes to half an hour to install Lineage Android P OS. Be patient because it takes more time in many devices, and it took 20 minutes to install custom ROM on my device. Tap on reboot to begin a new journey with Android P on your device.
Do not forget that this is a rooted device method and rooting can be harmful, so make sure to learn more about rooting and installing a custom ROM. You can also create a back up of your original ROM to restore your device back to normal at any point.
Conclusion
You can get Android P 9.0 on your smartphone using the rooted method but make sure to follow the rules and instructions properly, or you can brick your device. Android bricked smartphone is not recoverable, so make sure to read the instructions properly.