"How to backup my Android phone to pc before factory reset"? This is a common question asked by friends and family members all the times. We all know data is soon going to become more valuable than gold, and there's a good reason for that. In North America alone, every user generates about 7.1GB of data every month per smartphone. By 2023 that figure will reach a whopping 48GB. That's one user, one phone, one month.
What does that have to do with you as an Android device user? Plenty! A lot of that data isn't sent over the Internet but stored on your local device. That includes thousands of photos, hundreds of text and chat threats, dozens of videos and numerous other data types like contacts, call logs and so on. How do you keep all that data safe from theft, accidental deletion, loss from damage and other problems? The solution is to do regular backups with some Android backup apps. However, although Google does allow unlimited photo and video storage on its cloud service, you'll have to pay for other data once you go over the free limit for your Google account. The best alternative is to store it on a PC and then copy that to an external drive so you have the data stored in multiple places. However, it must be backed up in an efficient manner so it can be restored to your device when required.
Method 1: How to Backup Android to PC via Copy-and-Paste
Android is an open source mobile operating system and it is kind of easy to transfer file between Android and computer, which is much better than iOS regarding of this. You can simple drag and drop files on Android to computer via USB cable. However, you should turn on USB debugging on Android and make sure Android USB driver is installed correctly on the computer.
Step 1: Check Android USB driver on Device Manager. If there is no yellow mark beside the device name, it means Android USB driver is functioning normally.
Step 2: Open USB debugging option on Android. If you don't know how to do this, please refer to this guide instead.
Step 3 : When the above steps are completed, connect Android to computer via USB cable. You should see the device name in File Explorer. Click on it and enter into the folder. Copy the files and paste it to the folder on local computer.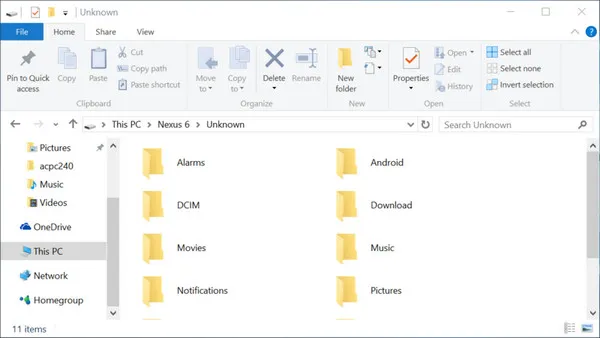 Warning: the approch works fine for files, such as music, videos, photos and documents. You should be noted it is not applicable for contacts, messages, WhatsApp, Calendar and notes.
Method 2: How to Fully Backup Android Phone to PC or Mac
The ideal solution for full backup is premium software specifically meant for the purpose. TunesBro Android Data Backup & Restore lets you backup all your valuable data with just one click. Mostly importantly, you are free to choose which type of files to be backed up and you can easily restore lost data from backup. Plus, it offers additional modules such as Recover, Transfer, Root, Switch, Repair, Erase and Unlock.
As mentioned, the software is intuitive and simple to use. Follow the steps below to safely and securely backup your precious files and data to your Windows PC.

Full backup Android to PC or Mac.
Transfer separate content on Android to computer.
One-Click restore from backup file .
Multiple additional features are available for Android users.
Step 1

Install Android Backup & Restore on PC or Mac

First, you need to download and install the software on your Windows PC. The utility supports Windows 10 and most of the earlier versions right up to Vista and XP, and is built for all the top Android smartphone brands like Samsung, HTC, Motorola, LG, Sony, Google Pixel and so on.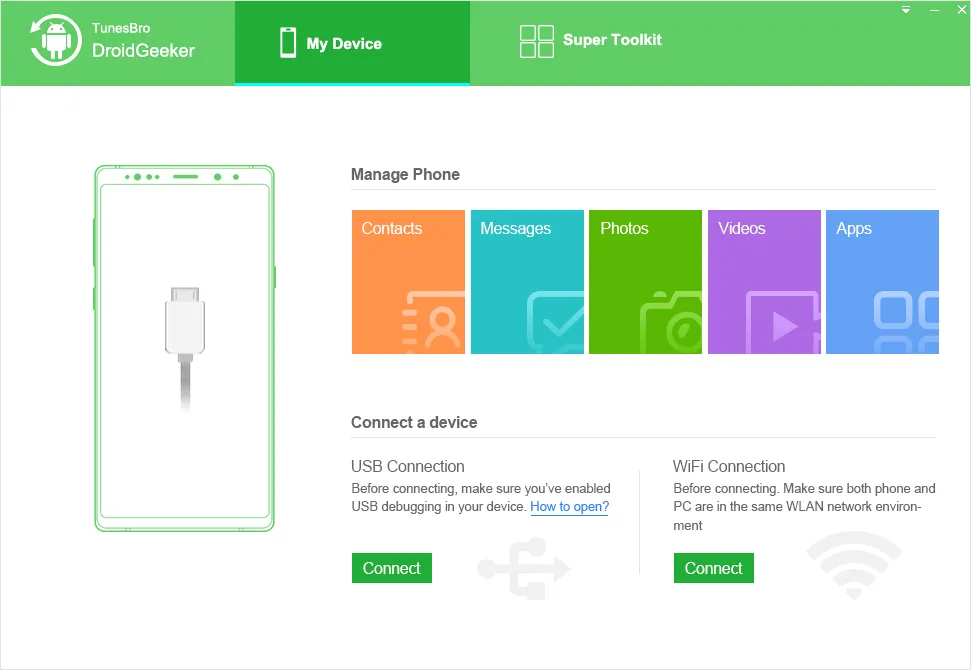 Step 2

Turn on USB Debugging and Connect Android to PC

Next, connect your Android smartphone to your Windows PC and launch the software. You may have to activate debugging mode on your phone in case you don't get an automatic prompt to do so.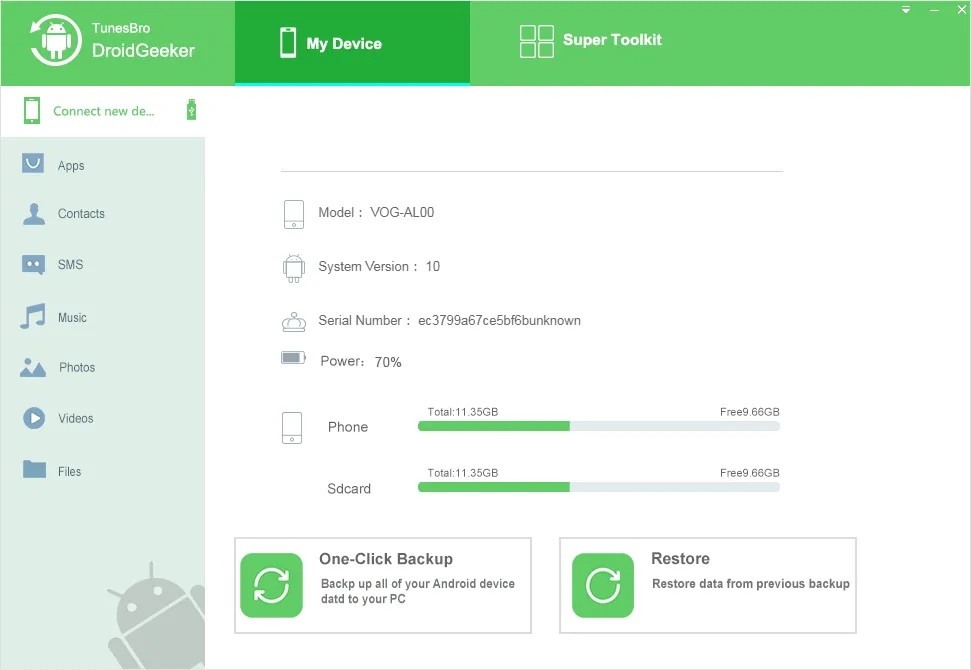 Step 3

Select Files for Backup

On the interface, you'll see the "One-Click Backup " module at the bottom of My Device window. Click on that. You should now be able to see your device. At this point, you can also view any past backups you have made, but this is for the next time you use the software. For now, choose the "Backup" option
Step 4

Start Backing Up Android Data to PC

Now pick all the file types that you want to backup to your PC, see if the default path is okay and click on "Backup". And that's it, you're all done!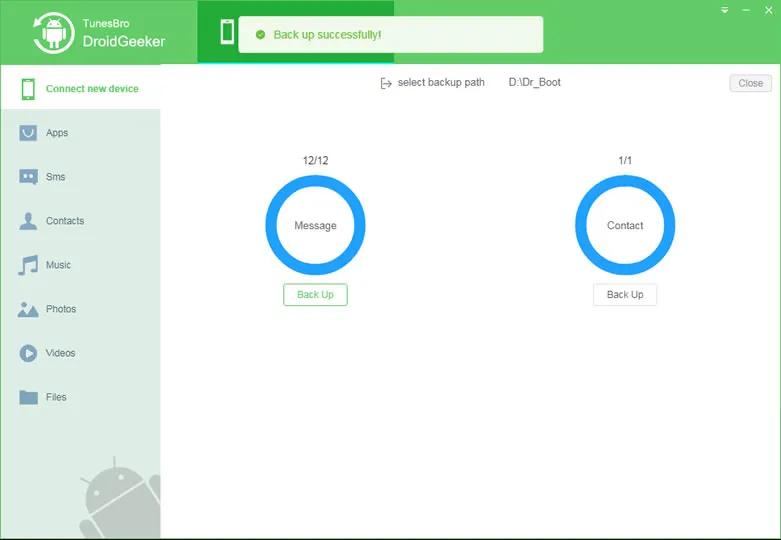 One word of caution when you search for free utilities for the same purpose. First of all, not all developers can be trusted. There may be malware risks hiding inside free software if you're not careful. Additionally, a lot of free software doesn't get regular updates, which means you'll be using a really old version that could end up corrupting or deleting your data.
Summary:
Premium tools cost money for several reasons: they've actively being upgraded all the time, you'll get customer support when you face issues, they usually have a free trial option so you can see what you're getting before you pay, and so on. Sure, it's very tempting to get a free utility so you don't have to spend money, but you're putting yourself at risk. Even worse, downloading a cracked version is even more dangerous than a free one since you're also breaking the law.
For all these reasons, whatever software you need, we encourage you to pick the ones that are well-known, trusted by thousands of users and have positive reviews on the Internet. It's the safest way to play.

---