What is Huawei Backup? Creating a full backup of your Huawei phone is absolutely necessary when you are upgrading your phone or installing a new ROM to give your smartphone a new style. The reason why you must backup your phone is because these operations may end distinctly causing a huge data loss. But if you have a backup of your phone then it is assured that at least you will get all the data back.
On the other hand, Android and computer experts always recommend to create a full backup of your device every week or at least once a month to ignore any kind of data damage. And also we do believe that taking proper precautions should be a #1 priority for all cautious people. Keeping that in mind, in this guide, we will be demonstrating 3 ways to backup Huawei phone to computer, however, you can even use these methods to backup other branded smartphones too.
Additionally, the following method perfectly works with Huawei P7/8/9/10/20 as well as with the latest Honor 5/6/8/9.
Method 1: How to Backup Huawei Phone with Built-in Backup Feature
Huawei phone has its own backup and restore feature pre-installed by default. This feature can be really handy but unfortunately, you won't be able to preview any data before backing them up. Moreover, you will have to backup everything on your phone in order to use this feature which could be inconvenient.
Step 1: Unlock your phone, tap on menu and open Settings app.
Step 2: Scroll down and select "Backup". You will see two options, just choose "Backup" and go to the next step.
Step 3 : Select the destination where you want to save the resultant backup file like internal memory unit or SD card or computer.
Step 4 : Wait for the smartphone to create a full backup of your phone and do not use your phone at this point to avoid any disturbance. Ultimately, save the backup file in your PC and use the same feature to restore the data in any other Huawei phone.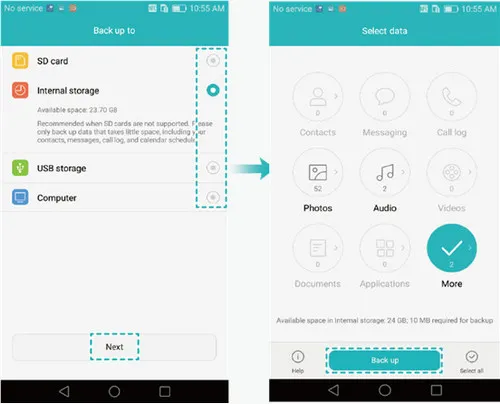 Cons: Backup process is really slow and not a few types of data is supported for backup. Items like WhatsApp chat is not available in this option.
Method 2: How to Easily Backup Huawei Phone to Computer without Rooting
The above mentioned method can create a lot of troubles in times and it is absolutely necessary to have computer expertise to use those methods. But, if you want to learn how to backup your entire Huawei phone to PC in just 1 click then you can accomplish that with the help of backup & restore tool. The above method is only good for Huawei smartphones but with TunesBro tool, you can make a backup of other brands like Nokia, Samsung, Motorola, LG, Google, etc and moreover, you can control the types of data that you want to backup.

Easily backup and restore entire Huawei in just one click.
Support 60000+ Android smartphones and tablets.
Manage all the contacts and other data types from a computer.
Permanently erase content from Android phone .
Step 1

Install it on PC or Mac

The very first step is to install this program on your PC. It is available on Mac and Windows computer right now, so download the appropriate version and install it.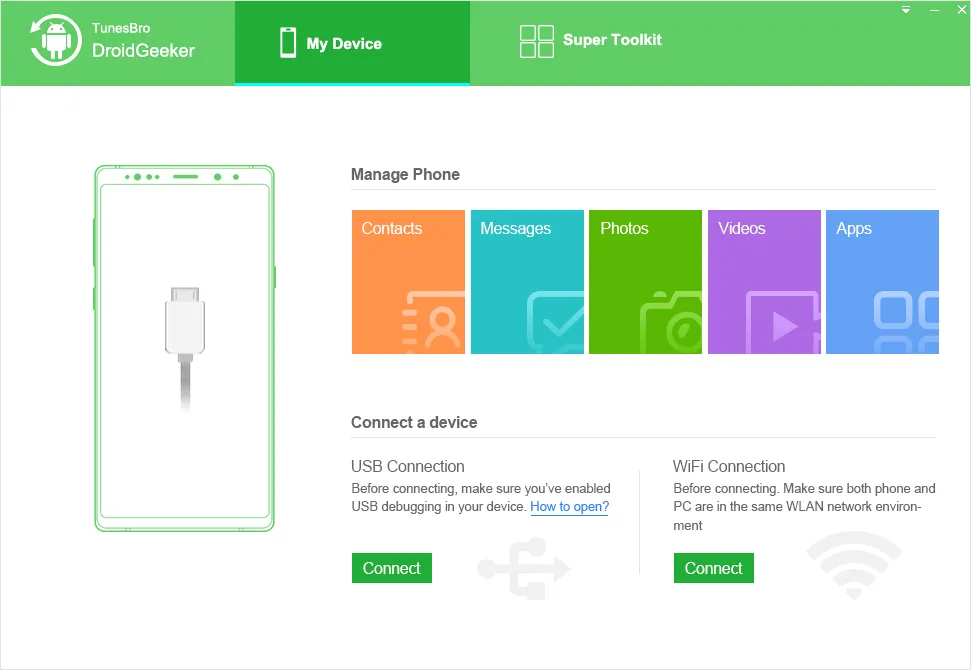 Step 2

Attach Huawei Phone to PC

Next, connect your phone to computer with a data cable and make sure to enable the USB debugging mode on the Huawei phone. Now, from the main user interface of the tool, click on "One-Click Backup" and choose all the data formats that you want to backup like sms, contacts, photos, media files, etc.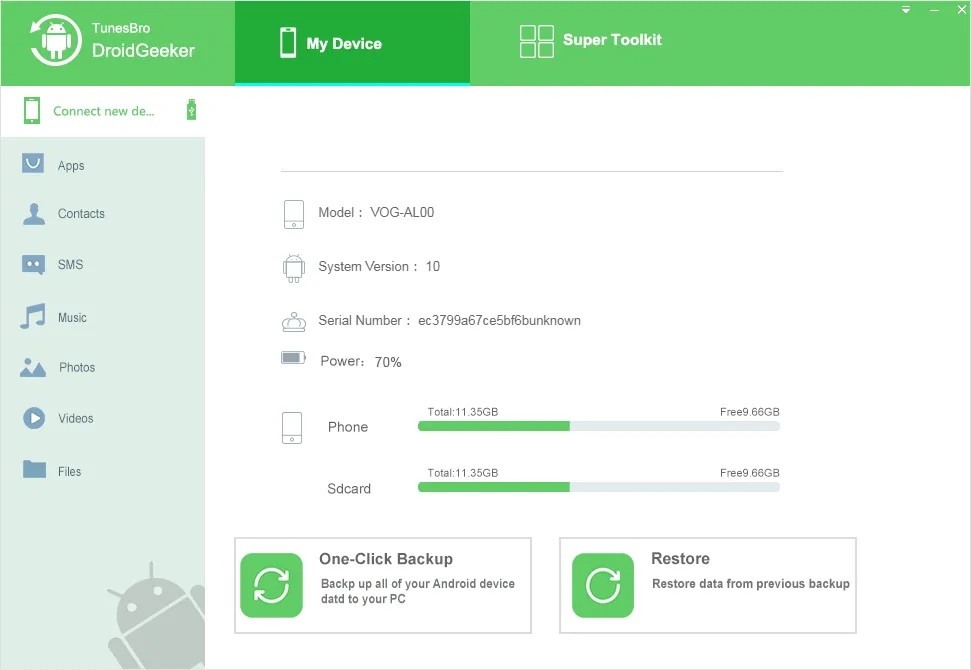 Step 3

Backup Phone Data to Computer

Now, all the selected file types will be backed up in your PC after your click on "Backup" from the main user interface. Please note that this process may take around 20-30 minutes depending on how much data it is backing up.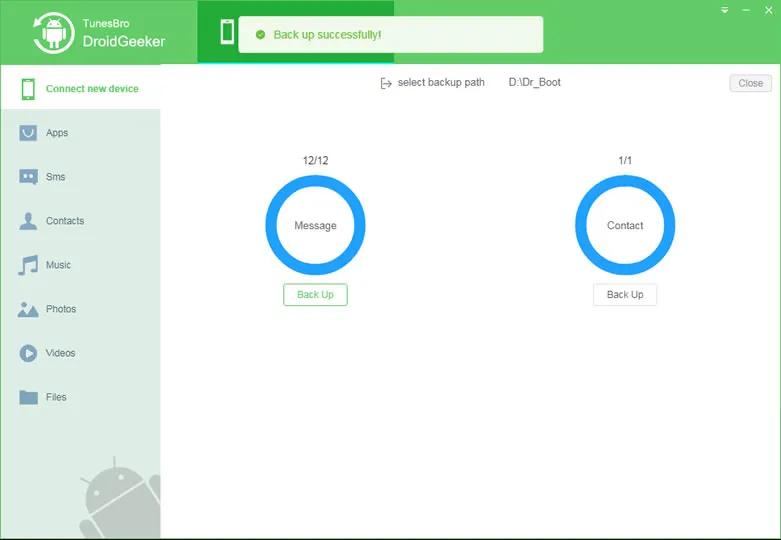 Method 3:How to Use Huawei HiSuite to Backup Phone
Just like Nokia PC Suite and Samsung Smart Switch, Huawei has its own HiSuite to serve its Huawei users the ultimate experience ever. Huawei HiSuite can perform countless tasks that's beyond everyone's imagination involving backing up Huawei phone.
Step 1: First install Huawei HiSuite program to your computer and launch it to see the main user interface.
Step 2 : Connect your phone to PC with a USB data cable and make sure to enable the USB Debugging Mode on your Huawei phone.
Step 3 : Next, from the main interface of the tool, click on "Backup" and select what kind of files you want to backup like SMS, contacts, photos, audio, videos etc.
Step 4 : After selecting the data types, click on "Backup Now" and the tool will do rest of the trick for you. Just keep waiting unless and until the backup progress is finished and have fun!
One major downsite of HiSuite is that you can't view and open backup file. In addition, only full restore is supported. You can't only restore deleted items and not flexible as Method 2.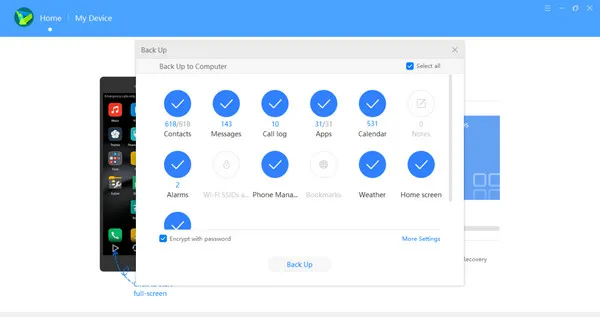 Summary:
Always remember that backing up data is better than losing data. A single mistake may erase everything from your phone but if you take proper precaution then you can easily get those data back within a blink of an eye. In this tutorial, we have revealed 3 awesome methods to backup Huawei phones to PC. But if you are using any other branded smartphones then feel free to use TunesBro to backup them to your computer.

---