Samsung Smart Switch is an influential and powerful tool used for transferring data from one smartphone to Samsung devices. It offers simple backup & restore solution as well so you can update your device regularly. It can work on PC and Mac computers. So generally, it is our first choice when switching to Samsung. You can download Smart Switch for PC/ Mac and mobile apps on its official website.
Drawbacks of Samsung Smart Switch
Many people are complaining in online forums that the data transferred with Smart Switch are often corrupted and most of the time it doesn't even recognize the smartphone on the PC. Mac users has reported that there devices are not identified and hence, they couldn't even transfer their data. Additionally, it doesn't support all Android devices and only compatible with high end smartphones with Android 4.0+. These cons cannot be overlooked and it could be a real pain if you experience these troubles in an emergency.
What are the alternatives to Samsung Smart Switch then?
Thankfully, there are quite a few programs available on the internet that can help to transfer data from one device to another and even offers data backup and restore options. We will list down the alternatives for Samsung Smart Switch, which are quite reliable and stable at this moment.
TunesBro Phone Transfer: Samsung Smart Switch Alternative for Switching Phone
One of the main features provided by Samsung Smart Switch is phone to phone transfer. It can transfer data from one phone to Samsung Galaxy phones. So, if your concern is to transfer data from one device to another then we have a better solution than Smart Switch if it failed to wrok.
TunesBro Phone Transfer is the most powerful and user-friendly data transferring tool that supports exchanging data between Android and Apple devices. It allows you to copy most important data types such as contacts, messages, call logs, videos, pictures and documents from one phone to another with a single click. This tool is a perfect and better alternative of Samsung Smart Switch. You can install it on their computer and transfer data in just 3 steps.

Transfer 25+ data types from one phone to another: call logs, sms, contacts, videos, photos, notes, calendars and so on.
Support 1000+ phone models, including Samsung, LG, Sony, Huawei, OnePlus, iPhone, etc...
Compatible with Mac and Windows.
Restore data from iTunes, iCloud and Kies backup files.
User-friendly and very fast.
Step 1 . Download and install this program on a PC or Mac.
Step 2 . Connect both devices to your computer.
Step 3 . Open the program and click "Phone to Phone Transfer". You will see the phone names on the screen. The phone on the left is the Source phone, and the other is the destination phone. If the position was wrong, you can switch it by clicking "Flip" button.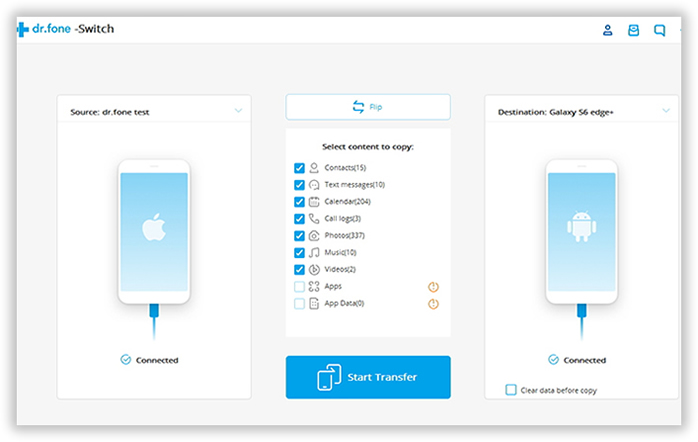 Step 4 . On next windows, please select the file types you want to transfer to the new phone and click "Start Transfer". A few minutes later, all selected content will be moved to the new phone.
Alternative app: CShare is a free Android app that can transfer data from your old phone to the new ones over Wi-Fi. No PC is needed to use this app and it can transfer videos, pictures, music and other multimedia files. Currently, it is available for Android users only and it uses the old technique to transfer data.
How to use CShare: First, install CShare on both smartphones. Then tap "send from old phone" and receive on new phone. Finally, select files and tap "Transfer". Wait a while and you can see all the selected data being copied to the new phone. However, it cann't transfer important database file types such as contacts, messages, notes. In addition, iPhone is not supported by this app. And the transfer time is much longer than Phone Transfer.
Alright, so you have two amazing alternatives for phone to phone transfer but what about data backup and restore? Smart Switch does provides the benefits of data backup and restore but it takes hours to complete the process as I have tested it on my Galayx S7. If your concern is that then we have an outstanding alternative as well.
TunesBro Android Manager: Smart Switch Alternative for Data Backup & Restore
You can find a lot of options for Android data backup and restore. However, in this article, we are only listing the best alternative to Smart Switch based on our final testing result and user reviews. TunesBro Android Manager is a multifunctional Android device manager that can control your entire smartphone from PC. It can easily backup smartphone and it can even restore them on any Android device of your choice. Additionally, it is supported in a wide range of smartphone brands like Samsung, LG, Sony, HTC, Motorola, and Nexus and so on. On the other hand, it can send and receive messages on your PC and play Android apps with a few clicks.

Backup and restore Android Smartphone in One Click
Transfer selected data to computer and view it on Computer
Download and install apps outside of Google Play Store
Recover deleted or lost files from Android
Easily root Android devices
Option 1

How to Backup Data with TunesBro Android Manager

Step 1 . Install this program on a PC or Mac.

Step 2 . Open it on the computer and choose "One-click Backup" option. Make sure to turn on the USB debugging mode on your Android smartphone and connect your smartphone to PC.

Step 3 . 3.Select what kind of data you want to backup and click on "Backup" to save the backup file on PC.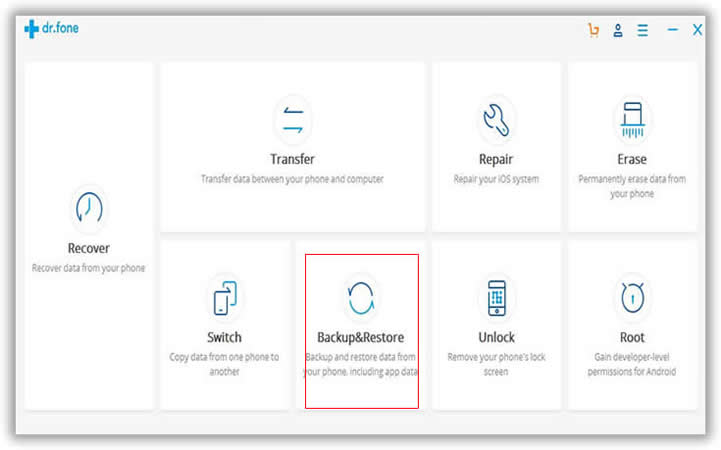 Option 2

How to Restore Data from Backup

Step 1 . Run TunesBro Android Manager and choose "Super Toolkit" tab.

Step 2 . Get your smartphone connected to PC and click on "Restore".

Step 3 . Choose the data types that you want to recover and hit the "Restore" button.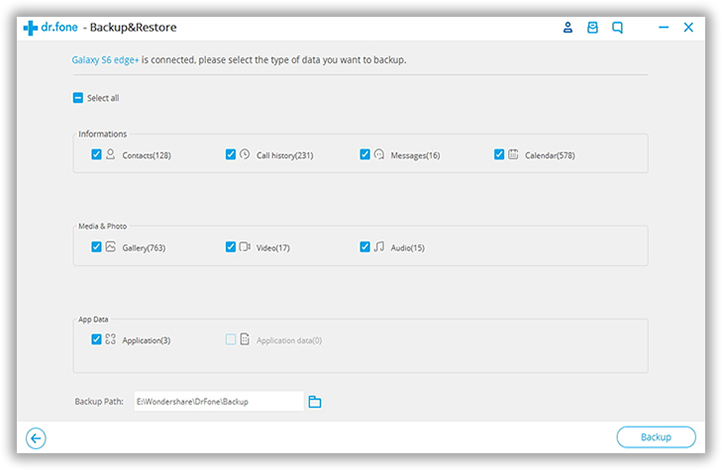 Final Verdict:
If you compare all the tools shared on this article, you will see Tunes Phone Transfer and Android Manager to be the most efficient and helpful program. Google Drive can also backup bunch of data but it has limited features and you won't be able to preview any data. So, if you buy a new smartphone then don't fear as you can easily transfer the data from your old phone with Phone Transfer. On the other hand, if you are a wise person and wish to back up your data in advance then Android Manager is the best choice.

---