Even instant messaging apps such as WhatsApp, Facebook dominate the world for communication but text messaging still plays an important role nowadays, especially for elderly ones. So, when we change our phones, it is recommended to transfer all valuable data to the new device. We could do it easily with contacts or photos. But it is pretty hard for transferring sms between different phones because there is no standard format for it. If you are switching from iPhone to Samsung Galaxy S9/S8/S7/S6 then the process becomes a bit tricky.
In this short tutorial, we will share two methods that can help you smoothly transfer text messages from iPhone X/8/7/6S/6/5S to Samsung S8/S7/S6/S5 and vice versa. Please don't be panic as the steps are quite simple and it can be done in just a few minutes.
Method 1: How to Transfer iPhone Text Messages to Samsung Galaxy S9/S8/S7/S6/Note 8
In the first method, we will show how to transfer messages between phones manually using iTunes. This method is a little time consuming and tricky, so if you want to transfer all text messages with a single click then skip to method two.
Step 1: Launch iTunes on your computer and connect your iPhone to PC using a USB data cable.
Step 2: Create a back of your iPhone with the help of iTunes.
Step 3: Find the backup file the you just created from the default folder: C://[Users]/[Username]/AppData/Roaming/Apple Computer/Mobile Sync.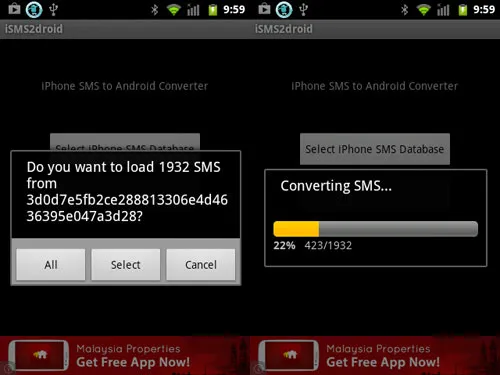 Step 4: Now copy the backup file and paste it on the Android phone. This file format is not supported in Samsung S8/S7S6/S5, so you will have to download iSMS2Droid from Google Play store to convert the file into a supported format.
Step 5: Launch the application and upload the database backup file. This will convert the iPhone SMS backup file to Android friendly supported format.
Step 6: Next, download "SMS backup & restore" from Google play store and install it. Then open the app and click on "Restore" and select the converted file. This will restore all messages from iPhone to your Samsung S6/S5 Phone.
Pros:
1. All messages will be transferred from iPhone to Samsung;
2. SMS file will be converted to XML format and you can keep it on your PC.
Cons:
1. Very time consuming.
2. Annyoing Ads pop up on the whole screen.
3. Won't work if you are trying to transfer messages from Samsung S6/S5 to iPhone.
Method 2: Transfer SMS from iPhone to Samsung Galaxy or Samsung Galaxy to iPhone
Another solution to copy sms between iPhone and Samsung is to use professional software to complete the task. In this part, we will take TunesBro Phone Transfer as an example. It is one of the most powerful programs for data transfer between two smartphones. It currently supports iOS, Android, Windows and Blackberry OS. For sure, it will transfer all messages between mobile phones with just a single click. That's correct, keep on reading to find out how to do that.
Support Devices: iPhone 7/6S/6/5S, Samsung Galaxy S9/S8/S7 Edge/S6 Edge, Samsung Galaxy Note 8/7/5/4/3 and other 2000+ models.
Step 1

Download and Install PhoneTrans on PC or Mac

The download files are listed below. There is a Windows version or Mac version. Please choose the right one. After download, double click the file to start the setup wizard. When the installation was done, the program will be launched automatically. Now, click "Switch" from the man screen.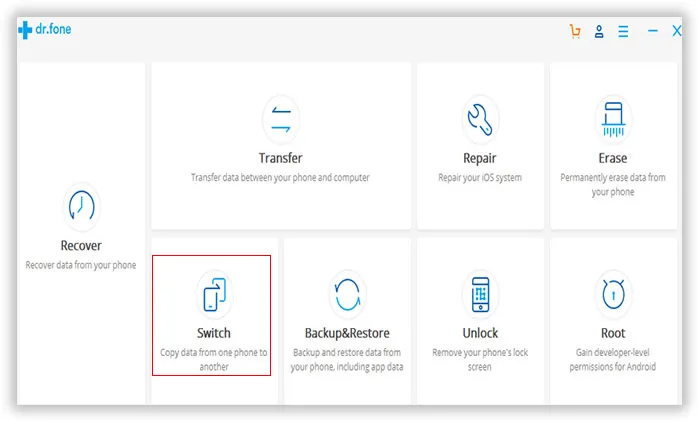 Step 2

Connect iPhone 7/6S/6/5S and Samsung Note 8/S9/S8/S7/S6/S5 to PC

Next, connect both phones to computer with the USB data cable. Both phones may ask to grant permission, simply click on "OK" on the phone to continue. Make sure USB debugging is enabled on Samsung Galaxy phone and iTunes is installed on that computer, tool.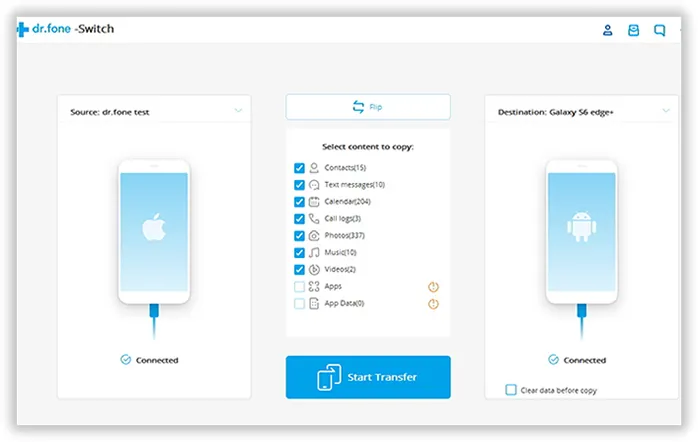 Step 3

Transfer iPhone Text to Samsung Galaxy Note 8/S9/S8/S7/S6 and Vice Versa

Make sure that the source phone should be shown on the left side and the destination phone should appear on the right side. If not, then simply click on flip button to switch the positions. Then simply select "Text messages" from the options and click on "Start Transfer".

Wait until the transferring process is finished. This may take some time depending on how many messages on the source phone. Once it is done, you will see the following screen that says the operation is completed.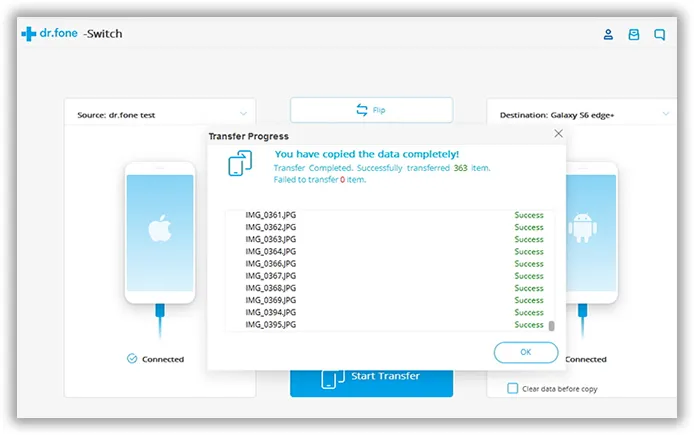 Conclusion:
Transferring messages from iPhone to Samsung Galaxy phone may be a little difficult but as you can see if you are using PhoneTrans then this is as easy as a piece of cake. Not only you can transfer messages but also you can transfer other data like pictures, messages, contacts and other private information using the same software.

---