In the world we are living, every day we hear news about new smartphones are being launched. And, due to the human natural extinct, we are tempted to try out new things. For now, Android and iOS are the two popular mobile operating systems that dominate the world. If you switched from Android to iPhone, then it would be a headache to transfer data from the old phone to the new iPhone.
In here, I am going to share three effective yet simple ways to move text messages from Android to iPhone. All of the methods are tested on 2 Android phones (Galaxy S6 and HTC One M8) and iPhone 7. However, due to the diversity of Android devices, I am not sure the methods work on all devices. You should try them out accordingly.
Method 1: How to Transfer SMS from Android to iPhone with PhoneTrans
TunesBro Phone Transfer is a software utility developed in 2014, which is the only one solution at that time for SMS transfer between Android and iOS. In the past two years, there are at least 10 new features added to the program, so it is still the No.1 tool to transfer data between different mobile devices, including Android, iOS, Windows Mobile and Blackberry. Besides message, you can also use the program for transferring contacts, music, photos, video, calendar, call history or Ebooks.
The transfer using this utility is risk-free, and there is no quality loss as well. Most of the times, when you switch to a different phone, you sell out the old phone, and when you do it, you must need to delete all of your data from that old phone. This software utility makes it easy for you to erase everything from the old phone. So no one could recover any data from the Android phone.
Support Devices: iPhone X/8/7/6S/6/5S, Samsung Galaxy S8/S7/S6/S5, HTC U11/M10, LG G5/G4/G3, Sony XA/XZ, Moto Z/X/G, OnePlus, Lenovo, Xiaomi and other 2000+ model.s
Step 1

Install and Run TunesBro PhoneTrans on PC or Mac

TunesBro PhoneTrans is available on Windows and Mac OS X. Please download the application on your computer and install it later. When installation is over, double click desktop shortcut to launch the program. From the four options, select "Switch" to get started.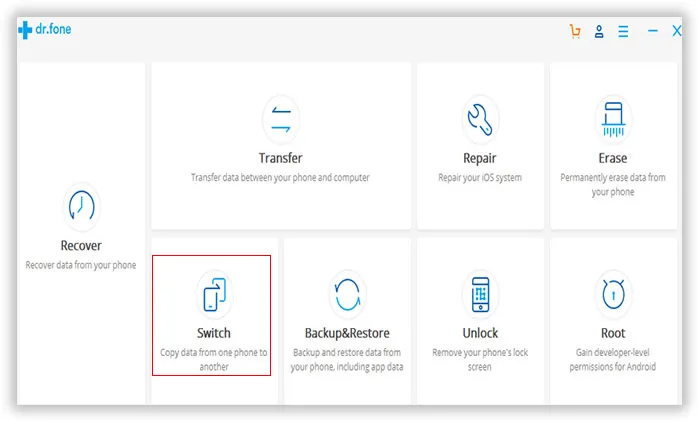 Step 2

Connect Android and iPhone 7 to Computer

Take out USB cables of two phones and use it to connect the phone to computer. For Android phones, you need to turn on USB debugging on Android phone and install the latest USB driver if it was the first time attached to that computer. For iPhones, you should make sure iTunes is installed on the computer.
Step 3

Select Messages You Wish to Copy

Once the two phones were well connected to computer, their names should be displayed on the main screen. Make sure Android is the original phone and iPhone is the destination phone. If the position was wrong, then click "Flip" button to switch positions. As you can see from the program, there are a couple of content that can be copied from Android to iPhone. Kindly select the ones you wish to transfer.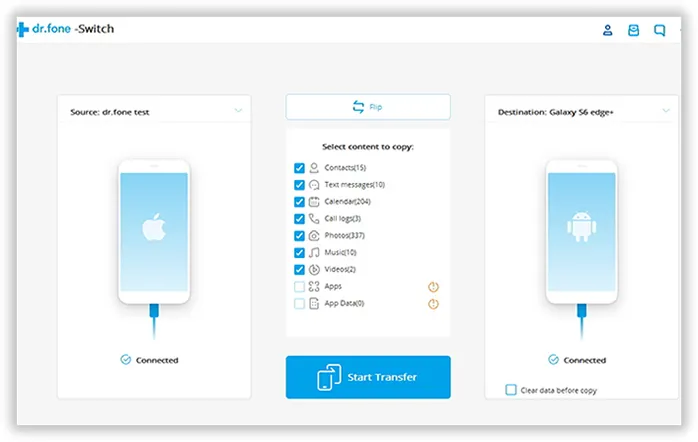 4

Start Transferring Android Messages to iPhone 7

Click "Start Transfer" button once the selection is finished. All selected items will be copied from Android phone to iPhone 7. You can see how the process goes with the progress bar.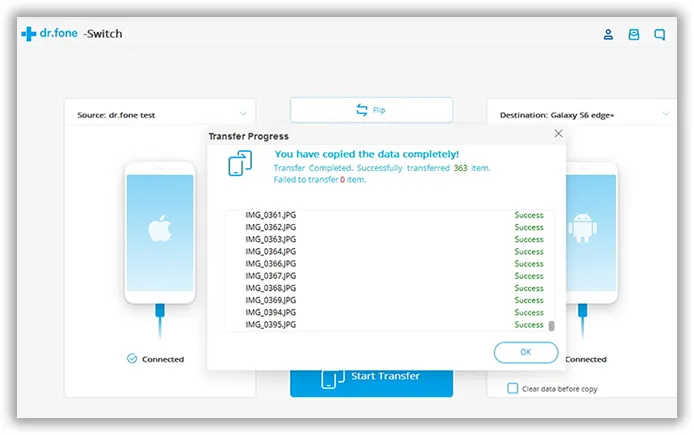 Please keep the phones well connected during the transfer process. It usually takes less than 15 minutes to complete the task. After this, all selected items will be synced to iPhone 7 automatically.
Method 2: How to Transfer Messages from Android to iPhone with Move to iOS App
Apple released an app called Move to iOS in 2016, which is far behind TunesBro PhoneTrans. The main purpose of the app is to help people switching to iPhone more comfortably. It is free and recommended by mainstream media sources. But it is not the first choice because of bad reviews in Play Store. It only has average 2.7 scores in reviews, which is a pretty bad indicator.

There are many restrictions in using the app. For example, it only supports Android devices with 4.0+ and iOS 9.0+. So many of old devices are not supported by the app. On the contrary, TunesBro PhoneTrans supports 2000+ devices. However, there is no loss to try it out. The only price is the time you spent on it.
Step 1: Download Move to Android app from Google Play Store and turn on Wi-Fi Settings on Android and iPhone.
Step 2: Set up iPhone according to the wizard and select "Move Data from Android" once you reached the section of "App & Data".
Step 3: Tap "Continue" on both phones and there is a code generated on iPhone and enter it on your Android phone.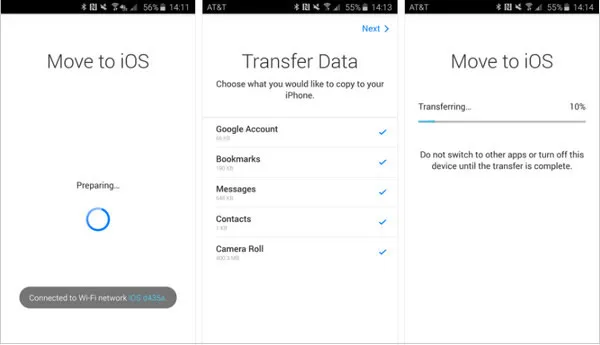 Step 4: On your Android phone, select the data you wish to transfer and tap Next. You can transfer camera roll, messages, Google Account, contacts and bookmarks within the app. A few minutes later, all the selected items will be moved to iPhone.
Method 3: How to Move SMS from Android to iPhone with Android App
Transferring text messages from Android to iPhone is just as easy as installing a new app. Yes, it can be done using an Android app called SMS Backup+, which automatically backups your SMS to your Gmail account. All you need to do is to enable IMAP in your Gmail Account, which you can do on your computer using Gmail.
On your computer, within your Gmail, go to Settings -> Forwarding and POP/IMAP, and Enable IMAP. Before using SMS Backup, this IMAP enabling stuff should be done. If not, then do it, and then install the app.

Now, since your messages are backed up into your Gmail, you can access them on any device on which you use Gmail. So, when you start using iPhone and set up your Gmail on that, you will be able to get the access of your all messages there on your iPhone.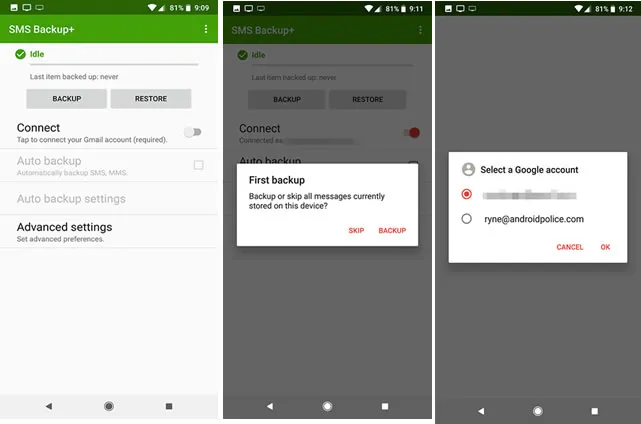 Note: However, you can only view the messages via Email attachment. The messages won't appear on iMessage app. So basically, it is not a valid solution for sms transfer.
To do a work, there are various ways available nowadays because technology is growing rapidly but which one is the best for you is something you should care about, and that is the reason we made TunesBro Phone Transfer, which is the best tool for transferring messages from Android to iPhone. Use it, and share your experiences here with us. In case you get some issues, do let me know, I will try my best to help you out to solve your issues.

---