If you want to access Android from a computer such as data backup, rooting or file recovery, then you must turn on USB debugging on Android first. Without it, you can't see the device shown up in Windows Explorer. However, the method to turn on USB debugging varies from one version to Another and this is really confused for new users. So we list the method for each Android version, ranging from the easiest Android 2.0 to the latest 6.0. Please check the Android first and follow the instructions below to enable it.
Part 1:How to Turn on USB Debugging on Android 2.0 - 2.3
Go to Settings -> Applications and scroll down the screen to find Development option. Then tap USB debugging to enable it.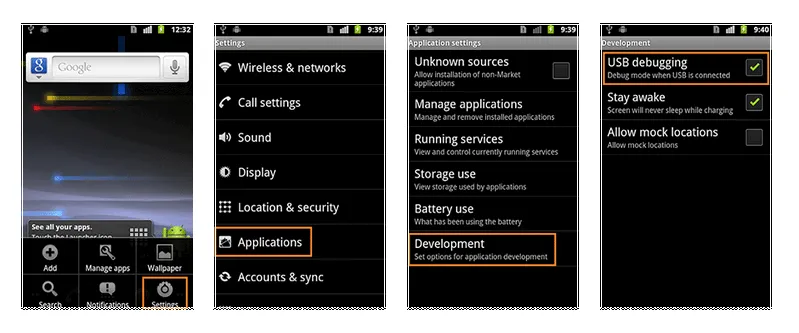 Part 2: How to Turn on USB Debugging on Android 3.0 - 4.1
The steps in here are even easier then the above one. Open Settings app and find Developer options at the bottom of the screen. Then touch USB bugging option and tap OK to unlock it.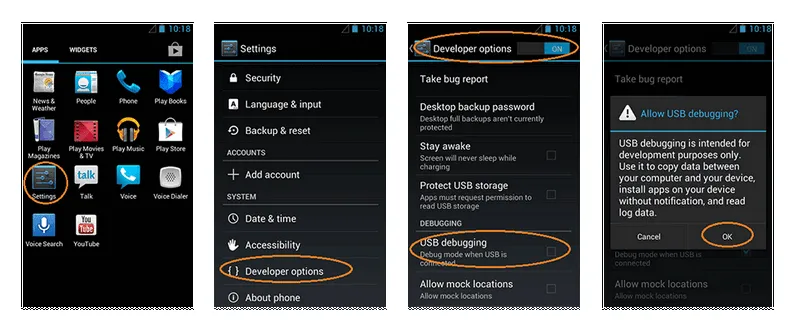 Part 3: How to Turn on USB Debugging on Android 4.2 – 4.4
In Android 4.2 and higher, the Developer Options menu and USB Debugging option have been hidden by default. So the procedure is little more complicated than the above two methods. You need to unlock Developer options first. Follow the instructions below:
Step 1: Find and open Settings app on your Android.
Step 2: Scroll down the page to the bottom to get the About phone option.
Step 3: Tap the Build number 7 times and you will get this message "You are now 3 steps away from being a developer." Once you are done, you will get this message "You are now a developer". This means Developer options is unlocked.
Step 4: Now tap the back button to go back to the Settings option and you can see the Developer options below and tap it to get the USB Debugging checkbox and now you can easily enable it by checking the box.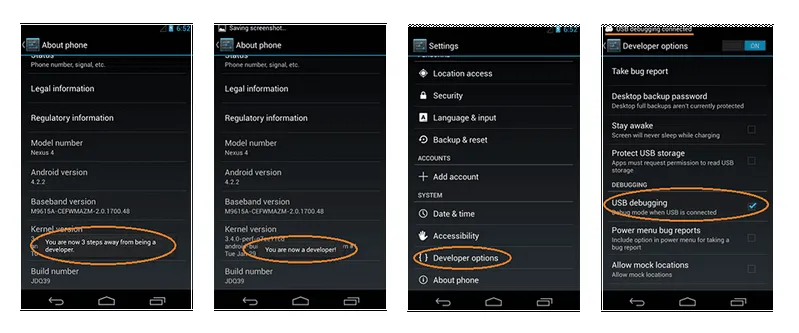 Part 4: How to Turn on USB Debugging on Android 5.0/6.0/7.0/8.0
The procedure is the same as Android 4.2. The difference is the UI, which changed a bit from the previous version. I will make it short in here.
Step 1: Navigate to Settings -> About phone.
Step 2: Tap Build Number seven times to Unlock Developer options.
Step 3: Back to Settings and find Developer option. Tap USB debugging checkbox to turn it on.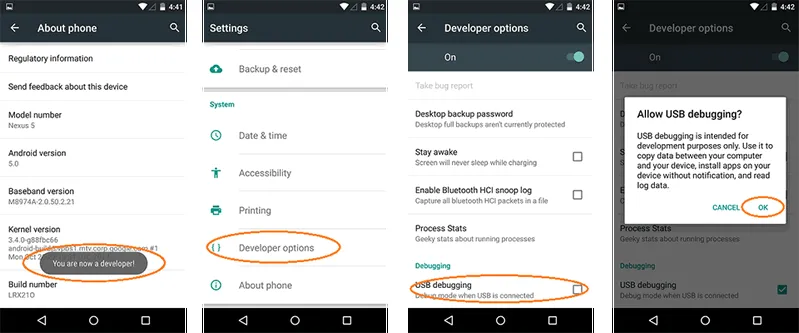 You should only enable USB debugging option when you actually need it. You should not keep it enabled because it gives the high level access to your device and that could be a security risk for you as an owner of the android device. However, you can easily enable or disable it on your phone once you are familiar with the steps listed above.

---