You may have heard of TWRP Recovery once in your life because it is a popular term in the Android community. TWRP is short for Team Win Recovery Project, an open-source tool to install third-party firmware and ROMs on Android devices. Popular Android ROMs are: CyanogenMod, MIUI, Paranoid.
Installing a new ROM will  give a new life to old smartphone. It is like a clean reinstall of Windows. Yes, I had used TWRP recovery on my Galaxy S8  when I wanted to replace the stock ROM, which runs very slowly.
There are billions of Android users, but only a few millions know about TWRP. Even for that,  most of them don't want to try it because they fear the device might be bricked. So we are going to help you understand what TWRP recovery is and how to use it properly.
What Does Recovery Mean for Android Users?
Every Android phone comes with pre-installed system software on it, and it is usually called stock rom, which contains an complete operating system like Windows, Linux or macOS. Recovery is a kind of action to install third-party ROMs or firmware on Android device. The fact is that a lot of people want to replace the stock ROM and customize it by themselves. That is why TWRP is so popular among advanced users. What's more, TWRP will be a great help if there was something wrong inside the device.
Recovery mode is like Windows safe mode, but it far more advanced. Android recovery mode loads the stock firmware and you can access those Android files, edit them, replace them, and even modify the files during bootup.
We have told you that the stock rom  doesn't allow an average user to make changes, right? You can replace it with TWRP Recovery to gain access to internal of Android smartphone or tablet. In simple words, this is where you begin your journey to hack your phone.
TWRP (Team Win Recovery Project) Features
We have told you that TWRP recovery file is a small piece of software that enables you to hack your phone. We are going to review this third-party recovery software, and also, we will reveal why it would be its worth to replace stock firmware with TWRP.
Install: Allow you to install custom ROM's on your device.
Wipe: Wipe out Android system partition to install a new custom ROM available.
Backup: Backup your original stock ROM firmware to your SD card or even computer.
Restore: Restore your device back to original state or from a backup.
Mount: Temporarily load the ROM in memory for further actions.
Settings: Plenty of customizations are available in the settings, which is missing in stock recovery.
Advanced: In the advanced section, you can hack your device to an advanced level.
Reboot: Restart Android device.
You won't find any of the options in the stock recovery except HARD RESET.
If your Android device is old and you want to upgrade to newer Android OS like Android Pie 9.0 then it's worth replacing stock recovery software for the TWRP recovery software.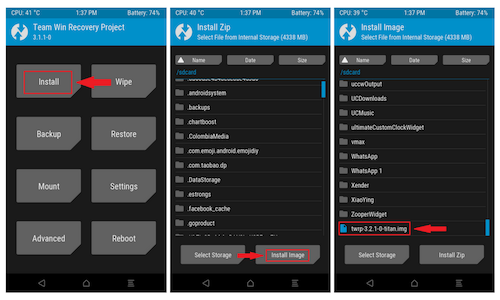 How to Use TWRP for Install Custom ROM
The main purpose of TWRP recovery software is let you  install unofficial Android OS on your device. In this part, we will tell you the exact steps to install third-party ROMS or firmware on Android.
Step 1: Download TWRP Recovery from official site and move the files to internal storage or SD card. Then follow this guide to install TWRP Recovery on Android.
Step 2: Now boot Android into Recovery mode and wait for TWRP being loaded on the screen.
Step 3: You can back up the original ROM to your SD card, and that's the safest procedure. Make sure to remove the SD card after backing up the original ROM.
Step 4: Now, tap on "Install", then scroll down until you find custom ROM, then tap on it to install it.
Step 5: The TWRP will begin installing the new ROM on your device, and it takes 5 minutes to half an hour to complete the process. Also, keep in mind that the first boot is slower on custom ROM so don't lose patience.
Always be careful with custom ROM's because you can accidentally brick your device, so make sure to learn the instructions twice to avoid mistakes.
Conclusion
The TWRP recovery software is a powerful tool that gives a new life to an Android device, and that's one of the biggest reasons why I choose Android over an iPhone. Let us know what do you think about the TWRP recovery software in the comment section below.