Smartphone industry has revolutionized so much in the past a few years and we can now own access all kinds of information across the board on a portable device like Android. But as always the cyber criminals  has never given up to conquer the world of Android. New virus, malware and adware are introduced to Internet every day and we download them on our smartphones unknowingly,. That's correct, you may not know that but your smartphone is vulnerable to the trojan and virus being spread out.
In most cases, virus ofter come from the apps outside of Google Play Store or  from browsing suspicious websites. To be honest, hackers are finding all possible vulnerability in the Android device so that they can manipulate to  inject virus and steal private information hat you are unaware of. And keeping this threat in mind, in this article we are rather thinking about the protection of your phone and identification. The safest way to keep these viruses away from the smartphone is to use a reliable Antivirus app. In this guide, we will be mentioning the top 4 best Antivirus for Android phones.
Also, it is a good practice to transfer important data on Android to computer so you won't lost them after virus attack.
Best Android Antivirus App #1: AVG Antivirus 2018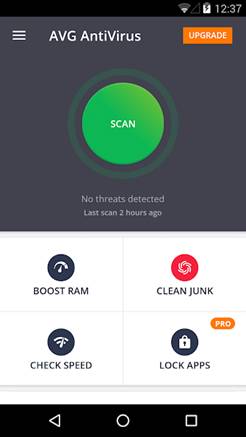 Say good bye to viruses and malware forever because AVG Antivirus for Android is the top free app that can protect your smartphone from any harmful activities. AVG Antivirus provides Wi-Fi scan, data and folder scan, rechecks every downloaded files and items, secures vaults and apps and more. 
Top Features of AVG Antivirus:
Scan all file, apps, downloaded games, folders etc. in real time.

Automatically halts items that are slowing down your phone.

Battery power savor is pre-activated.

Remove junk and duplicate files automatically.

Tracker is available in case you lost your phone.

Hide private photos, documents and any other files.

Scan every unsecured Wi-Fi networks.
Cons:
Ad supported app.

Premium features are paid.
Interesting facts:
Over 100 million downloads in Google Play Store.

Our Rating : 4.6 & Google Play Store Rating: 4.5
Best Android Antivirus App #2: Avast Antivirus 2018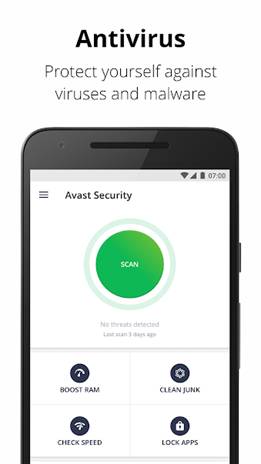 Another top class Android Antivirus will be Avast Antivirus 2018. A classic smartphone app that has been featured by Google Play Store on numerous occasions from 2016 to 2018. Avast Antivirus sends you an alert every time it finds anything fishy in your smartphone. It has the feature to auto quarantine any malware or virus from your smartphone depending on your privacy settings.
Top Features of Avast Antivirus 2018:
Lite weighted Antivirus with the ability to kill any dangerous virus or threats from your phone.

App locks and hiding option is available.

Call and SMS blocker is pre-installed.

Anti-theft feature available.

Picture vault is enabled to hide private photos.

Battery power saving in real time.

Firewall settings enabled for rooted users.

Removes junk and temp files automatically.

Boost phone RAM instantly.

Wi-Fi and network is canned thoroughly before connecting.
Cons:
Ads are supported.

Most cool features needs to be purchased.
Interesting facts:
Over 100 million downloads in Google Play Store.

Available for Windows and Mac computer users.

Google Play Store Rating: 4.5 & our rating: 4.8
Best Android Antivirus App #3: Kaspersky Mobile Antivirus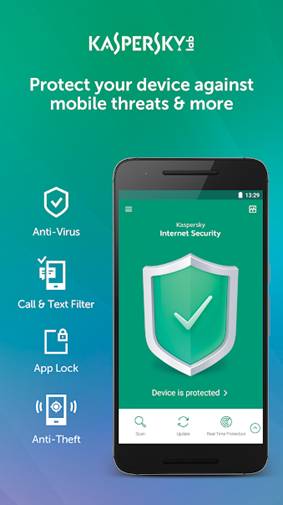 Kaspersky Mobile Antivirus is a free Android tool that helps to secure your phone from any threats especially which are downloaded from the internet surfing. It can even detect the slightest Trojans which may harm your phone essentially by halting its process from the root. The new version of this app even helps you to protect your smartphone by eye scanner and fingerprint lock screen.
Top Features of Kaspersky Mobile Antivirus:
Scans your entire smartphone for viruses. Even if you close the app, it will keep running in the background to secure your phone.

Antivirus firewall is pre-enabled which keeps any kind of virus or threats away from your phone. Moreover, it auto kills any threats downloaded on your phone.

If your phone is stolen or lost then find my phone is available to track your device.

Online banking and credit card information are encrypted.

Block any kind of unwanted calls or messages.

Filter any website from your phone using the web filter option.
Best Android Antivirus App #4:  Avira Antivirus Security 2018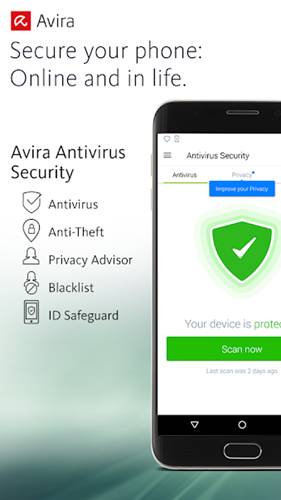 Last but not least, one of the best antivirus apps available on Google Play Store for any Android user is Avira Antivirus Security 2018. Avira Antivirus helps to protect your smartphone especially against the vulnerable and private databases like contacts, pictures, messages, documents etc. Additionally, it secures the browsers and has anti-theft feature enabled to keep your phone safe.
Top Features of Avira Antivirus Security 2018:
Quarantine malware, adware and viruses in the real time.

Track lost or stolen device easily.

Auto locks photos, documents and other confidential data.

Shows vulnerability in every apps and apps data.

Block unauthorized access from any app.

Save battery life up to 4-6 hours.

Web filter feature available.
The above apps are the most mentioned ones when you search for antivirus app in search engines. And there are secure enough to protect Android from virus attacking. However, each one has its own pros and cons. My suggestion is try them out one by one and find out which one suits you best. At last, if your Android device was infected and caused data loss, please don't be panic. You can follow this tip to recover missing or deleted files from Android easily.
[Sassy_Social_Share]