Syncing iCloud with your Gmail to exchange data between the two terminals is not a difficult task to achieve, but before you do that you must know when you exactly need to do such synching. Usually Android contacts are stored to Gmail accounts and iPhone contacts are stored in iCloud server. Now if you wish to switch over from iPhone to Android, then syncing your iCloud containing all your iDevice contacts with your Gmail will allow you later on to export all the contact details from Gmail to your Android phone, or vice-versa.
The procedure is not that hard to pull off, but requires some basic expertise with the devices. Well, if you look out for third party tools, there are several apps or utilities available to accomplish the synchronization procedure. But we would here in this article discuss one manual method and another utility method to carry out the job.
Go through the contents below to know further about the methods in detail.
Method 1: Sync Contacts from iCloud to Gmail Manually
Here in this section, we would sync contacts from iCloud to Gmail by transferring vCard or VCF file containing the name and numbers of the contact list to the Google account. Though the method may take few extra minutes compared to the procedure done with third party tools, but is authentic and risk free. There are always some unprecedented risks lurking with third party tool services in case they start malfunctioning or collapse. Such risks usually do not prevail with this manual procedure.
Simply follow the steps detailed below with caution to pull over the job:
Step 1. Go to http://www.icloud.com from your Mac PC.
Step 2. Now use your Apple ID and the respective username to log-in to your iCloud account.
Step 3. Click on the "Contacts" option.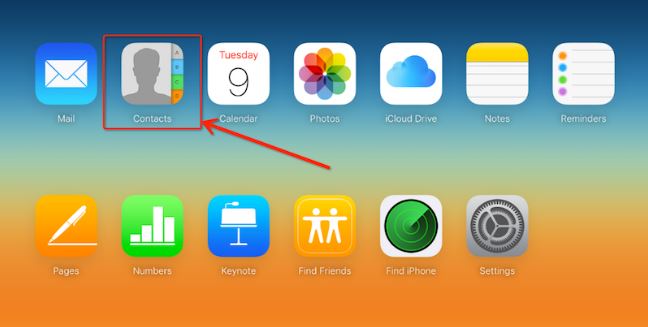 Step 4. Click on "Settings" button from the bottom left corner of the webpage.
Step 5. Now; under the "Settings" category, click on "Export VCard…." Option.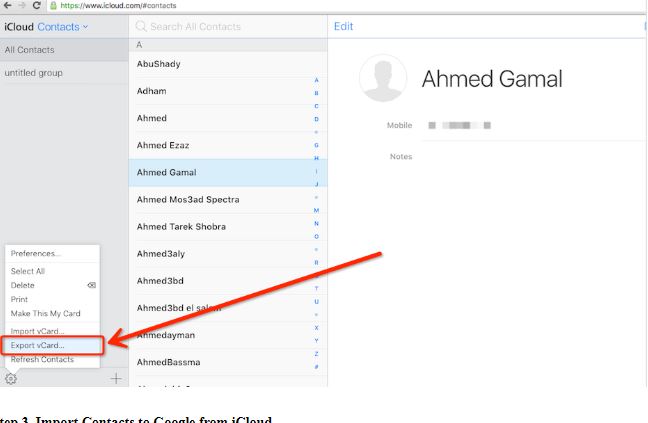 NOTE: While performing the procedure, keep a track of the destination where the file is being saved.
Step 6. Once you are done with this much, go to your Gmail account and log-in using your login credentials that is username and password.
Step 7. Click on "More" option and then "Import" option to import the vCard file containing the necessary contact details from the destination where the vCard was previously stored. In order to do that, choose your vCard file which you have already downloaded in your PC.  Actually it is the same vCard file that was downloaded from the iCloud server.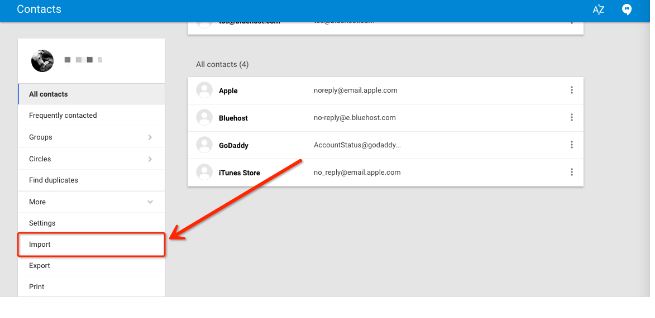 NOTE: It is very much necessary to know that your Google account does possess the authority or permission to sync contacts on the phone device.
Once you have followed all the step-by-step directives, now you will find all your contact details in your Gmail account safe and secured, which you can later on sync with Android device to transfer the details to another Android device.
But if you wish to try out something different, there is a way, but it involves the use of third party software to continue.
Method 2: Sync iPhone Contacts with Google with CleanMyPhone
Using Fireebook CleanMyPhone utility to sync your iPhone contacts with Gmail is actually a quicker or simpler alternative than the manual method. This one is highly recommended for it makes the transfer of contact details from iCloud to Gmail faster. The guideline on how to use it is given below in the following steps:
Step 1. Firstly connect your iPhone to your Computer via USB cable.
Step 2. Make sure the program file is properly installed on your computer. Launch the program and it will automatically detect your device.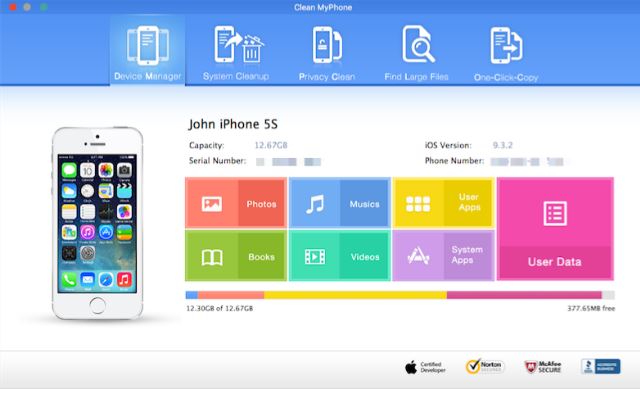 Step 3. Now go to "One-Click-Copy" option and select it.
Step 4. Click on "Scan" button.
Step 5. Your entire iPhone contacts will be stored as VCF file on your computer.
Step 6. After you have done this much, go to http://www.gmail.com and login with your Gmail ID (username and password).
Step 7. Click on "More" option and then select "Import" option from the following menu.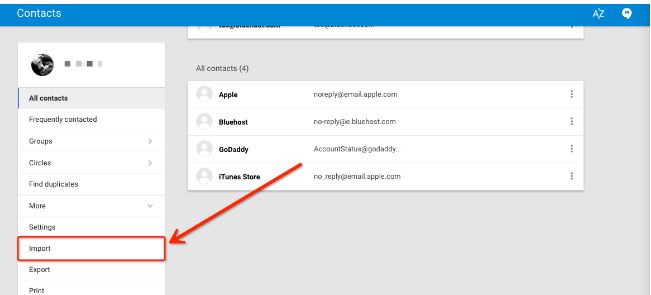 Step 8. Select the VCard from your computer which has already been downloaded to your system. This is the same VCard which was previously downloaded from iCloud.
Conclusion:
iPhone is a wonderful device to operate, but after a while it might change your mind to get back to your previous Android world. In such a situation it is not possible to manually save each and every contact details to your Android phone again. Thus sending the VCF file from iCloud to your Gmail account which in turn is synced with your Android is the best possible choice that you can choose. The ways professed in the above articles are very simple to put to use, even a novice with little technical skills can do it swiftly and efficiently.
[Sassy_Social_Share]