Android mobiles are indeed so exciting and tempting to users that once you get a hold of it as a beginner, you start taking a lot of pictures, downloading music, videos, chatting on messengers, etc. completely unaware of the fact that though it is used for your work and simultaneous entertainment, it should not be overburdened with a lot of unnecessary data,
When your Android device is overburdened with a lot of files, folders, apps, images, media files, they start to interrupt with the usual memory allocation system thereby creating problems for storing further data. They sometimes interfere with the system settings as well by becoming junk files.
Disadvantages For Not Cleaning Android Device
Your device would freeze intermittently while performing a task.

You would find it difficult to download apps and tools from Play Store.

Large media files like movies and videos cannot be accommodated in the internal storage.

Your system would run very slowly.
Thus here in this article, we would show you few simple methods to erase unnecessary files from your Android device and to clean them up to avail more space.
Method 1: Delete Junk Files
You will be surprised to know how much space junk file could take in your phone. Most probably, these junk files are stored in the form of cache and trash files. To remove these junk files and cache, simply follow these steps:
Step 1. Head to the Settings option from the Menu.
Step 2. Tap on "Storage" under the "Device" section.
Step 3. Hit"Cached data" option and tap on"OK" to clear all the cached data from your Android.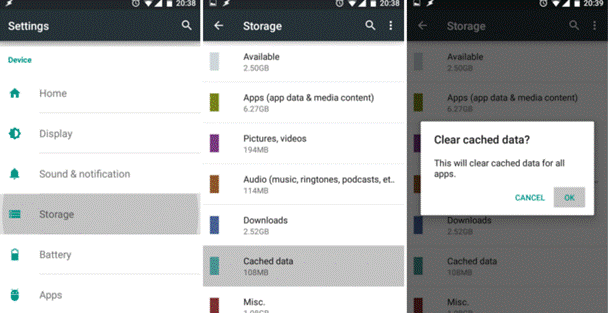 Cached files can contain several GBs of junk files that are useless. Clearing them up will really help you to get tons of extra free space.
Method 2: Uninstall Apps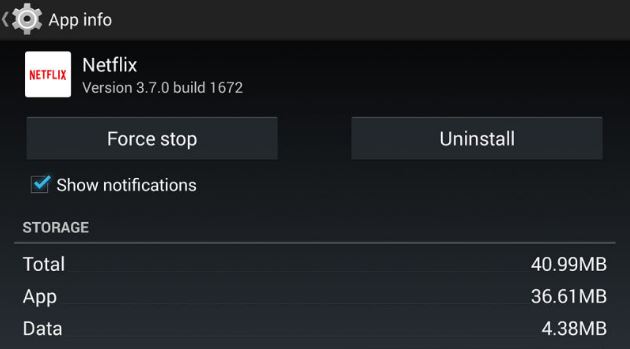 There are always some apps which after using for a period of time, you don't even look back to them. They remain within your device unused, unnoticed for days, but it takes a lot of space which blocks other functionalities of your device. You can press any app and drag it to the "App info" section to see how much space it is currently using in your Device. If you don't want that to happen, simply drag it to the "Uninstall" slot and tap "Uninstall" to get rid of it. You can also go to"System Settings" too and then"Apps" to select each and every app for deletion one by one.
Method 3: Clean Downloads
You might not know this but most downloaded items are still stored after you use them in the "Download" folder. If you check that folder on your phone then you will observe that there are hundreds of unused files that are just taking a lot of space for no reason. Here's how to remove that folder.
Step 1. Tap on"Menu" and open the File Manager.
Step 2. Go to your Phone memory and find the folder named "Download".
Step 3. See the folder? It will probably have loads of files that are completely useless. Simply long tap on the folder and delete it.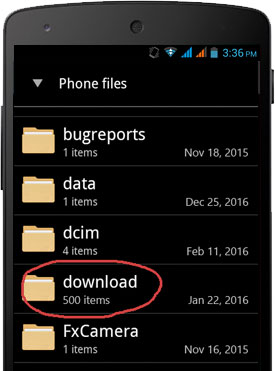 You may now have more than enough space available on your device.
Method 4: Clean Android Phone by Factory Reset
Factory Reset is specially required when your device is in a very bad condition with too many files and spare documents. But make sure you are ready for it as it would wipe out your entire phone with no trace of previous data. All your contact details, messages, media files, will be removed from your device permanently. The steps for the method are elaborated as follows:
Step 1. Press "Menu" and open the "Settings" app. You can also swipe down the screen from the top and tap on the"Gear" icon to open the Settings as well.
Step 2. Locate the"Personal" tab, and tap the"Backup & Reset" option. You also might need to enter your PIN or password for user authentication.
Step 3. Now; press on"Factory Data & Reset".
Step 4. A whole bunch of information will be displayed on your screen from which you can evidently select what you wish to delete and what you would like to keep back. Tap on "Reset Device" finally to accomplish the task.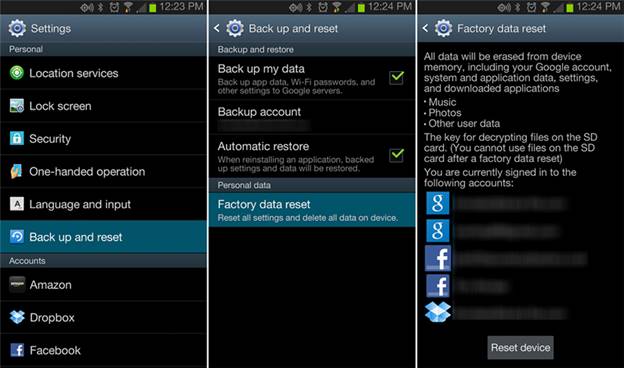 Conclusion:
Android Device is a spacious storehouse for many interesting things, and in order to keep the flow of apps, files, folders, documents, games, images, movies and music maintained you must rid your Android device of unused data from time to time. Use the methods mentioned above to clean your device, but while using the first two methods, make sure that you are seriously ready to wipe out your entire device.
[Sassy_Social_Share]