If you are planning to sell your Android phone to someone, you will want to make sure that all your data is wiped clean. Deleting the files manually from the phone is not the right solution. You need to make sure that every bit of data is unrecoverable. Let's have a look at different methods to erase data from your Android phone.
Method 1: How to Wipe Android Phone from PC (Simple Delete)
As we know, when an Android phone is connected to a computer, you can explore the files on the phone via file explorer. In there, you can copy, paste, cut or delete selected files on the phone. For unimportant ones like tmp/junk/cache data, this is the best way to clear the cell phone. However, a simple deletion does not make the data disappear permanently, which means the deleted files are still recoverable. So if you are not planning to sell the phone or you simply need to free up more storage, this method is a quite good option to fix the issue. You can delete the files one by one on your phone or follow these steps:
Step 1. Connect your Android phone to the computer with a USB cable.
Step 2. Wait for a few seconds for the computer to detect the phone.
Step 3. The internal storage and SD card will appear as external drives on your computer. For instance, if you have Windows computer, you can go to 'Computer' (or 'My Computer' for XP and earlier versions.) You will see a phone icon. Double click it to see the storage listed as drives.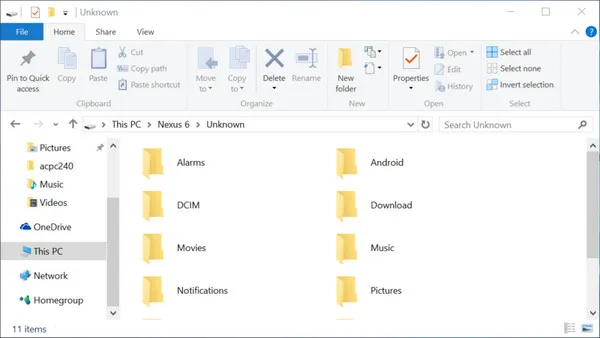 Remember that this method doesn't work for some sort of data such as contacts, text messages or call history because they are stored in database. As a result, you can't see them from the file explorer. Moreover, it could turn your phone into brick if you did it inproperly. That is the reason why we lists other solutions in this article. Please keep reading!
Method 2: How to Erase Android Phone & Tablet Remotely
How about the phone was lost or stolen and you want to erase all data from it? This happens frequently in our daily life and in such a case, we definitely hope the private data on the phone being wiped cleanly. Is there a way to do that? The answer is a big Yes. Google has embeded a service called Android Devcie Manager on all portable devices powered by Android. Once you turned it on, then you can erase Android phone remotely to protect your privacy not being seen by others.
Step 1. Go to 'Find my device' page: https://android.com/find
Step 2. Input Gmail address and password. Please make sure the account is the same being used on your Android phone.
Step 3. You will see the device location on the map once logged in. Click on it and there are several options you can choose from.
Step 4. Click 'Erase' button on the pop-up window. This will remove all data on the phone remotely.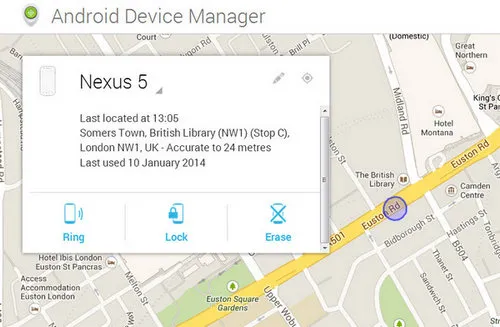 Method 3: How to Completely Erase Everything on Android Phone before Selling
If you were going to sell your old Android phone, it is very crucial to make sure all the private data being wiped completely from the device. Also don't  rely on simple deletion button and factory reset, deleted data just means forgetting the "address" of the data in question, so the data themselves still exists on somewhere in the memory.
Here we highly recommend using TunesBro Android Eraser to permanently wipe everything from Android phone or tablet. This Android data erasing program uses military standard algorithms to destroy the data completely. Everything that on your Android phone is totally removed and rendered. There is no way to recover a single byte of data from the device. You can also use this software to clean deleted data or third-party data generated by Facebook, Twitter, Skype, WhatsApp or Kik.
Step 1

Install TunesBro Android Eraser on a Computer and Connect Your Android Phone

Please click one of the above buttons to save the installation file on a computer. Then follow the intructions to install it. Now, open TunesBro Android Eraser and connect Android phone to computer with USB cable.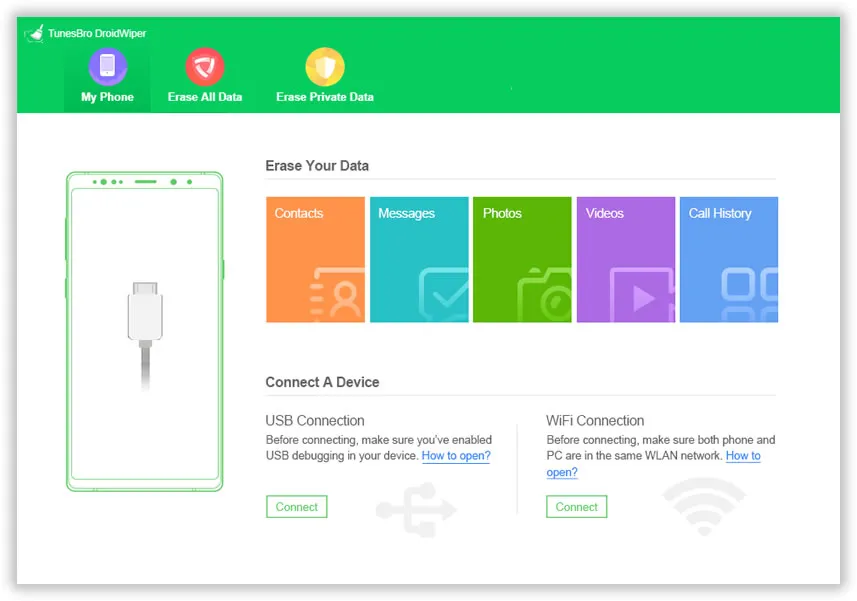 Step 2

Install TunesBro App on Android Phone

If everything goes right, the screen will display a brief information about the phone, such as model name, storage. A few seconds later, an app will be installed on your phone, please grant all the permissions it asks.

Note: If the phoen can't be detected by the program, please make sure USB debugging is enabled and trust the computer on the phone. If the problem still exists, please reinstall Android USB driver for the phone.
Step 3

Scan All Data on Android and Start Erasing Data

Click 'Erase All Data' tab from the top memu bar and click 'Erase' button to let the program fully scan all private data on the phone. The scanning process will take around 6 minutes, please keep the phone well connected. After that, click" Erase" button and tap 'Erase' to confirm the operation. After that, all data on the phone will be wiped out completely.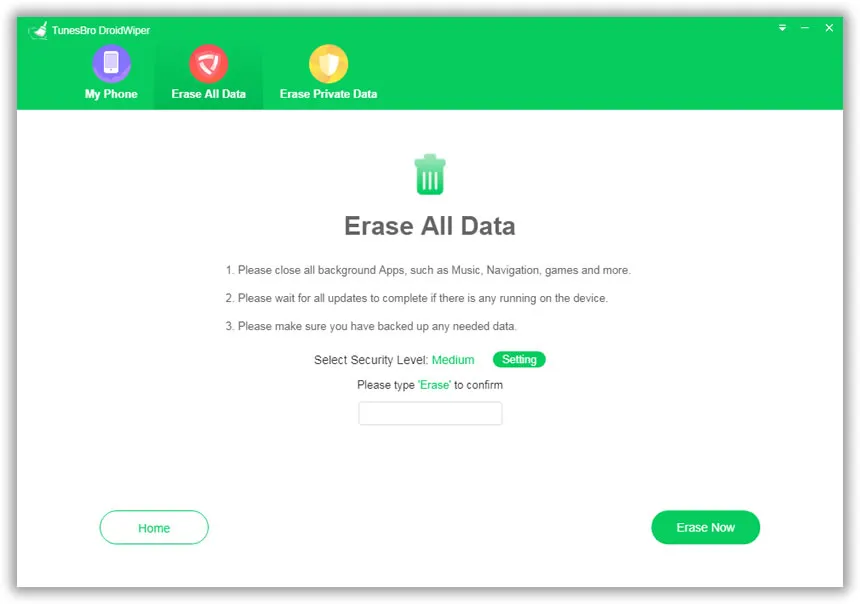 Verdict
There are a few ways to remove the data from your Android phone. Simple delete, however, is something you must not go for, especially when you need to give the phone to someone else. Factory reset is safer but not the ultimate solution. Use Android Eraser to remove everything from your Android phone and have the peace of mind that it will never be recovered.
Does performing a hard reset actually guarantee that your information is gone for good? The answer is "NO", it didn't actually delete all of the data from your phone and still remain. There are many professional Android data recovery can easily recover them. Another big problem with this method is that even if you encrypt the data, an expert may be able to break the code and steal your information.

---
Related Articles & Tips
How to Erase All Data on Android