New flagship Android phones come out almost at monthly basis. This makes people changing their devcie more frequently. Plus, there are many places online that you can sell used phones at a good price. So if you were planning to switch to a new phone and sell the old OnePlus phone, then there are several things you should keep in mind. The most important one is to securely wipe all data on the phone before selling.
Erasing all data from OnePlus phone keeps the privacy and security of your personal information into safe place. Did you know that over 300 million identities are stolen from old sold smartphones? So unless you want to take a part of that statistics, you should take proper precaution and wipe out your smartphone.
Now, you must be thinking, what's special in deleting data? You simply open the storage unit, select all files and tap the delete button and it's done. Well truth to be told, a simple or basic deletion doesn't really erase anything from your phone but rather it just deletes the file physically so that it won't appear to you. But in reality, these deleted files and data can be easily recovered with the help of any data recovery software. Even a free data recovery software can bring back those personal pictures, contacts, messages, documents and other private and they can be easily misused after that.
Method 1: How to Factory Reset OnePlus 5/3T/3/2/X/1
Factory reset is the simplest way to wipe out Android smartphone. It will simply bring back your smartphone to the stage when you first bought it. However, this method should be applied only if it's your personal phone and you don't want to give it away because this deletion method is not permanent.
Step 1. Tap on Menu and open Settings.
Step 2. Scroll down to the bottom and tap on Factory Reset.
Step 3. Alternatively, you can turn off your and restart it by pressing Power + Home + Volume down buttons together to enter into recovery mode. This is called hard reset.
Step 4. Then use the volume up and down buttons to navigate through the options and choose wipe data/factory reset and press Home to select the option.
Step 5. Wait for few minutes while your phone performs the factory reset and it will restart automatically. You can check your phone now and it should be totally empty.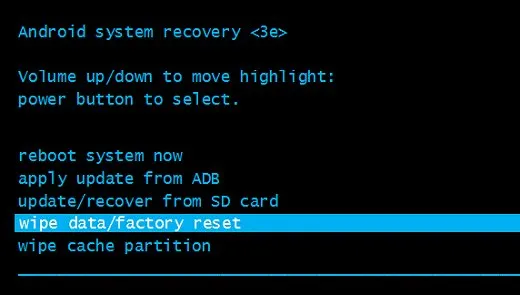 Warning: One of the biggest problem with factory reset is that it won't delete the data permanently from your phone and the deleted files can be easily recovered with the help of data recovery software like DiskLab for Android. It is much better to use Method 2 if you planned to sell the phone to someone else.
Method 2: How to Delete All Data on OnePlus Permanently
If you are selling or donating your phone to a stranger then the above method is not applicable to you. In order to erase data from your OnePlus permanently, you should take assistant from a professional data erasing tool such as TunesBro DroidWiper. It is a tremendous and reliable software that deletes everything from your phone that can never be recovered with any data recovery software. It works well on all Android phones and can be installed in Windows and Mac computers. It can erase all sorts of data including pictures, contacts, messages, apps, documents, internet cache cookies, credit card information and saved passwords.
Note: Kindly backup your entire OnePlus phone before using this software because it is assured that none of the data can be recovered after deleting them with this data erasing tool. You have been warned!

Completely remove all content and settings on Android phone.
Data is not recoverable after using this program.
Support most of Android phones, including OnePlus, Samsung, LG, Sony, etc...
Work well on Windows PC and Mac computer.
Step 1

Lanuch TunesBro Android Data Eraser

First, download the recent version of TunesBro Android Eraser and install it on your PC. The installation is very easy and can be done within few seconds and next, launch the program on your PC to see its user interface.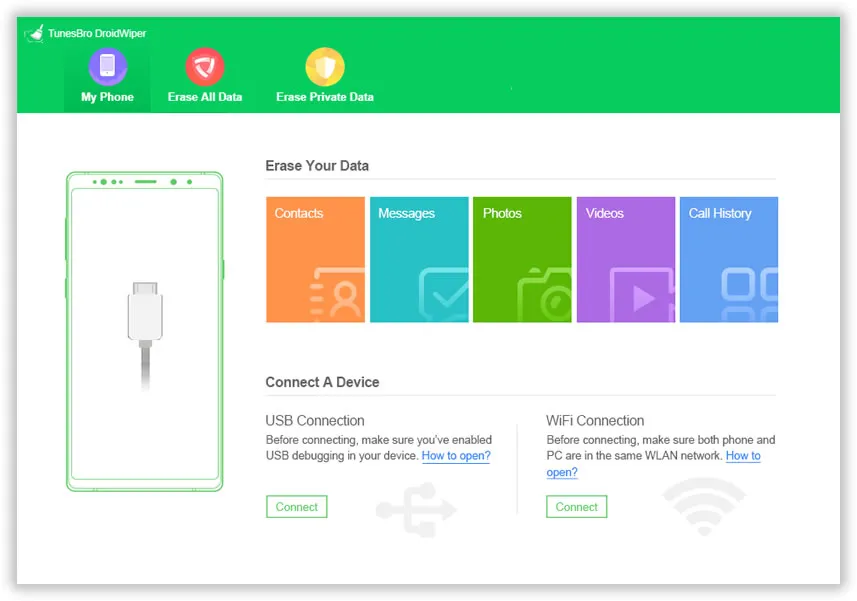 Step 2

Connect OnePlus Phone to Computer

With the help of a USB data cable, connect your smartphone to PC and wait for the program to identify it. If you are connecting your phone for the first time then you may want to install the necessary drivers first.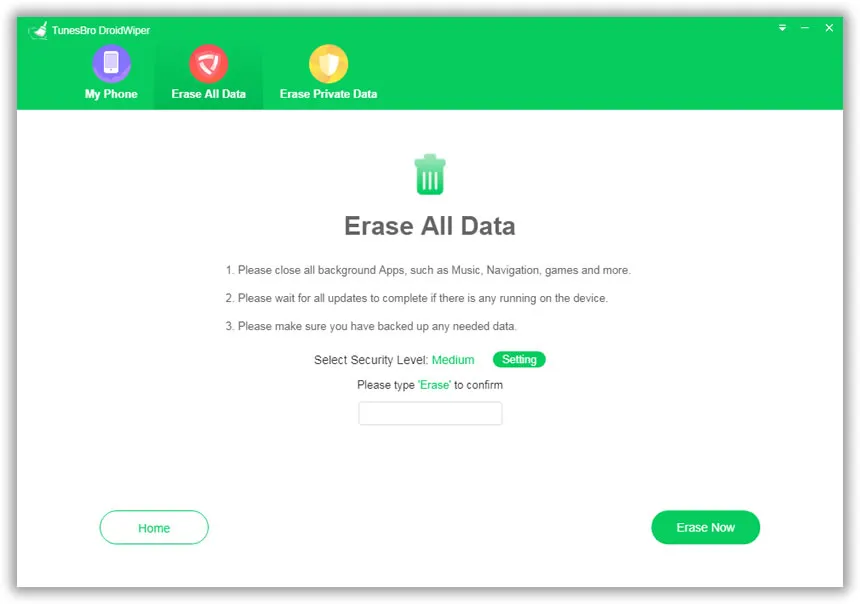 Step 3

Scan All Data on Android and Start Erasing Data

Out of all the options available, if you are ready to erase your full phone, then click on "Erase All Data" and confirm that you want to erase everything from your phone.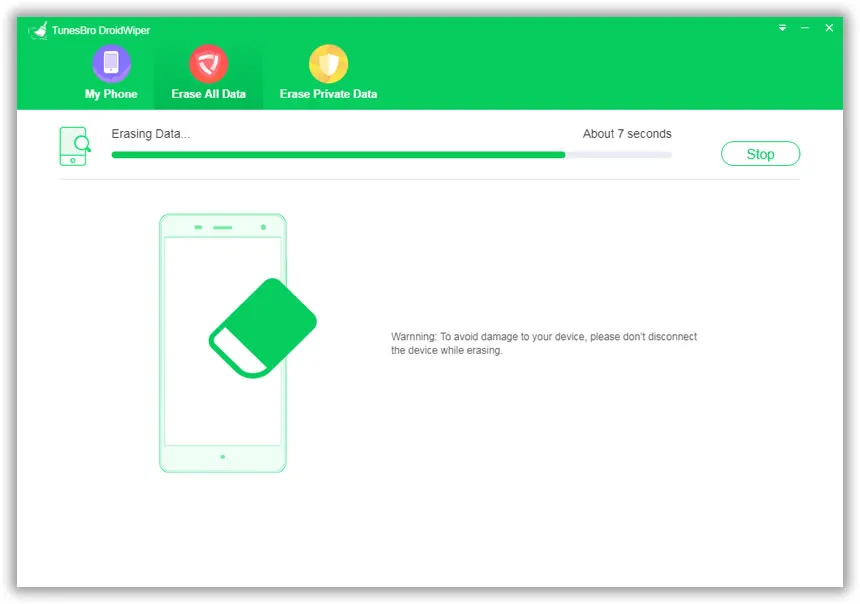 You should be able to preview every data before deleting them and you can browse through each folders by clicking on them. When you are finally all set, simply click on "Erase Now" and say all the data from your phone good bye.
Tips: Do not disconnect your phone until the process is finished.
Conclusion:
Data privacy is something that everyone must take seriously and conduct appropriate precaution to protect it from identy theft. You can opt for any method but it is much safer to stay with professional data wiping app like TunesBro Android Eraser. Or your private data is under risk and can be recovered by people with malevolent intent.

---