Samsung Galaxy smartphones are by far the best selling and top-rated smartphones in Android industry. One of the reasons why it got so much attention is because it offers tons of features at a very reasonable price that is affordable by everyone. Text messaging on Samsung Galaxy has never been easier especially on Samsung Galaxy S8, Note 8 where you can simply use gestures to write messages.
Speaking of text messages, as we are aware that our inbox contains the most precious and confidential information that we cannot let anyone see. Most people choose to password protect their messaging apps but if you are upgrading Samsung Galaxy phone or simply gifting it to your relatives then the first thing that you must take care of is to erase the messages permanently from the phone.
Why Should I Erase Text Messages Permanently?
Simply because you don't want to violate and compromise the privacy of your identification especially who you are talking to in daily life. Additionally, text messages contain medical records, bank statements, net banking password and other important information.
Solution 1: Manually Delete Text Messages from Samsung Galaxy Phone (Unsafe)
Usually, all Samsung Galaxy devices follow the same procedure to remove text messages from the inbox. You can follow these steps to erase the messages from your phone temporarily. However, this would take a lot of time if the count was large. In addition, the delete messages can be recovered with this method.
Step 1. Tap on Menu and open the Messaging app.
Step 2. Long tap on the thread you want to delete and tap on "Delete" option. Next, confirm the deletion by taping on "Delete" again.
Step 3. If you are erasing a pile of messages at once then first long tap on any message and simply check the boxes beside the name of the contact one by one and finally tap on "Delete Selected" to remove all the messages from your inbox.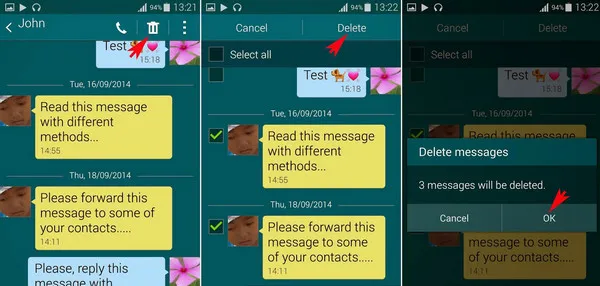 Now, this basic deletion method is easy to use but it is extremely dangerous because honestly telling, none of your messages are actually deleted from your phone and they can be still recovered. Just scan your phone with any data recovery software and you will see that those messages are back again. That's how hackers and spammers get your private information and exploit them.
Solution 2: Permanently Delete Samsung Messages by Android Data Erasing App
So, how to delete text messages from Samsung Galaxy Phones with 0% Recovery? A short answer is to use a professional text message erasing app like TunesBro DroidWiper.
What is TunesBro DroidWiper? It is the #1 choice Android data eraser software that has been so popular lately. It is a desktop program that scans your phone deeply and uses extremely commanding algorithms to delete the messages from your phone. It keeps over-writing the deleted messages so that no data recovery tool could find any single trace of your data. It uses military based algorithms to erase data from your phone and it makes sure that no files can be recovered ever again. So kindly, backup your phone before using this powerful tool.

3 data erasing engines you can choose from.
Secure and permanent data deletion without recovery.
Support 2000+ Android smartphones and tablets.
User friendly design and easy to use.
Step 1

Install TunesBro DroidWiper

Go to the official website of TunesBro and download the compatible version of the program. Run the downloaded file and install the program quickly.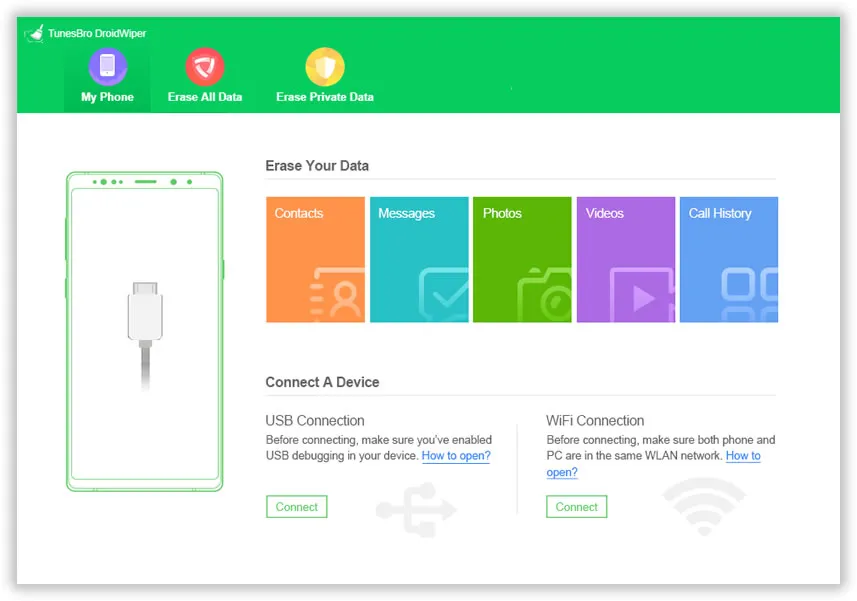 Step 2

Enable USB Debugging on Samsung Galaxy Phone

Launch TunesBro DroidWiper and connect Samsung Galaxy to PC via USB data cable. Next, enable USB Debugging mode on your phone by going to Settings > Developers Option. If you already did this, please skip this step instead.
Step 3

Select Data Erasing Method

This program offers 3 ways to erase data from Android devcie. In here, we need to choose "Erase Private Data" option to delete messages from your phone. Click "Erase" button, then the program starts to scan all personal information on the phone. After that, choose Messages and preview all the details of your inbox one by one from the left sidebar.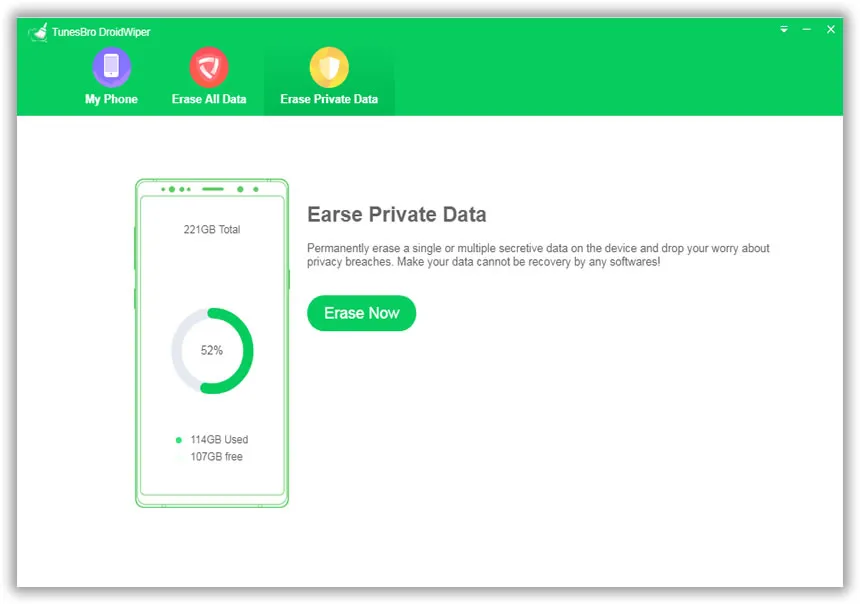 Step 4

Erase Selected Messages from Samsung Galaxy S8/S7/S6/S5

Select the messages you want to delete and hit the "Erase" button to destroy them permanently. During this process, you have to make DroidWiper app as the default messaging app on the phone. However, you can change it back when the erasing task is done.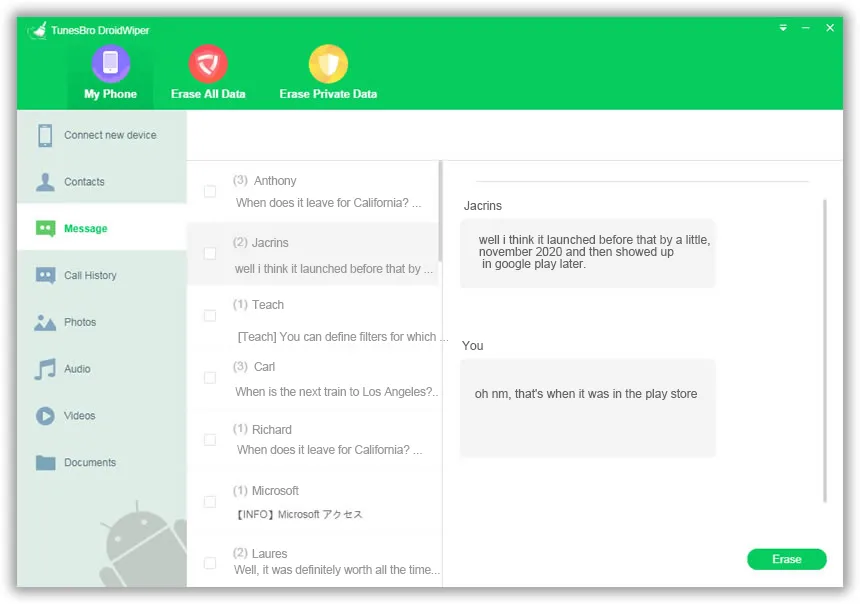 This method is much safe than manual deletion. All selected messages will be gone forever and no one could get any information from the phone. So you don't need to worry about the data leak any more.
Delete All Text Messages via Factory Reset (Optional)
The last option is factory reset. It is also a reliable method if you planned to sell or give away the phone. After factory reset, all data on the phone will be set to zero and none of your personal information will stay on the phone. However, this is a not wise decision if you only needed to delete certain text messages with sensitive data.
Doing factory reset on Samsung Galaxy phone is simple. Tap Settings -> Backup and reset -> Factory reset my phone. Then all saved information will be deleted. Make sure you have backed up the phone before reset.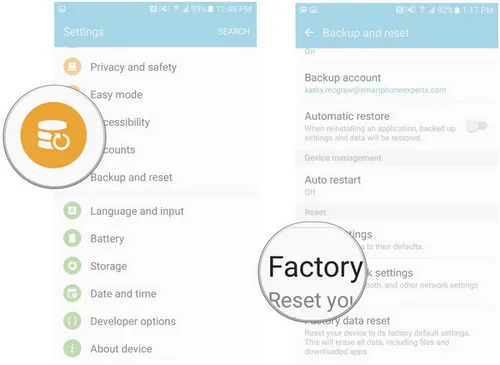 Conclusion:
In today's world, you can never trust a stranger and you can't know if they were hacker or not. So, better erase the messages from your phone permanently with a tool like TunesBro DroidWiper before selling the phone to anyone. You may also try to use any data recovery tool to restore the data from your phone but it is assured that you will surely fail.

---
Related Articles & Tips
How to Erase All Data on Android