If you are planning to upgrade and give away your old Samsung smartphone to someone else then it is a wise idea to erase all existing data on the phone. So no one would see the private staff on the phone. This is indeed a short and simple process but yet a vital actions you have to do in order to protect your privacy.
But if you were selling or donating your phone to a stranger then it is highly recommended finding a secure way to completely delete all data from the phone since a simple deletion or a basic factory reset will certainly not wipe the phone throughly. The deleted files are still stored on that phone in a physical state that is hidden from seeing. In this tutorial, we will demonstrate 3 ways to erase all data on your Samsung phone that can be used for both personal and selling purpose. Make sure to have enough battery on the phone so that it doesn't turn off during the process.
Method 1: How to Factory Reset Samsung Galaxy S7/S7 Edge/S6/S5/Note 5
Factory reset will definitely wipe out all the existing data and settings from your phone. Also, you should take out your SD card because the data stored in it won't be affected by the factory reset. Use this technique only for personal use because files deleted with this technique is not permanent and any data recovery tool can retrieve these deleted data.
Soft Reset Samsung Galaxy Phone
Step 1. Unlock your Samsung phone and go to Settings.
Step 2. Scroll down and tap on "Backup & Reset".
Step 3. Scroll down the screen and tap on "Factory Data Reset". Wait for few minutes while the phone finishes the process and when it is finished, your phone will be automatically restarted.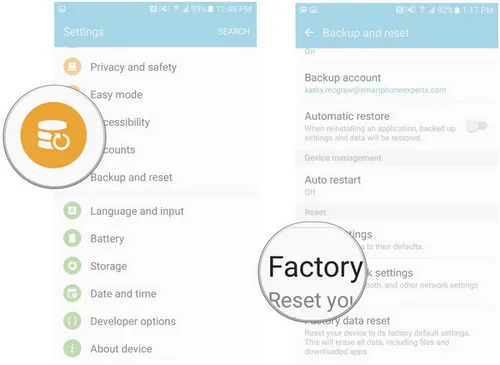 Warning: Data deletion is not permanent and can be easily retrieved with any data recovery tool. It is also not a safe way to erase data if you giving out your phone to a stranger.
Hard Reset Samsung Galaxy Phone
If you forgot the passcode of your phone then you can also factory reset your phone or rather say hard reset your phone from recovery mode. It will not only erase all the data from your Samsung phone but also it will remove the password from that phone.
Step 1. Turn off your phone and reboot it by pressing Power, Home and Volume down buttons together.
Step 2. After the phone enters into recovery mode, use your volume up and down buttons to navigate through the options and choose "wipe data/factory" then press the Home to select the option.
Step 3. Your phone will take few moments to erase all contents and settings from your phone automatically. Now, restart your phone and it should be empty as new.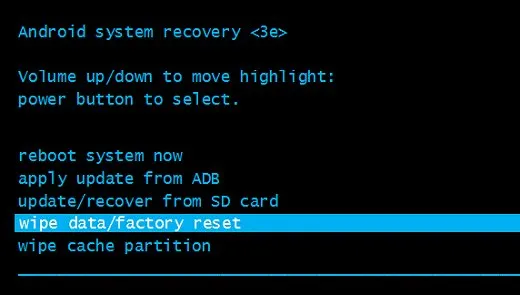 Warning: Any wrong operation would brick the phone so be careful with this methods. Some readers reported that the phone reboots endlessly after using this method.
Method 2: How to Permanently Erase All Data on Samsung Phone before Selling
If you were looking for an easy and permanent way to erase Android data, then the best solution is to go with a commercial data erasing tool such as TunesBro DroidWiper , which is the perfect tool to achieve the task. It offers 3 different methods to erase data from your phone and the files being deleted with this tool is complete and can't be recovered by data recovery software. So, first make sure to backup the data on your phone before using this tool.

Erased Data can't be recovered.
3 data erasing mode availiable.
Support 2000+ Android phones, such as Samsung, HTC, Sony, HUAWEI, etc...
Speed up Android phone and free up more spaces.
Step 1

Download TunesBro Android Eraser and Install it on a Computer

Click the above button to download the setup file on your computer. Then double click it to start the installation process. A few seconds later, you will see the program being installed and there is also a shortcut on desktop. The main user interface is shown like this when you open the program.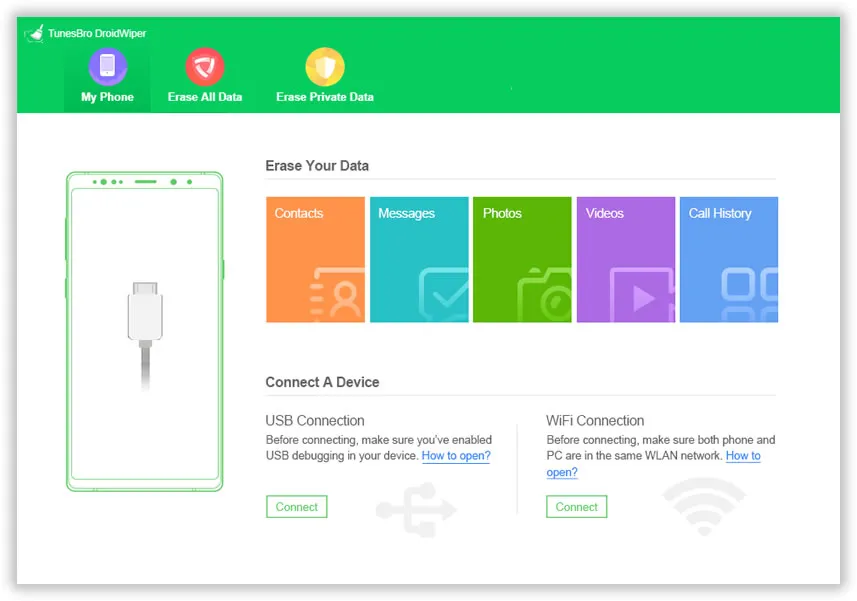 Step 2

Connect Samsung Phone to Computer

Get your Samsung Galaxy phone connected to PC with a USB data cable. You may need to enable USB debugging mode to make the phone being recoginzed by the computer. Please also make sure Samsung USB driver is installed properly or the phone can't be detected by the program.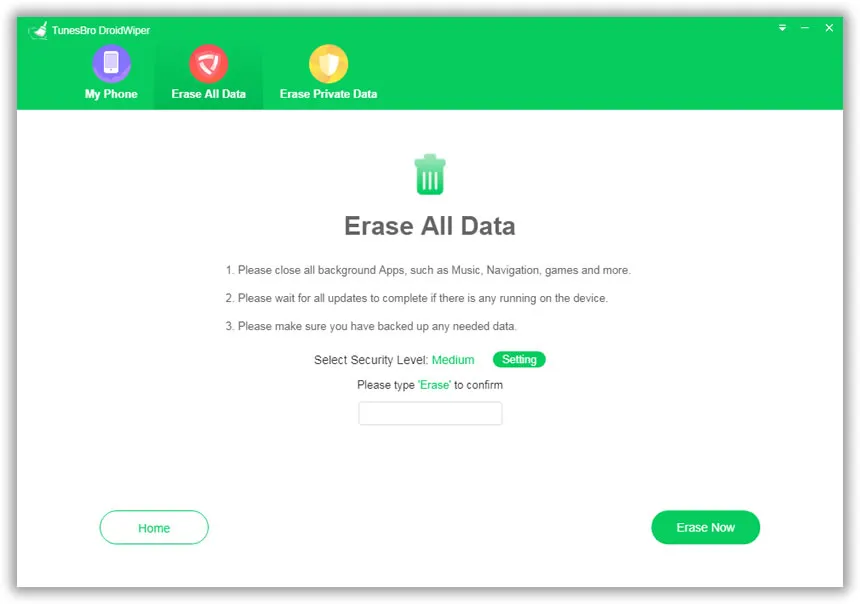 Step 3

Select Data Erase Mode and Start Erasing Data from Samsung Galaxy Phone

TunesBro Android Eraser provides 3 different ways to destroy the data on your phone. The options are displayed on the top navigation bar. But if you were looking for wiping out the whole phone then choose "Erase All Data".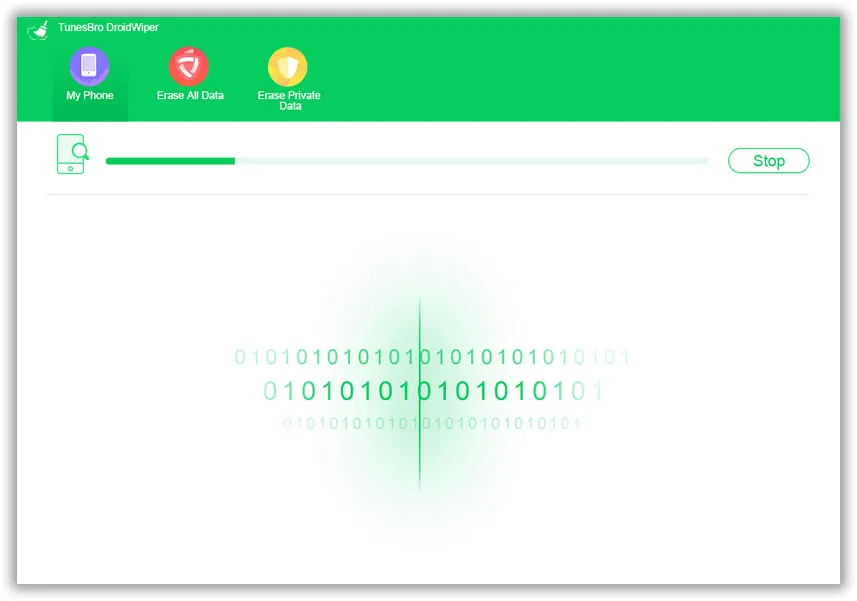 Now, you need to choose the algorithm to erase all data. Recommended choice will be Peter Gutmann method, which permanently removes everything from your phone but any other options will be just as fine as well. Finally, confirm the operation that you want to delete everything from your phone.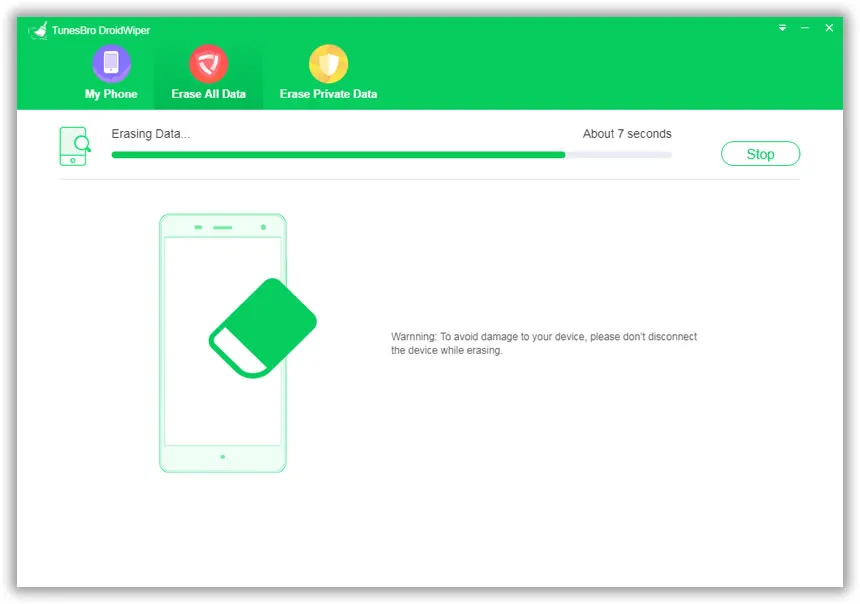 Step 4

Factory Reset Your Phone

When the erasing process was completed, the phone will reboot automatically. In order to clean up the remaining data at internal memory, you need to factory reset the phone (soft reset is enough) so the data will be gone forever. Even FBI agents can't get a single piece of information from the phone.
Conclusion:
Never compromise the security of your data by simply removing them with the basic delete function. It is good for personal usage but if you are giving out your phone then it is assured that your data will be recovered and might be misused by the wrong hands. Millions of people have fallen victim of identity theft so do not take this matter lightly and use a professional tool to completely destroy the data from your phone so that no data recovery software can retrieve them again.

---