"What a disaster! A mother found out a few contacts on her Samsung smart phone were accidentally deleted by her naughty kid who stole her smart phone to play games. The desperate mother shouted at her poor kid. But after calming down, what should she do to recover those important contacts? "
Such disaster happens everyday everywhere. As time passes by, the contacts on the cell phone continuously increases. The contact list contains the phone numbers of important business partners, colleagues, family members, relatives, close friends, former classmates, neighbors, kid's teachers etc. However, in our daily life, there are many factors, which may easily cause the data loss like improper operations, setting error or virus infection etc. Once the vital contact data are deleted, it will be very troublesome which would affect your career or life. Therefore, it is quite necessary to find a good solution to recover the most important data on the phone.
Do't worry! There are a couple of ways to solve the problem! Today we will teach you how to recover the deleted contacts from Samsung smartphone in 4 ways.
Method 1: How to Retrieve Samsung Smartphone Contacts from Gmail
Gmail is one of the most widely used email services on the planet. There are millions of people take it as the primary email. When you first set up your smartphone, you will be asked to add a Gmail account in order to activate the services offered by Google such as Play Store, Google Drive, etc. Once signed in with Gmail account on the phone, you can easily sync contacts in Gmail across different devices.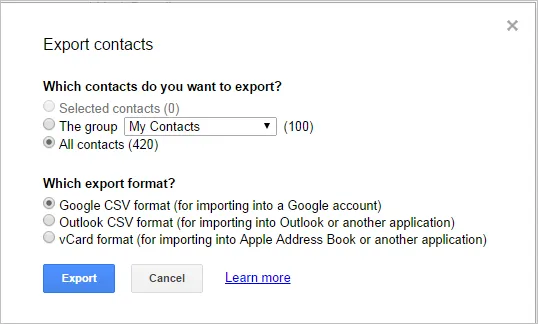 So if you already synced contacts with Gmail, then you can restore them quite conveniently. First, visit gmail.com and input the login credentials. Click 'Gmail' icon and select 'Contacts' from drop-down list. Find the contacts just being deleted and rebuild those contacts.
If you lost the entire contacts list, then click 'More' and choose 'Export' from the Contacts page. Then you will be asked which format you want to export the contacts. Select 'CSV' and download the file. Move the contacts file to your phone and launch Contacts app to import the contacts to the phone.
Method 2: Recover Deleted Contacts from Samsung Smartphone via TunesBro Software
Sadly, if you didn't sync contacts via Gmail or forgot backing up the phone, the last option is using data recovery software. One of the popular names is called TunesBro Android Recovery . It is a powerful data recovery solution for all Android-based devices. No matter what the case you loose the contacts, this program is able to recover the deleted contacts from your mobile phone without causing any damage as well as text messages, photos, videos. In addition, this program is quite safe, fast and easy to operate! What is more, it enables you to preview your lost contact before recovery, and you can restore the lost contacts selectively.
Support Android Device : Galaxy S8/S7 Edge/S7/S6 Edge/S6/S5/S4/, Galaxy Note 5/4/3/2, Galaxy J7/J5/J3/J2, Galaxy A9/A8/A7/A5/A3/ and more.

Directly recover deleted or lost contacts from Android as well as sms, photos, WhatsApp, etc.
Retrieve deleted files from external SD card without taking it out.
Restore lost data from broken Android device.
Remove Android screen password if you forgot.
One-click backup and restore Android phone or tablet.
Step 1

Download and install TunesBro Android Recovery

TunesBro DiskLab is a computer program that runs on Windows or Mac. Simply click on the download button to save the installation file on the computer. Then follow the instructions to install it correctly. When the program is opened, click "Recovery" section.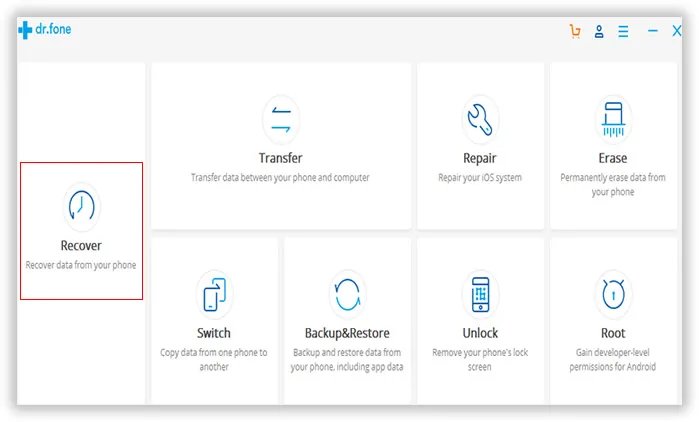 Step 2

Connect Samsung Smartphone to PC/Mac

Connect the phone to PC/Mac via USB cable. During the recovery process, please do not open any other Android Phone management software on the computer. Please turn on USB debugging on your device first and then click 'OK' to allow USB debugging on the screen of your device when a request pops up. If the request does not pop-up, please disconnect your device and reconnect it to your computer to have a try again.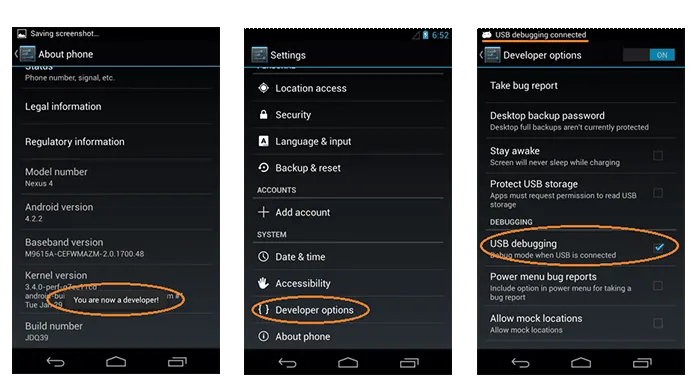 Step 3

Scan and analyze Lost Data on Samsung Smartphone

Once you have enable the USB debugging mode in your smart phone, the program would automatically detect the device. It's time for you to click 'Start Scan' button to start the scanning. This may take several minutes. Please kindly is patient.

Note: To take a full scan, the phone should be rooted to do that. Without root permission, only part of the deleted contacts will be recovered no matter which Android data recovery program you use.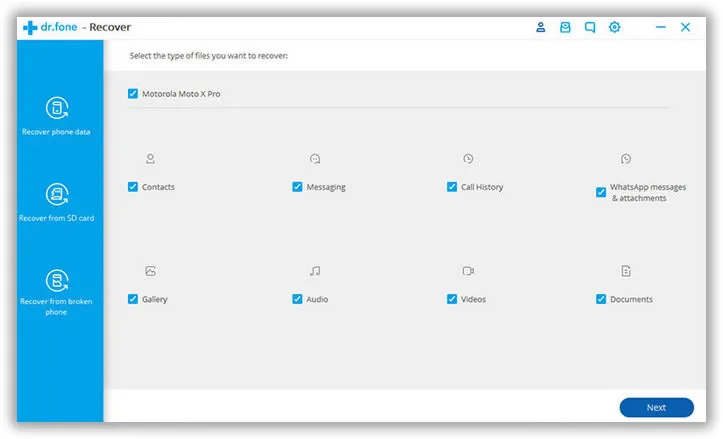 Step 4

Recover Deleted Contacts from Samsung Galaxy S7/S6/S5/S4

Once the software finishes scanning the data on the cell phone, it will automatically classify all the data. You can preview the data, then mark the contacts you need to restore, finally click 'Recover' button and save it.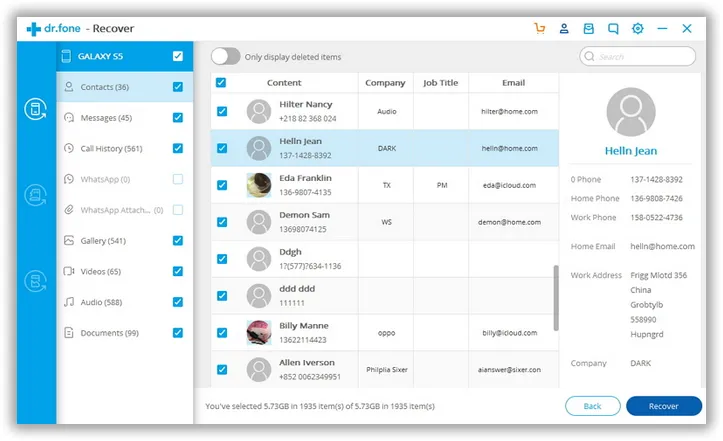 Method 3: How to Restore Deleted Contacts from Samsung Cloud Backup
On the latest Samsung devices, there is an option called Samsung Cloud, which is the online backup service offered by Samsung. You can now backup a few items to Samsung cloud via the phone. The content includes contacts, calendar, call log and settings.

To restore from Samsung cloud backup, please open Settings app on your phone and tap 'Backup and Reset'. Under 'Samsung account' tab, tap Restore. Then all previous backed up data will be synced to your phone. Please note, Wi-Fi should be turned on in order to initial the service.
Method 4: Restore Samsung Smartphone Contacts from Local Backup
Besides Samsung cloud, there are also two computer based backup solutions offered by Samsung, called Kies and Smart Switch. Some of the users may be familiar with the program. If you fortunately backed up the phone with one of them, then recovering the contacts is just a piece of cake.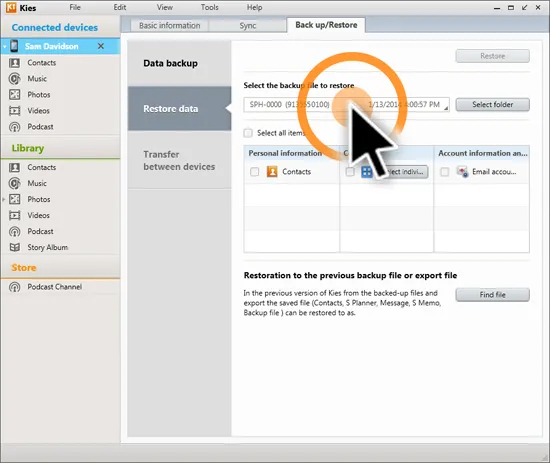 To restore contacts from Kies or Smart Switch backup, simply connect your phone to computer and run the program. After the phone was detected by Kies or Smart Switch, then click 'Back up/Restore' tab on the right side of the program. Click 'Restore' tab and choose the right location of the backup file. A few minutes later, all backup contacts will be synced to the phone.
Thanks to this contact recovery software, which allows you to directly scan the device and recover the deleted contacts. After accidentally deleting the contacts from the smart phone, this user-friendly program must be your best choice! Convenient and fast to recover all the data, just have a try, you will feel back up to the heaven, so happy!

---