What is Samsung Pay?
Samsung Pay is one of the new inventions of Samsung that does have a ton of features which are not available on Apple Pay. It's really very easy to use but you will be required to have a newer version of Samsung smartphone.
Samsung Pay is available and accepted in lot more places because the NFC-based terminals requirement is not necessary like Apple Pay. It uses the same mechanism as swiping debit cards and credit cards meaning it works with a magnetic stripe reader. This feature is actually involved due to LoopPay, a company recently bought by Samsung. It's really very helpful especially if you forget the wallet at house, you can simply use your smartphone to pay.
But since Samsung Galaxy S9 and other versions have arrived on market publicly, we believe it's a good time to learn about Samsung Pay and how to use it. If you trust us then we can assure that you will love it.
Samsung Pay Compatible Phones
Galaxy Note 9, Galaxy Note 8, Galaxy Note 7, Galaxy Note 5

Galaxy S9/S9+, Galaxy S8/S8+, Galaxy S7/S7 Edge, Galaxy S6/S6 Edge

Galaxy A9, Galaxy A8, Galaxy A5, Galaxy A3

Galaxy J7 Max, J7/J7 Pro, J5/J5 Pro

Galaxy C9/C Pro, Galaxy C7/C7 Pro, Galaxy C5/C5 Pro

Galaxy Gear Sport, Galaxy Gear S3, Galaxy S2
Samsung Pay Supported Banks
Chase

American Express

Bank of America

CITI

DISCOVER

US bank
The above is just a portion list that Samsung Pay supports. You can find the latest and full list from Samsung Pay official page.

How Samsung Pay Works
Step 1. Unlock the phone and find the Samsung Pay app.
Step 2. You will be asked to verify your ownership to prevent any unauthorized transaction. This includes PIN, irises or Fingerprint to identify it's your own smartphone.
Step 3. Now, enter the transaction PIN or the special PIN that you have setup to make a payment. This is not similar to your device PIN code, so make sure you are typing the correct transaction PIN number.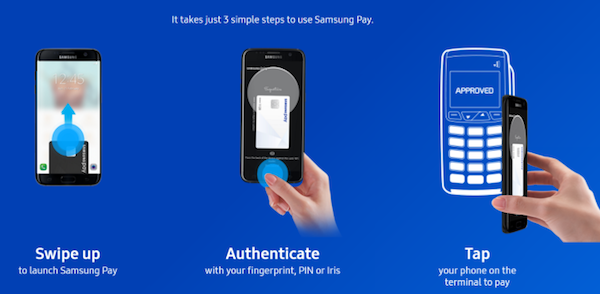 Step 4. At this point, you will be required to add a valid debit or credit card to make payments. Fortunately, Samsung does provide viewfinder feature that can automatically recognize your card number. For the sake of this article, I am going to use a gift card that you will further need to verify via text or email.
Step 5. Next, you will have to sign the card like the following snapshot
Step 6. Congrats, your card has been successfully added on your Samsung Pay.
Step 7. Now comes the shopping part. Go to any nearby store and open the app during checkout.
Step 8. Again unlock the app by verifying it with your PIN or fingerprint/iris. Then, hold the phone near the payment gateway. If the gateway is for debit cards then tap the magnetic stripe line where you normally swipe the card. If you are only required to tap the card then only tap your phone and you are good to go!
That's all. You have made your first purchase with Samsung Pay. Now, there are lots of features and benefits that are not available on Apple Pay like Samsung Pay shows discounts in nearby stores. Also, it shows if there's any offer on online shops like best buy, Walmart, etc.
This is exactly how you should setup Samsung Pay and use it in your daily life. It pretty much works like a walking bank where you can shop, buy stuff, even purchase groceries and daily living items but rather than carrying a bunch of cash, you can use Samsung Pay to finish your shopping with style!