We've been encountering this issue a lot but we think it's time to finally face it. What the best Android TV box available in 2018 ? Honestly, we are in shock to see the wide range of smart boxes  in nowadays.
One thing to keep in mind is that the quality of these TV boxes varies from lower price to higher price. But comparing all the TV boxes from different brands, it is best to get an economic model because that's enough for a normal person.
To be frank, the market of TV boxes didn't evolve drastically and from past few years no special or innovative features are included. More or less, all TV boxes are offering the old features and thus the Android TV boxes list doesn't change that often. Even the controller and navigating system is same as well as playing media files from a flash drive.
But we have discovered that if you can just buy a wireless keyboard and an air mouse then experience of playing with Android TV boxes changes significantly. Wireless keyboards or air mouse doesn't cost more than 10 bucks. Now, let's have a look on the best Android TV boxes list.
Keep reading: how to transfer files to Android device from computer
#1: Nvidia Shield Android TV
The Nvidia Shield is similar to the Lamborghini in the world of Android TV boxes. However, it is more likely used for video gaming but it perfectly fulfills the Android TV purpose. It has an awesome interface, well-designed and is compatible with almost all streaming apps. It does come with a remote and a gamepad.
Notable Features:
3GB RAM & Nvidia Tegra X1 processor.

500 GB internal storage.

Android 7.0 operating system

HD screen – 4K HDR / 1080p.

1 HDMI port, micro USB, 2 USB 3.0 ports and an Ethernet port.

Connect PC with TV directly.

Compatible with Nvidia GeForce.

Cost: $199.00 on Amazon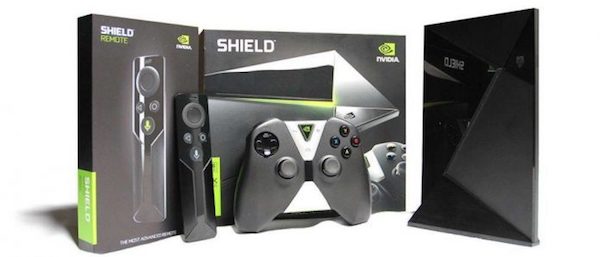 #2: Xiaomi Mi TV Box
If you are on a budget then have a look at Xiaomi Box. It is cheaper than other TV boxes and offers great features like others. One of the most attractive features is the voice command that you could give though a microphone. This does come with remote control and in addition, this offers playing 4K HD media files on Netflix. Easy to use and comes with an extended warranty.
Key Features:
2 GB of RAM with Cortex A53 4-core processor.

8 GB internal storage unit.

Uses Android 6.0 operating system.

Compatible with 4K HDR.

1 USB 2.0 port and 1 HDMI input.

Bluetooth is supported.

Supprts 5G Wi-Fi.

Costs: $80.00 on Amazon.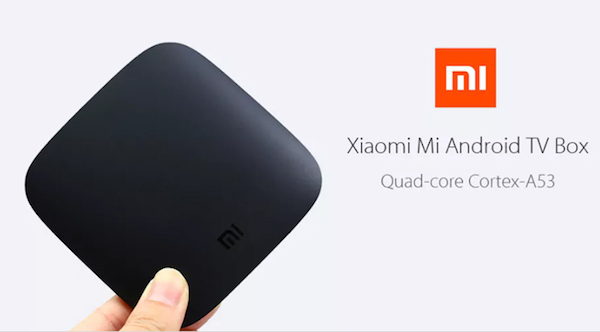 #3: MECOOL BB2 Pro TV Box
The MECOOL BB2 Pro is one the latest mode that has been introduced in the market recently. Honestly, it is one of the most satisfying TV box available right now. Perfect hardware setups and it is able to copy and move everything you need to ask for. It also comes with a Wi-Fi antenna and WiFi connection from 2.4G to 5G.
It is also able to play media files from Netflix, YouTube as well as KODI and spotify.
Key Features:
3 GB of RAM with Amlogic S912 Octa Core processor.

16 GB of internal storage.

Play media files from Netflix and other online streaming services.

Supports 4K media files and has HDR.

Runs on Android 7.1 version.

Supports Bluetooth 4.0.

Costs: $90.99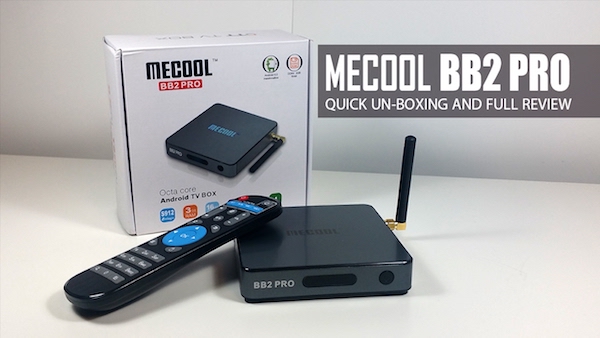 #4: Amazon Fire TV Stick
First of all, Amazon is not really an Android TV box but if you want to own a device that could run Amazon prime videos, YouTube, Netflix, etc. then it is the perfect system you are looking. Moreover, it supports Amazon app store. It is a simple device without any complications and that's why it's really not that powerful.
Key Features:
1 GB of RAM with Quad-Core ARM processor.

8GB of internal storage.

1080p resolution is supported.

Bluetooth 4.1 is enabled.

Has one HDMI output.

Costs: $79.99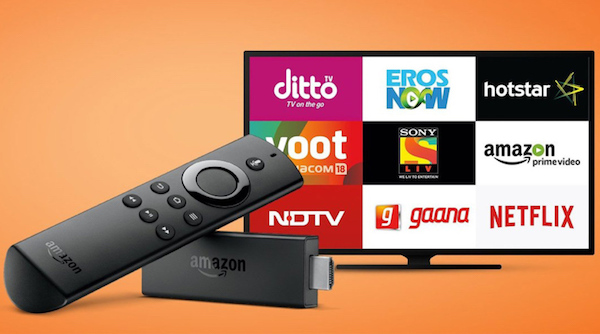 Tips: how to stream music from iPhone to Android
#5: A5X Max TV Box
This one is one of the most powerful and well hardware-combined TV box available in the market right now but it's mainly famous on Asia only. It has 4GB RAM which is by far the highest memory allocated by any system yet. It has 32 GB of internal storage unit which gives you plenty of space to save pictures, videos and other multimedia files. It also comes with a 16GB memory with lesser price.
Key Features:
4 GB of RAM with Rockchip 3328 Quad Core processor.

16/32 GB of internal space.

Supports 4K videos or 1080p resolution files.

Runs on Android 8.1 version.

Costs $80.99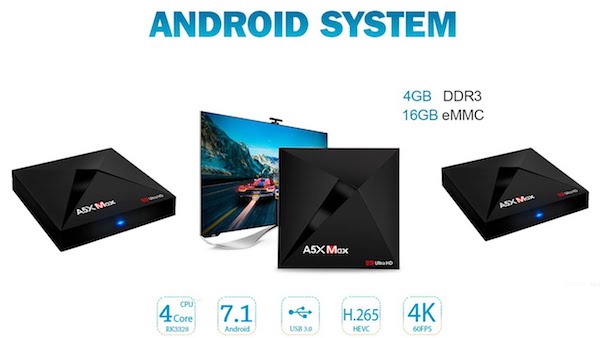 So, that was the top 5 list, honestly if you have some budget then go with Nvidia TV Box and if you are on a budget then try out Xiaomi TV box. Obviously, you can keep trying new Android TV boxes and do share your awesome experience with each one of them in the comments below.