iPhone and Android are two different smartphone devices that do not support each other at all. You can't play the apps and games available on iPhone on your Android smartphone. You can't transfer contacts, messages and other data from your iPhone to Android and vice versa. Not only that, you can't even transfer music from iPhone to Android because there are no in-built apps made by Apple or Android to support each other.
But yet, by using some tricks and tips, you should be able to transfer music from iPhone to Android without any problem. And in this guide, we will show you how to transfer the music and other data from your iPhone to Android literally with a single click using a third party program called TunesBro Phone Transfer. You will also learn how to transfer files via Shareit app and Bluetooth.
Method 1: How to Quickly Transfer iPhone Music to Android Device with Computer Software
TunesBro is a very highly reputed and trustworthy company on the tech internet world. It has developed some really amazing software to make our lives easier and one of them is TunesBro Phone Transfer. It is an effective and reliable software that works as a smartphone manager. You can manage your entire smartphone from this software and you can transfer any kind of data from iPhone to Android including music, videos, pictures, notes, contacts, messages and other private files. Here are the list of features provided by TunesBro

Transfer data from iPhone to Android or vice versa with a single click.
Over 25+ data types are supported such as picture, music, videos, notes, messages, apps, WhatsApp and so on.
Support iOS, Android, Blackberry and Symbian smartphones and you can exchange data between all of them.
Restore from backup files as well like iTunes, iCloud, Kies, etc.
Phone Transfer allows you to transfer music from iPhone to Android with just a single click. The design of this program is very attractive and literally, everything is self-explanatory. Yet, we will be explaining how to use this program in the following steps.
Step 1

Download and Run TunesBro PhoneTransfer on a PC or Mac

Download the compatible version of this program on your Windows or Mac system and then install it in your primary disk. Next, launch the program to see all the features provided by MobileTrans and click on "Switch".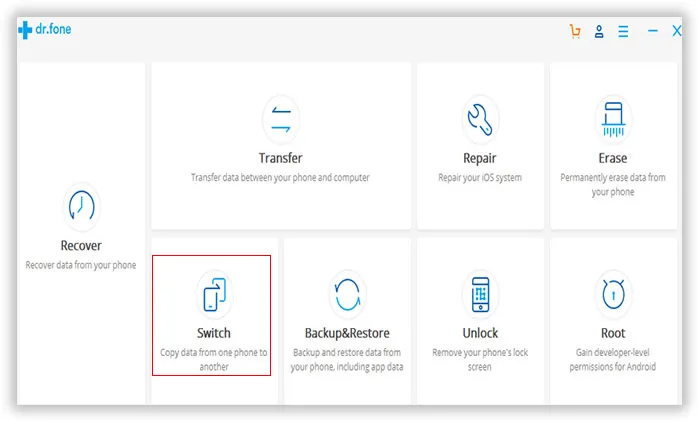 Step 2

Connect iPhone or Android Device to the Same Computer

Use two USB data cables to connect your iPhone and the Android smartphone to your PC. Both smartphones should appear on each side of the program like the following screenshot.

Make sure the iPhone appears on the left side and the Android phone appears on the right side. If not, then simply click on the flip button to switch the positions. It is important that the source smartphone appears on the left side and the recipient smartphone appears on the right side of the program.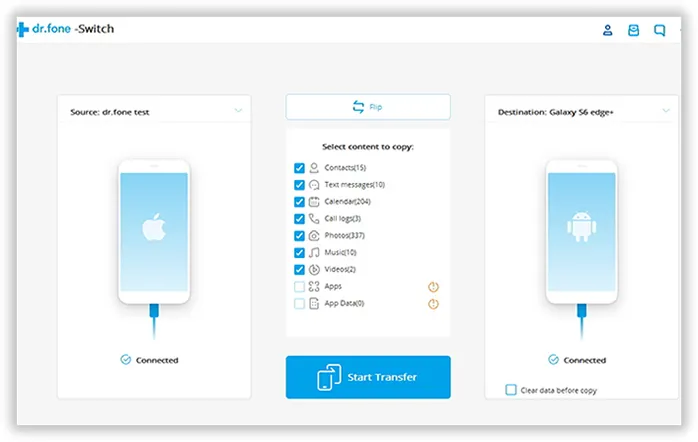 Step 3

Start Copying Music from iPhone to Android

From the "Select content to copy" column, check on "Music" and then click on "Start Transfer". This will start copying all the music items from your iPhone to your Android smartphone and it will take some time depending on how many items you are transferring.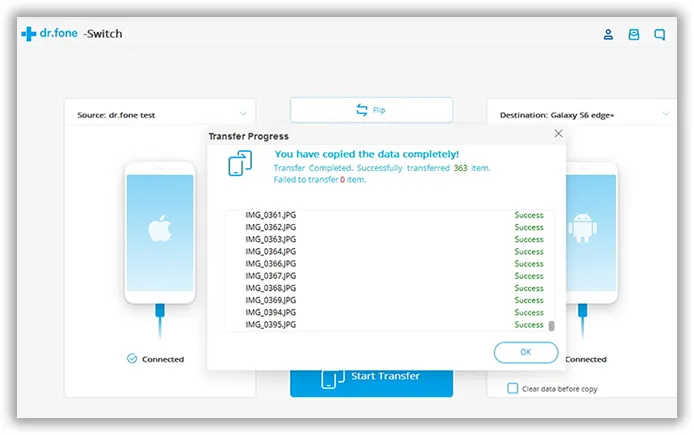 You must not disconnect any of your device from the computer at this point or the transferring process will fail. Once, the status bar is completed to 100%, you can check your Android smartphone and you should be able to see all the music files from your Music app.
Method 2: Transfer Music from iPhone to Android via Shareit App without Computer
Secondly, you can also try copying the music using Shareit app. ShareIt is a free app available on iOS and Android. it can connect both phones via Wi-Fi. However, the app might not work properly on some old devcies. And the transfer speed is much slower than TunesBro Phone Transfer. Please keep in mind of that. Here's how to use Shareit to transfer music from iPhone to Android:
Step 1: Download Shareit app on both iPhone and Android smartphone.
Step 2: Launch the program in both smartphones and tap on "Send" from your iPhone and tap on "Receive" from your Android smartphone.
Step 3: Both phones should be connected now. Select all the music files that you want to transfer from iPhone and click on "Send". Make sure that both phones should be placed not far than 25 meters or else the connection till be lost.

Step 4: Once, the transferring process is finished, you can check your Android smartphone to discover all the music items are transferred.
Method 3: Wirelessly Transfer Music via Bluetooth Technology
Bluetooth is old but an effective way to transfer media files between mobile phones. The reason why I didn't recommend this method in firts place is that there is a big problem in pairing iOS and Android device at the same time. I tried it on my iPhone 5S and Galaxy S8, it just failed to work. I also heard a lot of compliants about it from online forurms. However, you can give it a try as it is totally free.
Step 1: Enable Bluetooth feature on both phones. It is located at the Settings section.
Step 2: Now on iPhone, Tap on "Scan" button to search nearby Bluetooth-enabled devices. Usually, you will get a list of devices after scanning.
Step 3: Find the Android devcie name and connect to it.
Step 4 : After pairing successfully, you can choose the music from iPhone and send it to Android phone.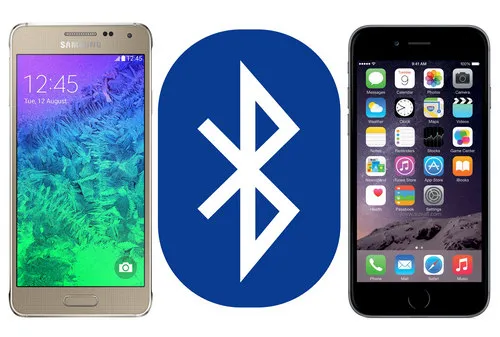 Conclusion:
It is not a wise decision to use Shareit app or Bluetooth to transfer music if the list was large. Once the connection was broken, which happens regularly during wireless transfer, you have to re-do it from start. Although, we showed how to transfer music from iPhone to Android in this tutorial. But you can transfer any kind of data from one smartphone to another using TunesBro software. You can even transfer data from iPhone to Windows phone, Android to Symbian, Symbian to iPhone and so on. In short, if you get a new smartphone then you don't have to worry about transferring your files since TunesBro can copy everything from your old smartphone to the new one within minutes. Please do not forget to like us on Facebook and share this article with your friends. .

---