Cain and Abel is a all-in-one password recovery which includes a feature – Windows password recovery. It is said that it can be able to recover all kind of passwords with the methods like network packet sniffing. it offer three password cracking algorithm like  dictionary attacks, brute force and cryptanalysis attacks. And this cracking algorithm will take long long time to search your password because it will  search all possible  character in 256 character, this will be crazy!  And Cryptanalysis attacks will be done via rainbow tables which can be created with the winrtgen.exe program provided with Cain and Abel.
Part 1: Complete Review of Cain and Abel
Cain and Abel is a free but not very reliable Windows password resetting software. It is definitely not a top choice recovery tool because the disadvantages of this program are way more than the advantages. Indeed it is free to use but knowing that one will have to install it on a different computer, we cannot recommend this tool over NTPassword or Ophcrack, etc.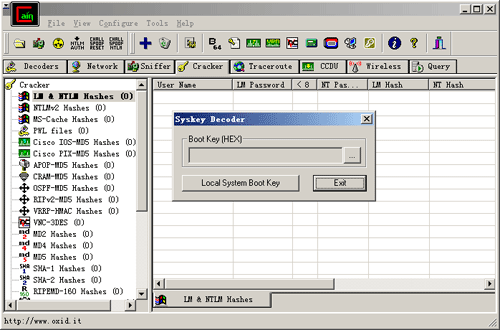 Pros –
Absolutely free tool. No hidden charges whatsoever.

Various methods are included to crack the password of the computer.

Password recovery is quick for simple passwords.
Cons –
You must download appropriate "Rainbow Tables" from the internet.

The software must be installed before you can recover the password on the computer hard drive.

Must have a distinct computer to finish the job.

Computer expertise is necessary considering you will be going through a long procedure.

I never cracked Windows  10 or even Vista password successfully.

Won't support UEFI-based computer.
Additional information –
If you can find the compatible rainbow tables from the internet then only it can crack the password of your computer.

It offers several types of password recovery methods.

100% works with Windows XP and old NT as well as Windows 2000.
Honestly speaking, this program is not really efficient and many people will find it highly annoying especially who are using the latest Windows versions because there will be no way to crack the computer password with it. However, if you are using Windows XP/2000/NT then you must give this program a try by following the below steps.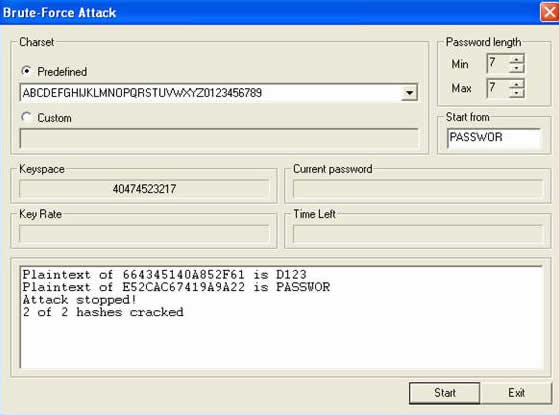 Step 1. Launch the program and click the "Cracker" option.
Step 2. Select "LM & LTLM Hashes" option followed by "Import Hashes from local system".
Step 3. Right-click on the username for which you are cracking the password and select the "Cryptanalysis Attack". Then choose LM hashes and upload the Rainbow Tables.
Step 4. Finally click on "Start" and wait for the tool to retrieve your computer password.
This may not be the easiest program to reset Windows password but if you are in a hurry then we can hook you up with another reliable and effective password recovery program that can instantly reset the password of your computer.
Part 2: Cain & Abel Alternative – TunesBro WinGeeker Ultimate
Most people have trouble with Cain & Abel and looks for a reliable alternate. After researching a lot, we found TunesBro WinGeeker is an outstanding password recovery software that offers a guarantee when it comes to resetting the Windows computer password.  User-interface is very attractive and the options are clearly visible. It can lift the standard limit from a user account and turn it into an administrator account instantly. It even supports cracking Microsoft account password without damaging the real Microsoft account password. It's extremely safe because it only works in the WinPE environment  and automatically detect the SAM file which stored the all accounts information, then remove the SAM file from your system, it means the account also was removed.  Never damage your original file and system files.
Cain & Abel couldn't crack Windows 7/8/10 passwords but WinGeeker will easily bypass the password of any Windows computer including the 64-bit version of Windows 8 and 10. It is very easy to use and literally requires few clicks on your mouse to get the job done!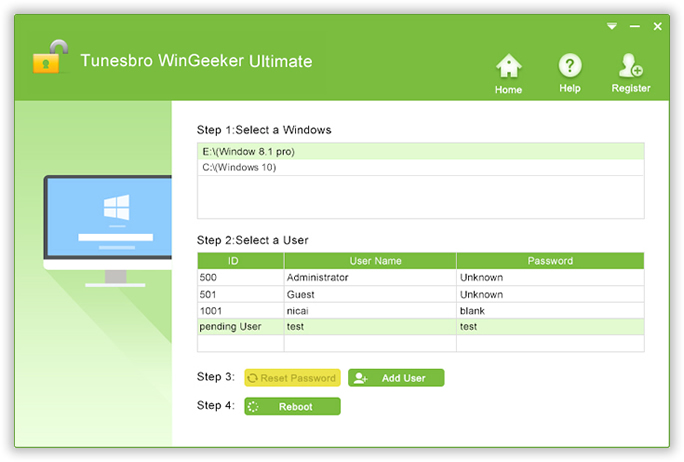 TunesBro WinGeeker (Guide) –
Step 1. Pull out your old Windows laptop or you can even use a spare Windows computer to download and install WinGeeker.

Step 2. Open the software and equip a thumb drive or DVD to burn the ISO image automatically.

Step 3. You do not need any other ISO image burner, just click the "Burn USB"/"Burn CD/DVD" button and the program will automatically make the bootable disc for you.

Step 4. Plug in the bootable disc on the computer that requires resetting password and turn it on. The program should appear automatically and will look something like the below image.

If you have multiple administrator users then click the correct username and on the bottom of the program, click the "Reset Password" once.

Feel free to restart the computer again and the login screen will be skipped automatically.
Conclusion –
No one intentionally forgets their computer password but granted that if you take a long vacation or keep changing your computer password then it will happen eventually. The best solution is to keep a hard copy of all the passwords safe in your drawer but even if you fail to do so then you can definitely use WinGeeker to reset your computer password anytime, anywhere.
Also read: