If you have used OphCrack for your Windows 7/ Vista OS versions, then you must have a thorough idea as OphCrack is not compatible for the latest Windows OS versions such as Windows 8/ 10. Thus in order to keep your pace active with the latest inventory launches, you must know alternatives to OphCrack as it has become too old to be operational for latest computer system and corresponding operating systems. There are various methods like John The Ripper or Windows Password Key which can be put to use if you are serious about your computer. We have chosen carefully the fully operational and active methods from the all the methods available on the internet to facilitate your work.
Ophcrack Alternative #1: Active@ Password Changer Software
Active@ Password Changer utility is a wonderful password removal tool which can easily remove any type of account passwords in few simple steps. It can be utilized for several other applications as well, but we would use it only for the removal of password feature from your computer. In order to know its working, read the steps carefully illustrated below:
Step 1. Download the correct portable version of the software on any fully functional computer and install it with step instructions.
Step 2. Click on "Start" and then "Program" and finally "Active@ Password Changer" from the context menu.
Step 3. As soon as the dialogue box of Active@ Password Changer appears on the screen click "Next" to go to the next page of "Option Window". Here you can actually choose your type of search.
Step 4. Now select "Search all volumes for Microsoft Security Accounts Manager Database (SAM)" option and click "Next". Now trace your SAM hive file and click on it to open it.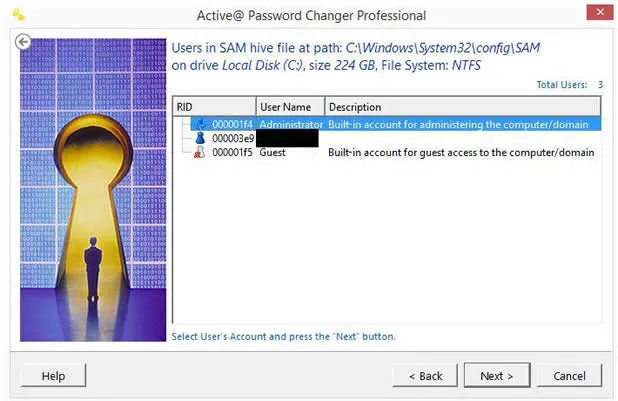 Step 6. Next scan your entire disk to find out your multiple operating systems. Select a particular database from the list, and click "Next" and the list of user profile names will be shown instantly on the screen.
Step 7. Select your locked user account and keep the "Password never expires" and "Clear this user's Password" checkboxes checked.
Step 8. Click the "Apply" button and then "Yes" button from the pop-up window.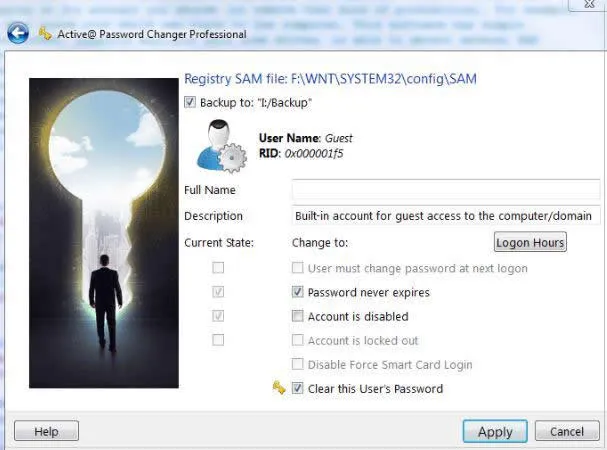 Step 9. From the final wizard page, click "Finish" button to end the process. Now restart your computer and there shall be no password prompting anymore.
Cons –
1) The process is complicated, not recommended for novice users.
2) Doesn't work with UEFI-based computer.
3) Doesn't work with Windows 64-bit OS versions.
Don't miss: 3 Ways to Help Reset Windows 10 Login or Administrator Password If Forgot
Ophcrack Alternative #2. TunesBro WinGeeker Ultimate
Tunesbro WinGeeker is yet another Windows password recovery tool which can remove password of any account, be it admin, local user, domain, or root. Unlike other password resetting tools, here you don't have to recover your lost password. But your would directly reset the password to blank and disable the password security facility from the sign-in page. Most password recovery tool use the brute-force  algorithm to recover forgotten password, but this has been a time-consuming manual effort. If your password is too long, then it may take a few months or years. In contrast, WinGeeker only works in the WinPE environment and detect the SAM file in your windows system then just remove the password info which stored in SAM file. It has been tested with various brands of computer and laptops such as Dell, HP, Acer, VAIO, etc so you can be sure of its authenticity.

100% Remove your password without reinstallation and data loss
Create bootable reset disk from USB/DVD/CD drive
Support reseting Windows lost local Administrator, User password, Mirosoft account and Windows server password.
It extends its features to incorporate USFI, Legacy and DSI mode computers as well.
Step 1

Install WinGeeker Ultimate On Another Working Computer

Download the setup file directly by cling download button on another working computer and install it using install wizard with step instructions. You can see there are two ways to make a bootable reset disk - USB and DVD/CD.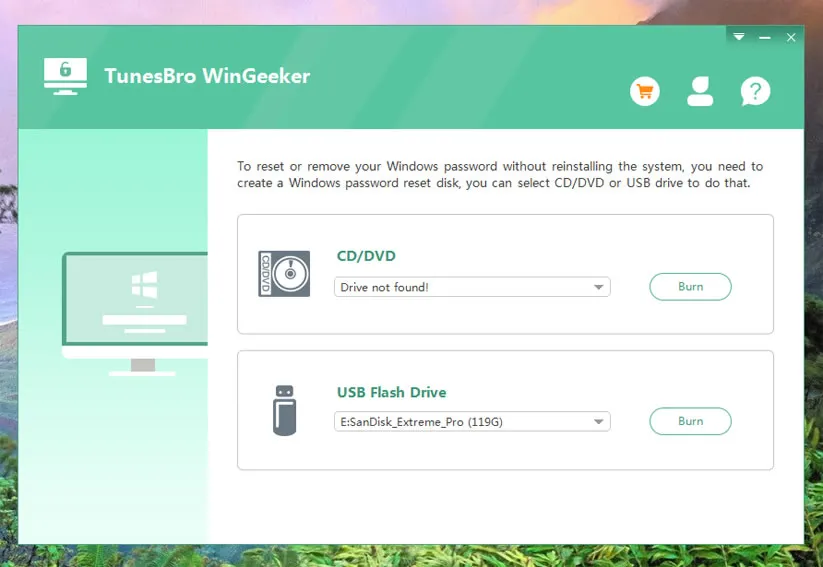 Step 2

Make a Password Reset Disk

Insert a blank USB flash drive or writable CD/DVD to that working computer. Choose "USB or CD/DVD" as the media type from the main UI screen, click "Burn USB" or "Brun DVD/CD" button. The burning process will be started and when you receive the message "Burning Successfully!", quickly click "Ok" to end the process.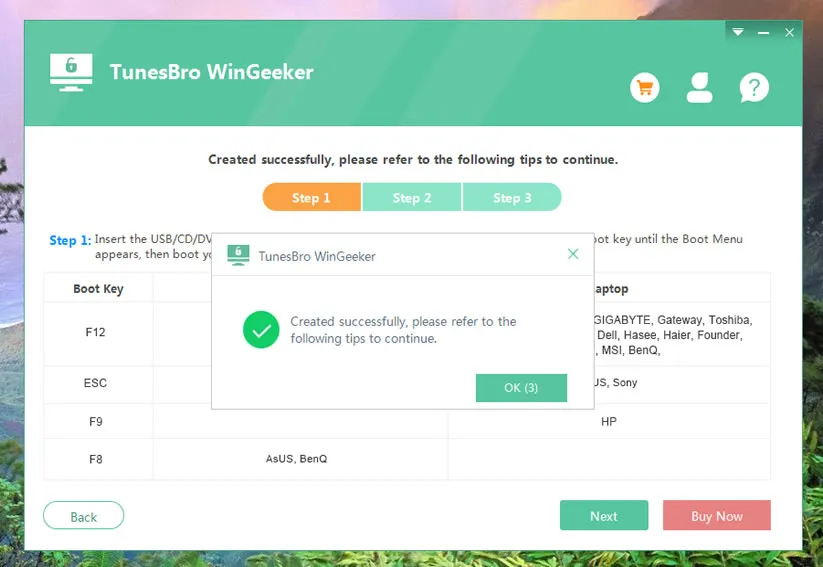 Step 3

Boot Locked PC from USB Drive

Eject the bootable disk and re-insert it into the locked target computer. Change the boot order from the BIOS settings to boot from the inserted bootable drive. To do ti , just press F2, F8 or Del key on your keyboard to activate the boot menu options, then select the USB flash drive name and press Enter.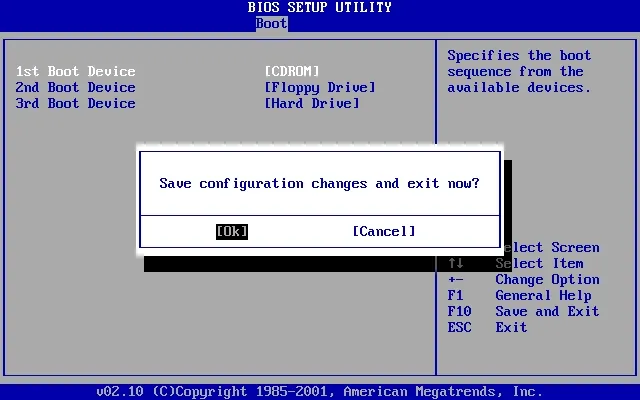 Step 4

Reset Account Password to Blank

Once you are done with this, all the registered user accounts and system will be shown on the screen. Select your locked user account and click on "Reset Password" and "Reboot" buttons to begin the password removal process.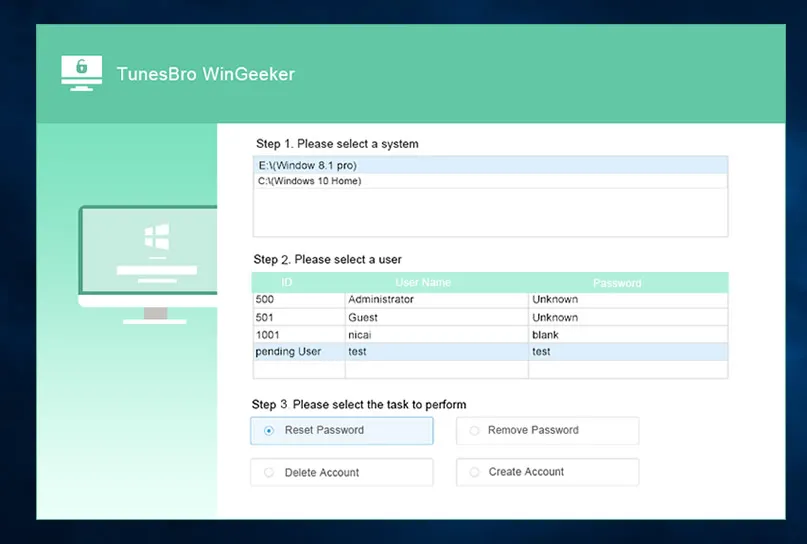 Your system will be restarted in an instant and when it turns on the next time, there will be no password prompting on the sign-in screen.
Also read: How to unlock your computer without knowing password
Ophcrack Alternative #3: LCP
LCP is one of the most effective Windows Password Recovery Tool which can crack any type of account passwords, be it admin, local user, root or domain accounts. LCP is an advanced tool which requries computer knowledege and expertise to use the program so that you don't end up choosing wrong options that may cause severe data loss.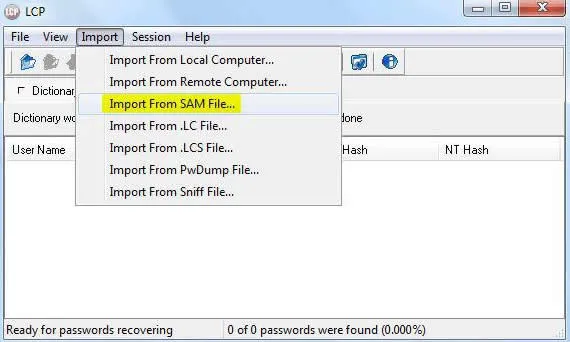 Read the steps below to know how it works:
Step 1. Firstly download the portable version of the LCP tool which is of size 1.86 MB to any of your working computer and unzip it.
Step 2. Now open up the LCP program and click on "Import" menu from the menu bar, which allows you to import SAM file, .LC file, PwDump file from the local or remote computers.
Step 3. Since you are locked out of your computer here, you first have to extract the SAM file or password hashes. In order to do that, boot your system from a live install CD/DVD. The SAM file generally loaded in C:/Windows/System32/Config.
Step 4. Select the "Import from SAM file" option from the drop down menu and you will be asked to find out the SAM file for the target system.
Step 5. Uncheck the "Additional encryption is used" option and click "Ok".
Step 6. As soon as the tool displays the user names and password hashes, click the "Arrow" button to begin the cracking.
Step 7. The cracked passwords will be displayed under the "NT Password" column.
Conclusion
From the above article we can clearly conclude that resetting system password is not an easier task to accomplish, but if you hold on to the right choice like that of Tunesbro WinGeeker, the tiresome labor could be reduced to few simple steps with 100% guaranteed output.  That's called best best alternative to Ophcrack if it doesn't work for you.

---