Now since Windows usage has become such an indispensible part of our daily work, we would surely store most of our data and contents in computers installed with Windows 10. And in order to safeguard the volume of contents, we prefer to set up password for its accounts, especially the admin account which gives the necessary administrative privileges over every part of the system. If you have forgotten your password to your Windows computer and feeling yourself to be a complete looser, then let me assure you, you are not the only one facing this problem. Every day, every moment someone across the globe is confronting the same problem.
To forget things is a part of our life and we must accept it, but though when it comes to forgetting something like that of the password of your computer, then it is very much necessary to regain the access to your locked computer as soon as possible. The longer you stay out of your account, the more your work will be hampered. So you need to professional Windows Password Key tool to unlock your computer in order to regain the access to your locked admin account in order to access all the documents, folders, files stored within the account. If Windows Password Key it not working properly. Here we offers the best alternatives for your choice.
Alternative 1. Reset Password with Ultimate Boot CD
If Windows Password Key is not working, don't worry! Ultimate boot CD or UBCD is old yet powerful password cracking tool available on the internet market. It is an open source utility which resets your Window password by running simulations on your computer simulations on your computer. In actual practice it is a Linux based computer so the mechanism of resetting is a bit different. Read the steps mentioned below to actuate the method:
Step 1. Download the UBCD on any working computer and burn the ISO image files into a bootable USB or CD/DVD.
Step 2. Insert the bootable CD/DVD in the computer which is locked and boot from it. In order to do that, set the inserted device as the priority device from the BIOS utility settings.
Step 3. As soon as the UBCD menu will appear on the display screen, simply choose "Parted Magic" and press "Enter" to proceed.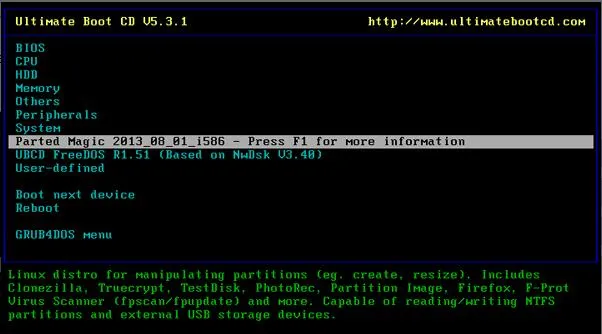 Step 4. From the next page that follows, select the default settings by pressing '1'.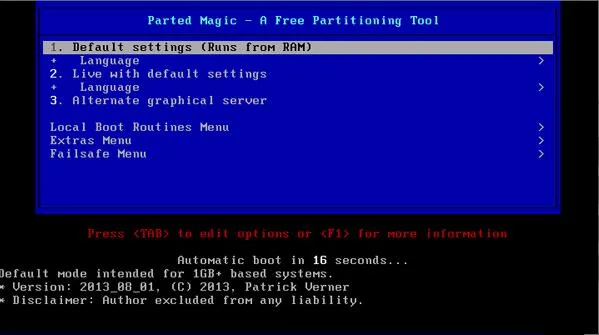 Step 5. Once the program is loaded, go to the following location: Start > System Tools > Change Windows Password.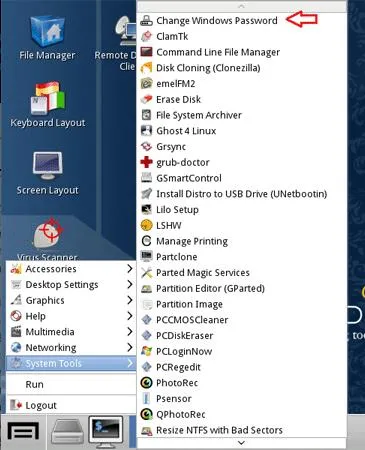 Step 6. Create a new password and save the changes.
Step 7. Take out your bootable disk and reboot your computer to apply for the changes you have set up.
CONS:
1) It doesn't work with 64-bit Windows version computers.
2) It has never been updated since its launch so it might malfunction in the middle of its working.
Also read: 2 Ways to reset HP laptop login password
Alternative 2. Use WinGeeker Ultimate If Windows Password Key Not Working
TunesBro WinGeeker Ultimate is a very powerful tool which is a bit different than other password resetting tools. The most distinguishing feature of this tool is that it manipulates certain registry files to unlock the password protection altogether from the login screen without actually re-installing the OS. Consequently, no data is lost from th device. This is one of the best password resetting tool which actually bypasses or removes the password protection feature altogether instead of guessing the password. It does not re-install your Windows OS thus no data is lost during its operation. It has been tested with different brands of computer and laptops, so you can relax regarding its authenticity.

100% unlock locked PC without actually re-installing the OS. No data loss or file damage at all.
2 ways to make a reset disk: USB/DVD/CD drive. No network connection is required.
Directly remove Windows local Administrator, User password, Mirosoft account and Windows server password.
It works with all the Windows OS, Vista/ XP/ 7/ 8/ 10 and all kind of hard drives, namely, SSD, HDD, SATA, etc.
Step 1

Download and Instal It, then Create Password Reset Disk

Download the program file from the official website and install it accurately on any spare working computer. Launch the program and from the main interface screen, click on "USB or CD/DVD" option to choose for the media type being used.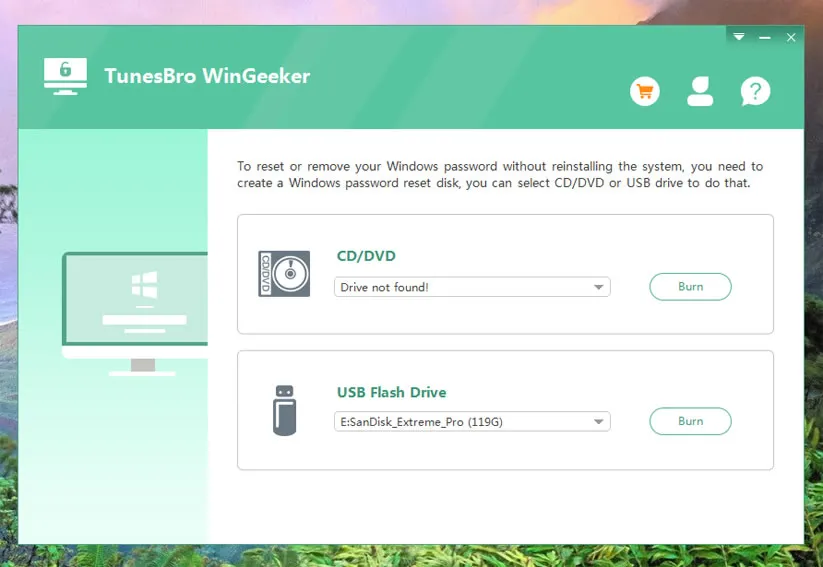 Insert your empty USB stick and click on "Burn USB" button to start burning the ISO image files into the bootable disk. When you get the notification "Burning Successfully!", click "Ok" to finish the process.
Step 2

Modify Boot Order in BIOS Settings

Eject your bootable disk and re-insert it into the locked out computer and boot from it. From the BIOS utility settings make sure that your bootable disk is chosen as the main priority device to load the files into the locked computer.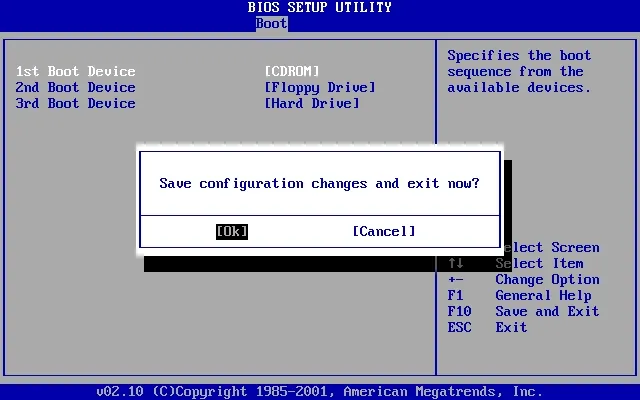 Step 3

Reset Password to Blank

After setting the BIOS, just reboot computer, it will load the WinGeeker program on the screen and all system and users will be listed in the program. Just choose the operating system version and users you need to reset. Then click Reset Passwrod button to reset the selected users to blank.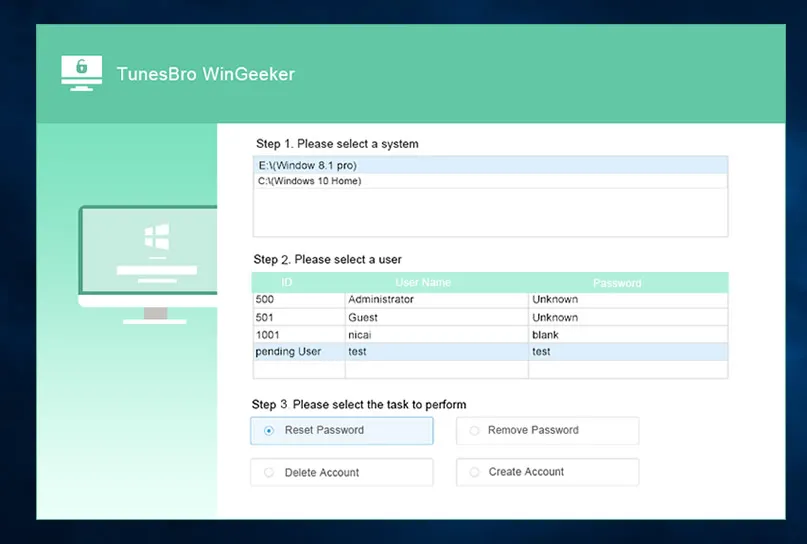 Your computer will be restarted and but this time when it turns on, you would not be asked of any password any longer.
Summary
If your Windows PC ever gets locked at the cost of forgetting your Windows password then you must not wait any longer but to use the methods mentioned above to unlock it immediately. If you delay it might hamper your work as most of the documents and data are stored in your computer. If Windows Password Key doesn't works for your computer, dont' worry. TunesBro WinGeeker Ultimate tool should be the best alternative, which is thus the most reliable tool to unlock your computer. The tool has been tested with various brands of computers like, Acer, Dell, HP, Lenovo, etc. And make sure that you note down your password in a safe secured place in case you forget it the next time again.

---