Did you setup a very secure and tough password for your Dell laptop computer and can't remember the correct password now? Well, there's no need to feel ashamed since this is an issue that is faced by thousands of users everyday on their daily lives. You cannot use easy passwords to secure your computer but if you choose strong passwords then there's a high probability that you might forget them once in a while.
Thankfully, there are some security breaches in Windows that can be manipulated to reset the password again. Of course, these methods are little tricky but we will elaborate them as briefly as possible so that everyone can understand on how to implement them. The main aim of this guide is to reset your Dell laptop password but at the same time we will make sure that no data loss occurs and which is why we won't recommend to install the OS on your computer again.
Method 1. Reset Dell Laptop Password By Reset Disk
This method is only valid for those who has taken a little extra precaution and created password reset disks before getting locked out. If you already have a password reset disk then changing the password of your computer must be the easiest thing on this planet.
Step 1. All you need to do is to click on "Reset Password" from the login screen of your computer and a new setup wizard will pop up on the screen.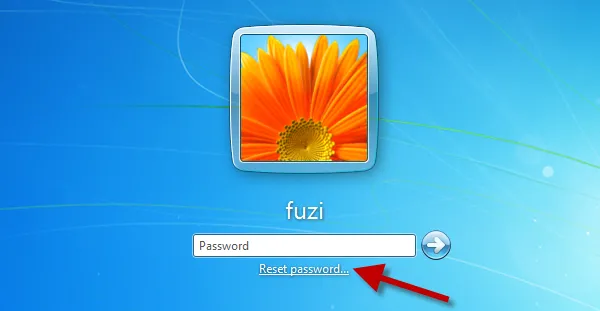 Step 2. Now type the new password for the user account, this new password will replace the old one. After that. You can now access to your Dell laptop with the new password.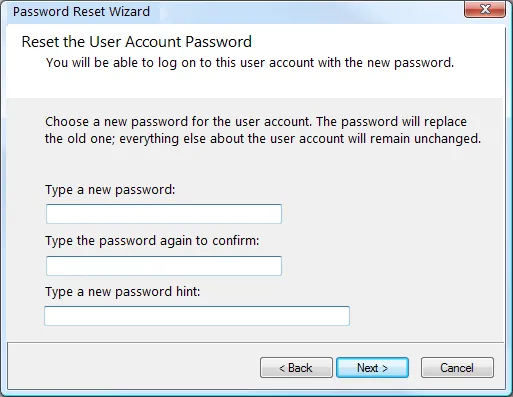 Method 2. By Resetting Microsoft Account Password
But not everyone has password reset disks to save their computer. In that case, if you are using Microsoft account as your user profile then you can reset the password your Microsoft account that will automatically modify that password of your Windows 10 computer.
Step 1. To do that, simply visit https://account.live.com/password/reset, then choose "I Forgot My Password" and completely the web series answers.
Step 2. In this step, you're required to type your email and phone number associated with your Microsoft account.
Step 3. Choose a way you'd like to receive the security code and click next. You can choose phone number or email to get the code.
Step 4. Type the security code you receive and move to the next page.
Step 5. Setup a new password for your Microsoft account and finish the changes.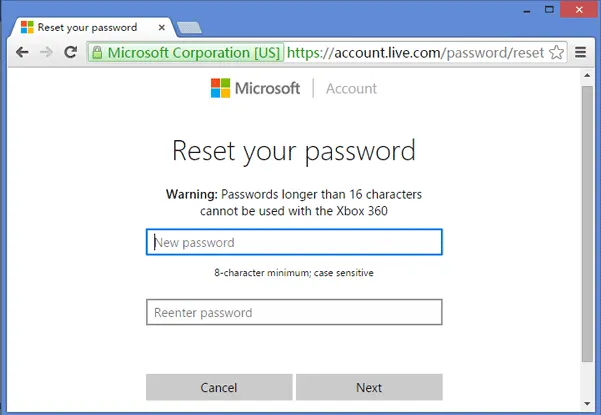 Step 6. Just restart your Dell laptop and login with your newly created password.
Note: Use this password to access your computer again. But, this trick is useless if you are using a local or administrator account to protect your computer. But never get dishearten, since we have the ultimate tool to reset your Dell laptop login password in no time.
Method 3. Reset Dell Laptop Password with Password Reset Tool
Not everyone has a Microsoft account as their default account type or you may want to reset your Windows password without losing any data at all. In that scenario, Tunesbro Windows Password Recovery is the perfect option to choose. It is a user friendly and reliable program that can completely remove the password of your Dell laptop which will totally let you access your system without entering any password at all. In short, after using this program, you will be able to access your computer normally.
What's more is that you can use Tunesbro program to reset login password in any Windows computer including Windows 10, 8, XP, 7, Vista and the other Windows servers. This program requires no internet connection while resetting the password and you can literally remove your password within few minutes. It is supported by every Windows computer and laptop models like Dell, HP, Acer, Lenovo, Sony, Samsung, etc.
Step 1

Download, Install the Program on Another Working Computer

The first thing that you need to do is download it on accessible PC, not the locked one. You do not need much of a computer skill to use this program.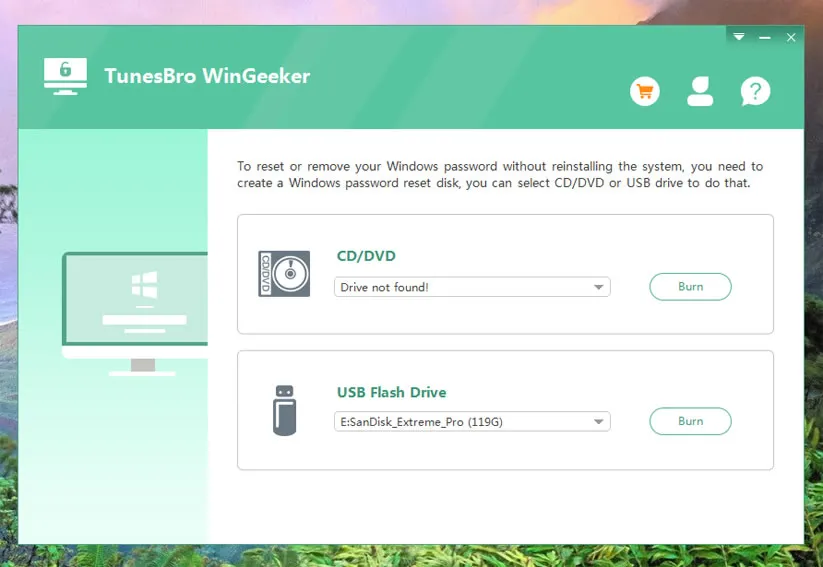 Step 2

Make a Password Recovery Disk with USB or DVD/CD (Take USB for Example)

Insert an empty USB flash drive to anohter working computer. And run the program, click on "USB Device" and select the name of your USB flash drive and click on "Begin Burning" to start burnning ISO image file to your USB disk. Once the burning is finished, you should be able to see a pop up message that looks exactly like this.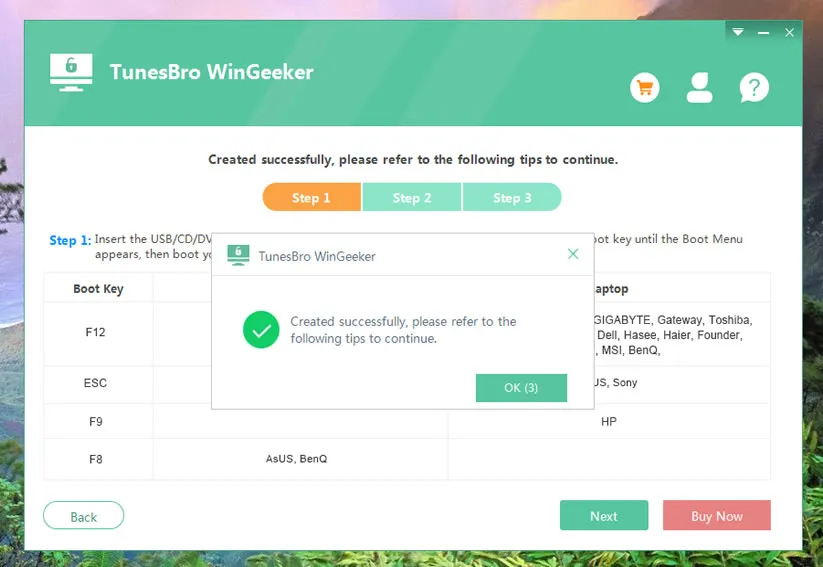 Step 3

Insert USB Drive to Your Locked PC and Boot from USB

Eject your USB drive and insert it to your locked Dell computer, then you need to set the USB as the primary boot order in the BIOS. You can change the boot sequence in the BIOS by repeatedly pressing particular key, like F2, Del, or F8 according to your computer, then you will enter BIOS SETUP. Find the USB drive and move it to the first position by using + and - keys.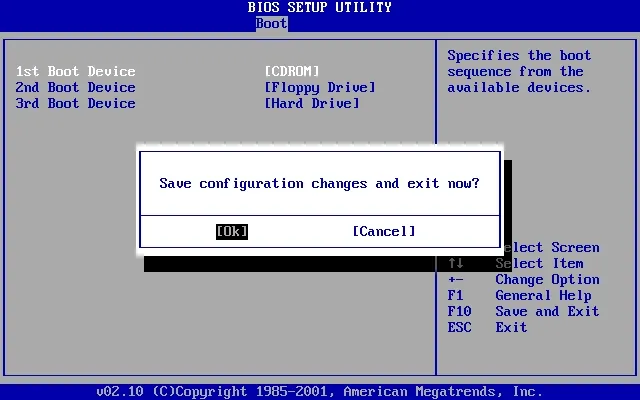 Step 4

Begin to Reset Dell Laptop Login Password, then Reboot Your Computer

Now, everything is set and your password reset disk is ready to remove the password from your locked system. All you have to do is to insert the password reset disk on your main computer and turn it on. Tunesbro Windows password recovery program should appear on the screen and you only need to choose the Windows version (i.e. Windows 10) and select the lock username.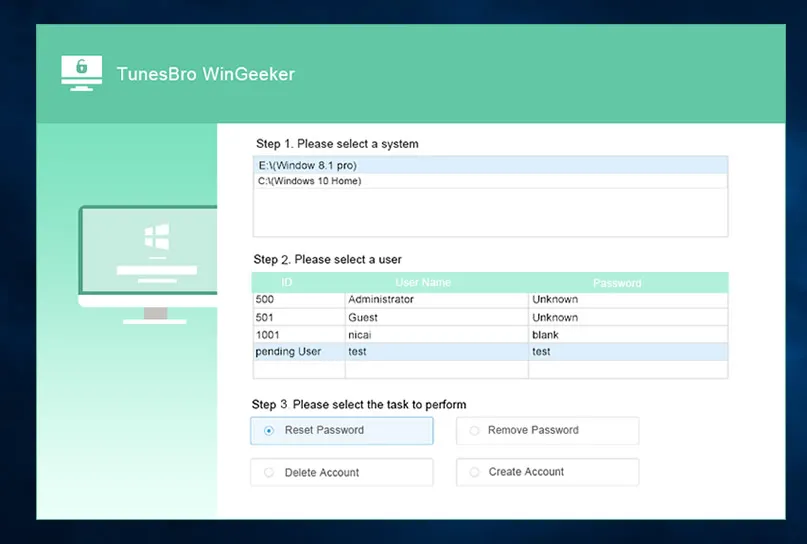 Now click on "Reset Password" and it should remove the password from Dell computer. Restart your system and there you go, access your computer normally again.
Conclusion
We have demonstrated three methods in this guide and hopefully they should resolve your issue permanently. But, if the first two methods doesn't work then it is guaranteed that Tunesbro program will surely work without any problem. Hopefully, you guys liked this tutorial and do let us know your suggestions on the comments.

---