There are multiple cases where many of the people end up not being able to log into their Windows for forgetting their reset windows 10 password. Windows password system permits only authorized persons in logging into the computer. This feature of Windows 10 helps in protecting the privacy of the user. Many times we forget the password due to carelessness and get perplexed. No need to get panic and worry about the problem as the technology is at our help. Recovering of the password can be very easy in many of the cases. And this can be problem big enough for you as you wouldn't be able to make use of your system.
Reinstalling the System Is Not A Good Idea - We Should Pass It First.
Forgetting your own Windows 10 password is not a flashing news these days. There's no need to be embarrassed about and you don't need to trash your computer either. There are four ways to regain access to a locked Windows 10 system, you can either to reset windows 10 password using some special software, or you can reinstall your whole Windows system. The go to response for any individual who forgot their computer password is to format the computer and install operating system again. But that's one of the cruelest way to punish your computer as severe data loss may occur if you re-install operating system. Considering that reinstalling the whole system will wipe all your settings and files, many people rely on using a password reset program to reset the password from your computer & allow you to gain access to it again.
In this short guide, we will show how to reset Windows 10 login and administrator password without erasing any data from your computer. That's correct and it is indeed possible to recover Windows password without re-installing the operating system.
Method 1. By Resetting Microsoft Account Password
Microsoft accounts are the default account type in Windows 10 and later versions. So, there's a huge chance that you must be using your Microsoft account to password protect your computer. In that case, if you only reset Win 10 password of your Microsoft account then it will resolve this. Here's how to do that.
Step 1. Go to https://account.live.com/password/reset from a separate computer or smartphone and select "I Forgot My Password" and click next.
Step 2. On the next page, fill in your email or phone number associated with your Microsoft account and hit next.
Step 3. Let Microsoft know how you would like to receive the security code and hit next. (You can either select your email or phone number to receive the code)
Step 4. Enter the security code and move to the next page.
Step 5. Setup a new password for your Microsoft account and finish the changes.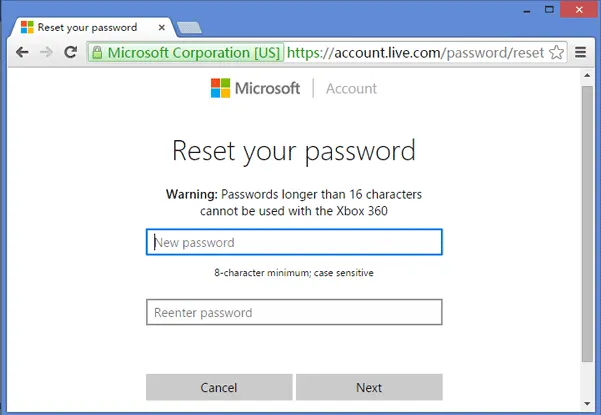 Step 6. Reboot your computer and login to your system using the new password.
Note: If you forgot your Microsoft email or phone number then this part will not work but don't get dishearten, there are still other ways to bypass Windows 10 login password. Keep on reading to discover other methods.
Don't miss: 3 Ways to Reset Dell Laptop Password If You Forgot
Method 2. By Using Other Administrator Account
If you have setup other administrator account on your computer then you can use those accounts to change the password of your current administrator account. Follow these steps to modify your main account password using other administrator account.
Step 1. Login to your computer using another administrator account.
Step 2. Right-click on My Computer and select "Manage".
Step 3. A new computer management windows will open. Click on "Users and Local Groups" from the left side followed by "Users".
Step 4. Right click on the main user account and click on "Set Password".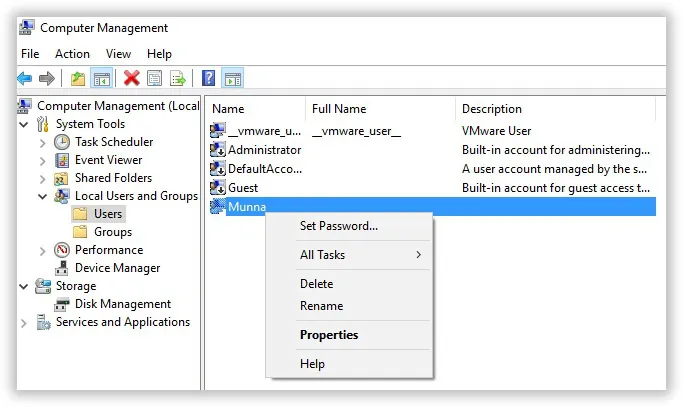 Step 5. Change the password and this time remember it.
Step 6. Restart your computer and use the new password to login to your computer.
That's it. You have successfully unlock the password of your main user account. But if you didn't setup any other administrator account on your computer before locking out then you can still use the following method to reset Windows 10 login password.
Method 3. Reset Windows 10 Password with Password Reset Tool
If none of the methods mentioned above worked then this method will work for sure without any issue. The windows 10 password reset tools don't need windows to operate in order run its application. It is a very easy application that loads and runs before Windows start-up. Here we highly recommend using TunesBro Windows Password Recovery, which can trace the location where the password has been stored by searching through Windows root folders and files. Then they change the files which hold the password and resets it to being blank. This works as simple as that. Now, with this being done, the final step will reset your system then allow you to log into your windows straight in.
TunesBro WinGeeker Ultimate is the best and fastest program to reset Windows 10 login password. It doesn't matter how tough password you have used to encrypt your computer, this program can reset any password and helps to regain access to your computer in no time.

By far, it has 100% success rate recovering any Windows password without formatting and reinstaling system.
Create bootable reset disk from USB, DVD and CD.
Fastly reset Administrator, User password, Mirosoft account and Windows server password without damaging system files.
Supprot 300+ differnt computer's models and Windows tablets.
Step 1

Download, Install the Program on Another Working Computer

The first thing that you need to do is download WinGeeker Ultimate on accessible PC, not the locked one. After you've done with the downloading and installation, you will be asked to make a bootable USB stick or burn a CD which you are going to use on the locked computer.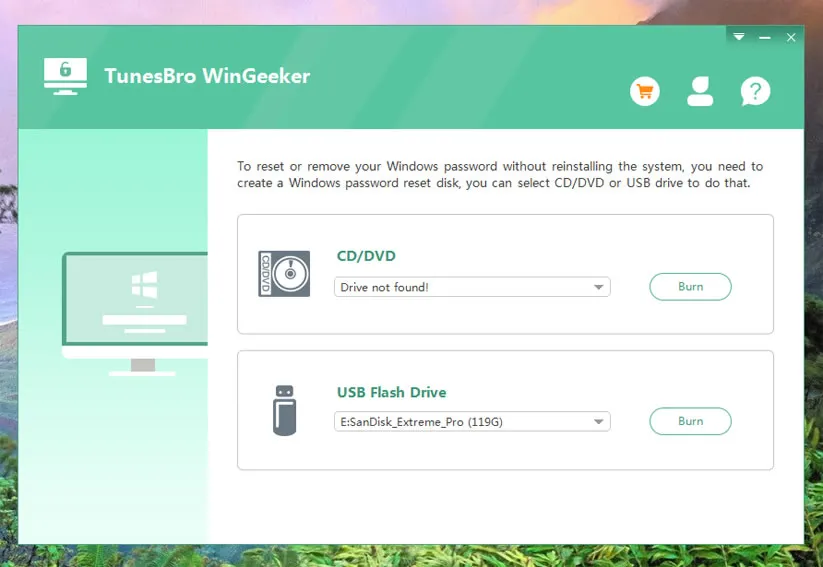 Step 2

Create a Bootable Password Recovery Disk with USB or DVD/CD (Take USB for Example)

Insert an empty USB flash drive on to the computer and let the software detect it automatically. Click on "USB Device" and select the name of your USB flash drive and click on "Begin Burning" to start transferring all the files from the software to the USB flash drive.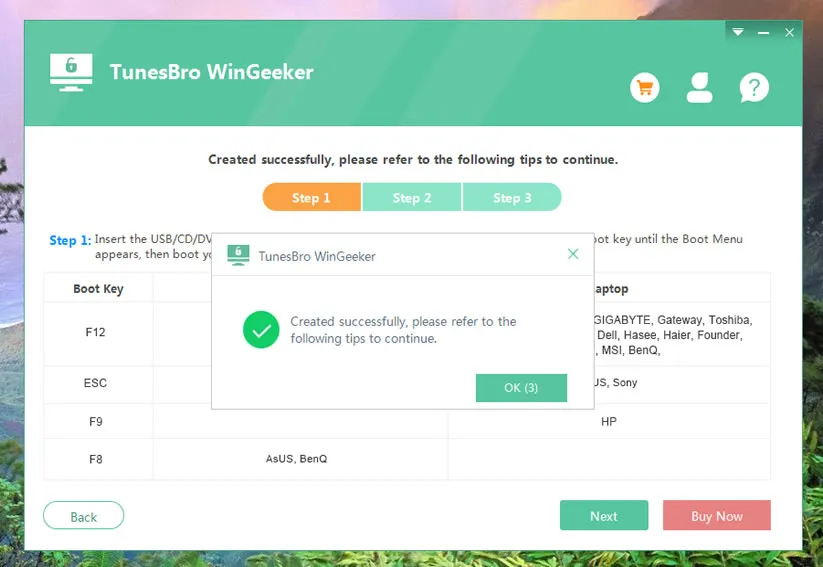 Step 3

Insert USB Drive to Your Locked PC and Boot from USB

Eject the flash drive and re-insert it on the locked computer and boot the PC using the flash drive. To let the PC loads the program, you need to set the USB as the primary boot order in the BIOS.

You can change the boot order of the "bootable" devices on your computer by pressing particular key, usually Del or F2, then you will enter SETUP. The boot order can be changed using the + and - keys. Find the USB drive or DVD and move it to the top position.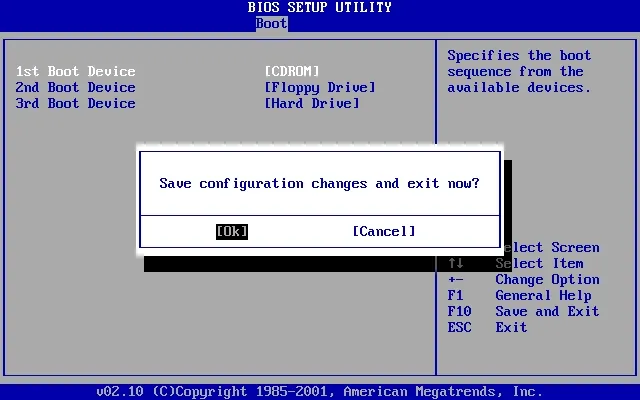 Step 4

Begin to Reset Windows 10 Login Password, then Reboot Your Computer

After you resetting the boot order, then reboot your computer, now Windows Password Recovery program will be launched automatically on the startup screen and it will detect all system and account you set in your computer. Select the operating system and username for which you want to reset the password. Click on "Reset Password" followed by "Reboot".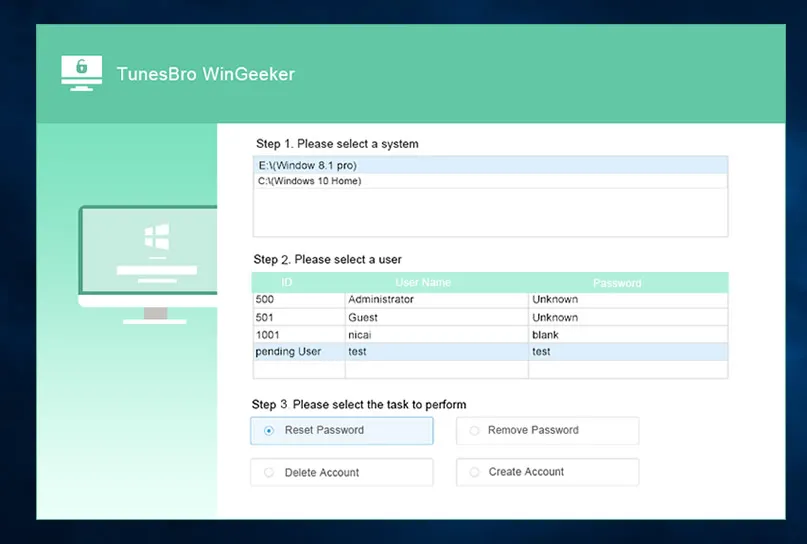 Voila! When these few steps are completed, you will need to restart your computer. After restarting it, you will find that you can log into the computer again without using your old password.
Conclusion
You don't have to be a computer expert to reset your Windows 10 password. Simply use the above methods to reset your login password and get back into your system without any problem. This WinGeeker Ultimate can be used to recover not only Windows 10 password but also you can reset other version of Windows computers. With the trial version you can scan and analyze all the usernames associated with the computer. Rest assured that no data will be deleted using this program and you should setup a new password immediately after gaining access to your computer to avoid any suspicious login on your PC.

---