Like every password resetting tool, John The Ripper too has been quite an influential password resetting tool on the internet market for a long time. But the tool is very complicated to implement if you are fully aware with the know-how of password resetting tools. For beginners it is a damn difficult tool to utilize. Thus in order to alleviate users of the complications of this tool, it is always better to find suitable alternatives to this tool John The Ripper.
Here in this article, few such alternatives have been explained briefly in order to give full scale idea other password resetting tools.
Alternative #1. Cain & Abel Tool
Cain & Abel though is an old password resetting software, yet it is fully functional for those who are in urgent need of unlocking their locked down computer. Read the steps of this method carefully in order to operate the tool:
Step 1. Download the ISO image files of this tool on your working computer and install it correctly with steps instructions.
Step 2. Burn the ISO files to create a bootable disk and insert the loaded bootable disk into the locked out computer and boot from it. Wait for a while till the program is completely loaded into the computer.
Step 3. Open the "Boot Key" and find out the location where the OS file is installed.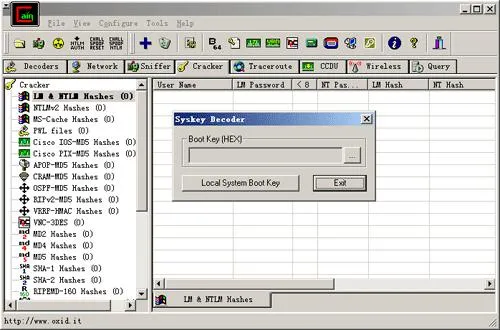 Step 4. All the registered user profiles will be shown on the screen of the tool. Right-click on the user profile which is currently locked and then choose "Brute-Force Attack" button and then the "NTML hashes" to continue.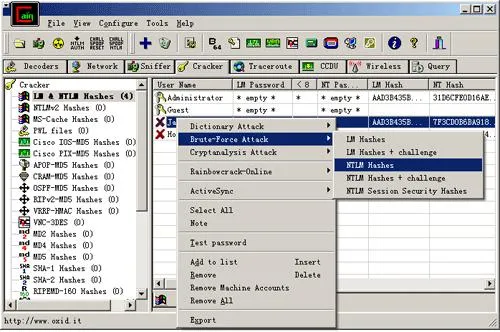 Now the recovery process might take several hours according to the password complexity, but once the password is cracked it will be shown on the main UI screen of the tool.
CONS:
1) It doesn't work with 64-bit Windows version computers.
2) It does not work with Windows OS 8/10.
3) It is a very time consuming tool and complex.
Also read: 3 Ways to Reset Toshiba Laptop Password without Losing Data
Alternative #2: TunesBro WinGeeker Ultimate
If you are seriously tired of trying out unnecessary tools to unlock your computer, then this time TunesBro WinGeeker Ultimate is the best password removal tool to rely on. It smartly bypasses your login screen and allow you clean access to your locked account without re-installing system and data loss. It has been a phenomenal success in the internet market due to its remarkable performance and positive feedback acquired from several users across the internet. If John The Ripper doesn't work, WinGeeker would be the top alternative to John The Ripper for your choice.

Completely remove password from a locked Windows without reinstalling and formatting.
You can create bootable disk in two ways- CD/DVD and USB without no internet connection.
Reset all kinds of password on Windows XP/ Vista/ 7/ 8/ 10 and Server 2008/2012/2016/NT.
It is perfectly compatible with legacy and UEFI BIOS based computers as well.
Things You Require:
1) An accessible computer CPU: 1GHz (32 bit or 64 bit).
2) Empty optical disk (CD/DVD or USB).
3) The Tunesbro WinGeeker Ultimate program file. You can download here.
Step 1

Download and Instal It On A Working Computer

Firstly prepare yourself by downloading the WinGeeker program file on another working computer (Like your home computer or office computer) and install it accurately with steps instructions. It should look something like this.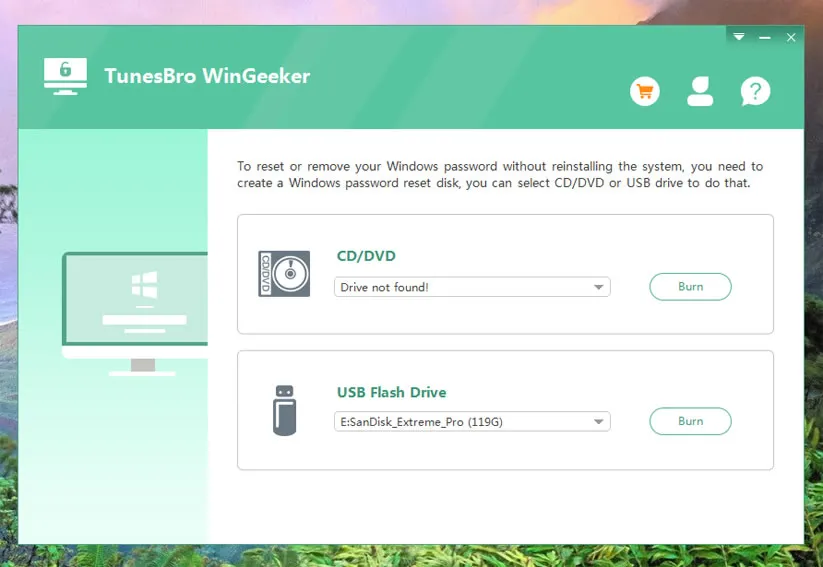 Step 2

Create A Password Reset Disk with USB or DVD/CD

Insert any empty optical disk into the computer and burn the ISO image files into the disk by clicking either "Burn USB" or "Burn CD/DVD" buttons to create bootable disks.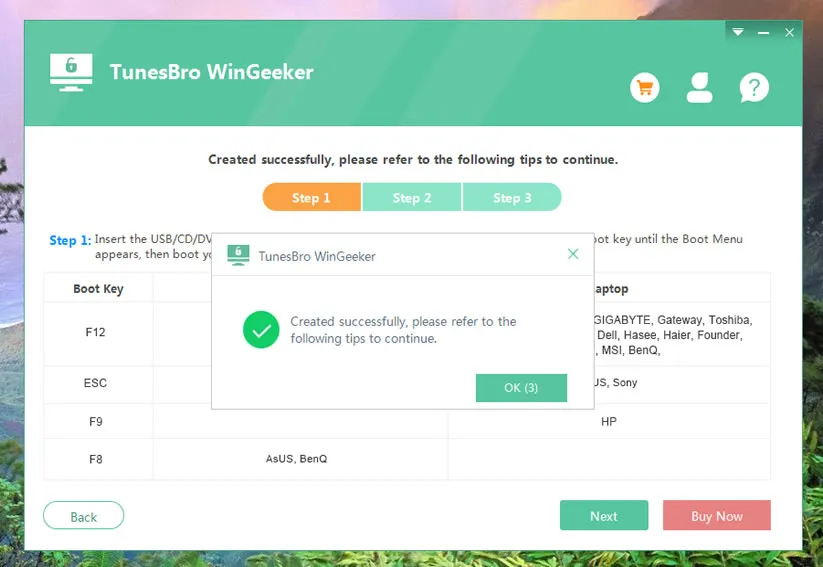 Step 3

Change The Boot Order to Boot from USB or DVD

Take out the loaded bootable disk, and re-insert it into the locked down computer and boot from it. Go to the BIOS settings change the boot order so that the computer can be booted from USB or DVD/CD. In the BIOS utility settings, try to press F2 or F8 or F12 or Del key on your keyboard continuously till the Boot menu appears.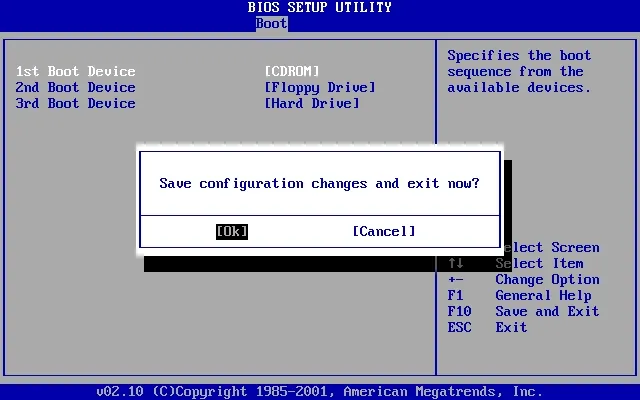 Step 4

Start to Reset Selected Password to Blank

After you choose to boot from USB or DVD/CD, reset boot your computer and this time, the WinGeeker program will be loaded and display all of your OS version and users. Choose the users and click on "Reset Password", then click "Reboot" to reset the password to blank.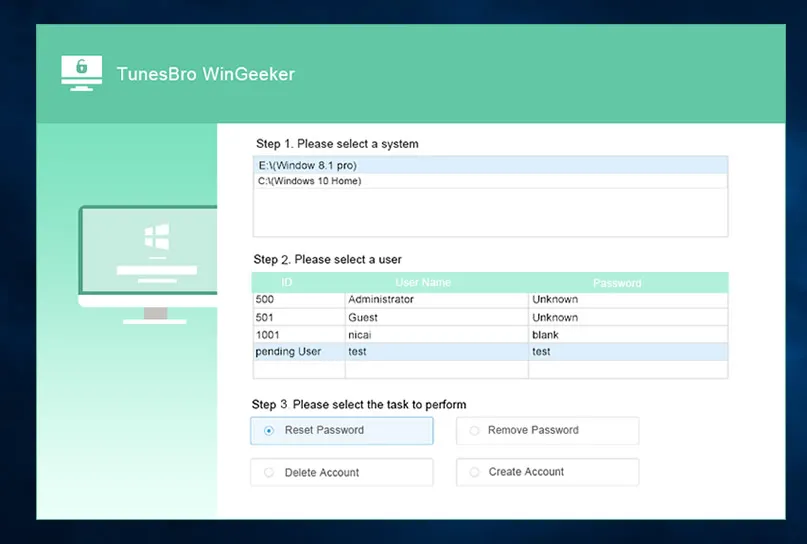 The system will be restarted, but you won't be prompted to enter any password anymore.
Don't miss: 3 Ways to Lock A Password-Protected Laptop Windows 10/8/7
Alternative #3. PCUnlocker
PCUnclocker is a paid password resetting tool which can easily reset your Windows admin password without losing any of your system data. The steps for the tool's manual are exemplified below as follows:
Step 1. Firstly download the .zip archive of PCUnlocker from the internet. Unzip the downloaded file and burn the ISO image files into CD/DVD or USB to create a bootable disk using any ISO image burning software.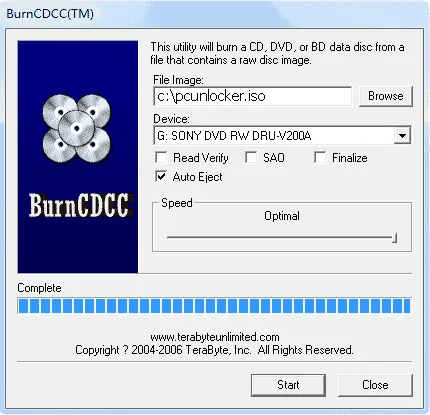 Step 2. Now insert the loaded optical disk into your locked computer and boot from it. You might have to change the boot order in order to load the ISO files.
Step 3. Wait for a while until the boot disk launches the PCUnlocker program into the locked PC.
Step 4. From the main UI screen, select "Reset Active Directory Password" as the Recovery Mode and select your user account from the list of user accounts displayed below.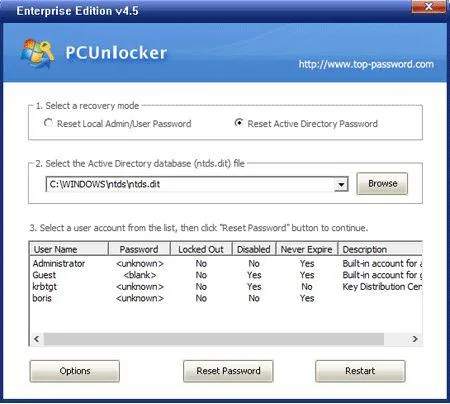 Step 5. After selecting your user account click on "Reset Password" button below the screen to reset your password.
Step 6. Next remove the bootable disk from the locked computer and restart the computer to apply for the changes. When the computer restarts again, this time you have to enter the newly created password in the login screen.
CONS:
1) The tool might create problem with the latest Windows OS version, but not with the previous versions.
2) The tool requires a lot of system resources which slows down the system performance.
3) Need to pay full version.
Conclusion:
Due to several newly rising issues, password recovey has become a burning issue lately on the internet. The entire internet communities are flooded with queries of unlocking accidently locked down computers. Thus if you seriously wish to unlock your locked out computer systems, better rely on TunesBro WinGeeker Utlimate Tool as it got no setbacks like other tools.

---