Laptops have really created a greater platform for those who prefer to carry laptops or iPads in their bag wherever they go, since this is one of the finest inventions where iPad with touch screen and laptop both can be used at the same time. Now no matter how advanced an invention turns out to be, if you ever forget the password on your laptop to open the system, it will be of no use at all. You will be locked out of your own laptop and shall not be able to open any files or folders, spreadsheets, and contents stored in your laptop.
Thus in this article we would discuss few method which will enable you to unlock your locked down Laptop without any hassle.
Way #1. Unlock A Laptop with Ultimate Boot CD
Ultimate Boot CD Tool is a wonderful password resetting tool which can actually reset every kind of Passwords. The tool is very user-friendly, all that you need to have is a working computer and the tool installed in it. Read the steps below to know the method in full length:
Step 1. Firstly download the setup file directly from the internet and install it correctly on any of your working computer and burn the ISO image files into a bootable disk.
Step 2. Plug in the reset disk into the locked down computer and boot using the drive inserted.
Step 3. The UBCD menu will emerge next on the screen. Select "Parted Magic" from the main UI and press "Enter" to continue.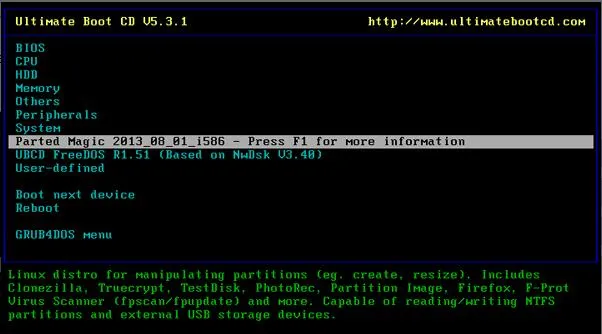 Step 4. From the next page that follows, press '1' from the keyboard to choose the default settings and proceed.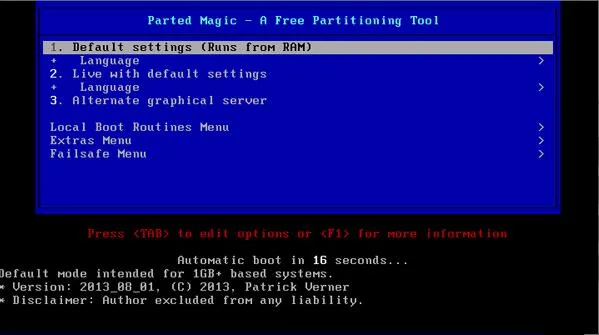 Step 5. UBCD will start loading and aftr it is completely loaded, go to the following location and set up a new password. Start > System Tools > Change Windows Password.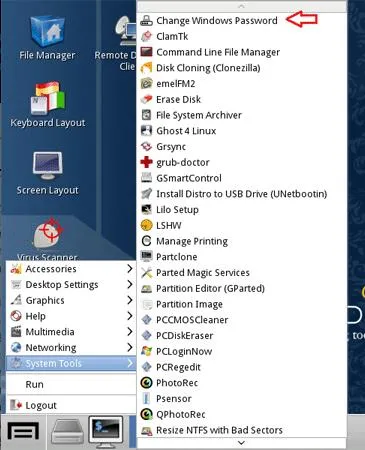 Step 6. Take out the bootable disk and reboot your computer and input your previously locked account with the newly set password.
CONS:
1) It doesn't work with 64-bit Windows version computers.
2) It has never been updated since its launch so it might malfunction in the middle of its working.
Also read: 3 Ways to Reset Toshiba Laptop Password without Losing Data
Way #2: Remove Your Laptop Login Password with WinGeeker
TunesBro WinGeeker Ultimate is a wonderful tool which can actually remove the password or bypass the login screen in order to help the user gain access to the locked down computer. It cunningly manipulates the system files to turn off the password protection feature. Read the features of the tool first to know the tool in a much better way.

100% remove password from a locked laptop without actually re-installing the OS.
2 ways to make a reset disk: USB/DVD/CD drive. Requires no special technical skills.
Directly remove Windows local Administrator, User password, Mirosoft account and Windows server password.
It is perfectly compatible with legacy and UEFI BIOS based computers as well.
Things You Require:
1) An empty CD/DVD or USB.
2) The program ISO file.
3) A spare working computer.
Step 1

Download and Instal It, then Create Password Reset Disk

Get your Software ISO files downloaded to any working computer and install it accurately. Run the program with admin facilities and insert your optical disk into the computer. Click on "Burn CD/DVD" or "Burn USB" to start burning the ISO image files as per the disk type.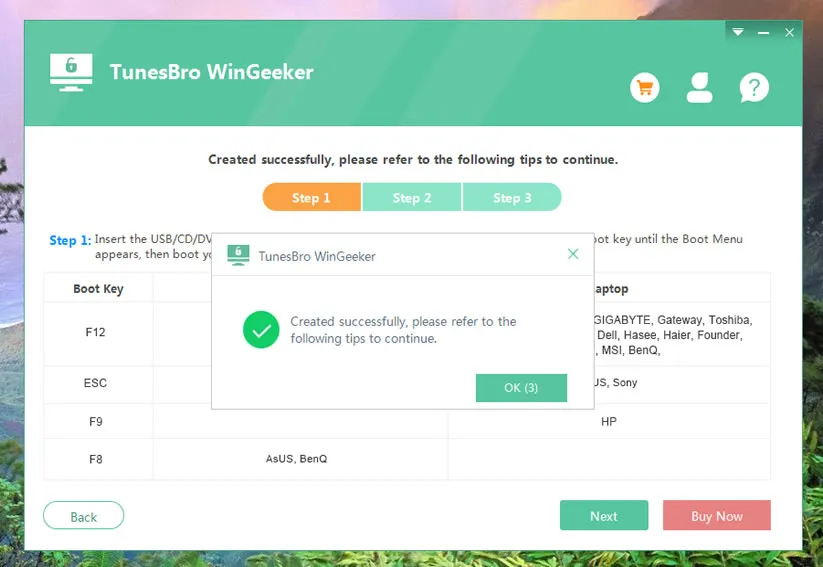 Step 2

Modify Boot Order in BIOS Settings

After the ISO image file gets burnt into the optical disk, take out the disk and insert it into the locked down computer and boot from it. You need to make sure your bootable disk (USB or DVD)is chosen as the main priority device in the BIOS utility settings of locked PC.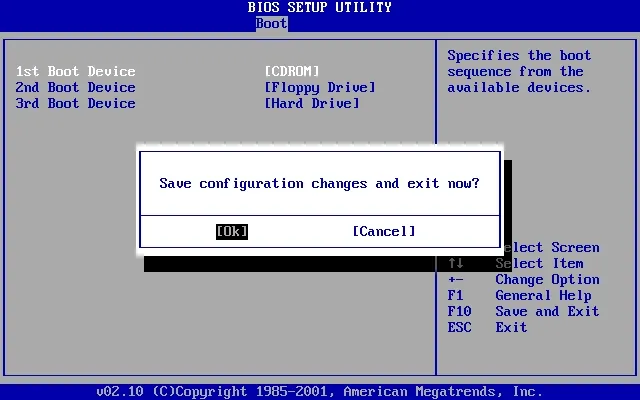 Step 3

Reset Password to Blank

When your computer booting, the program will be loaded and shows Windows OS and users. Select the users and click on "Reset Password" and "Reboot" buttons simultaneously to start resettomg users to blank, then click reboot button.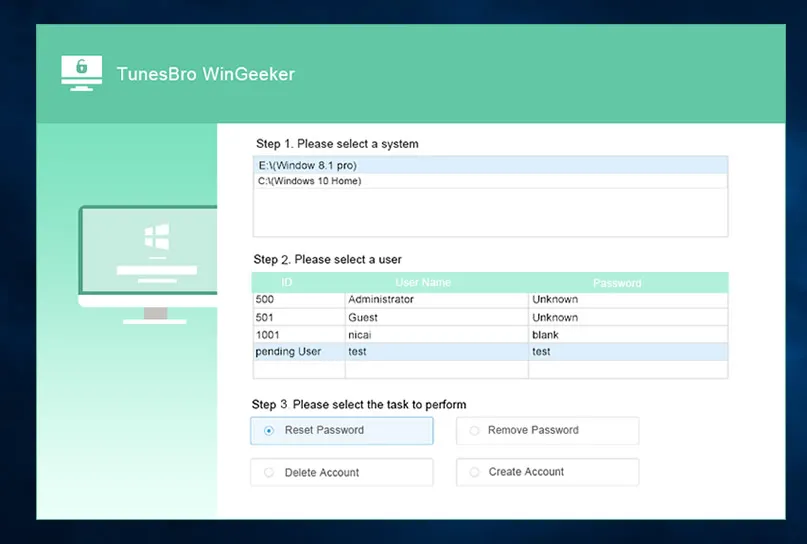 The computer will be rebooted but there will no password inquiry on the login screen this time at all since the password has been bypassed.
Way #3. Remove A Password from Windows 10 Laptop
Kon-boot is an amazing password reset tool which work differently than other password reset tools thus it is one of the quickest and efficient password reset tool available on the Internet Market lately. Here in this section we are about to implement it to bypass the lock screen feature rather than resetting the forgotten admin password. Go through the steps elaborated below to actuate the method:
Step 1. Firstly download the software from any accessible computer and burn the ISO image file into a bootable disk.
Step 2. Plug in the reset disk loaded with the software iso file into the locked down system and boot from it. Make sure your boot device is set as the first boot device on your computer's BIOS. Hit "Enter" on the first flash screen.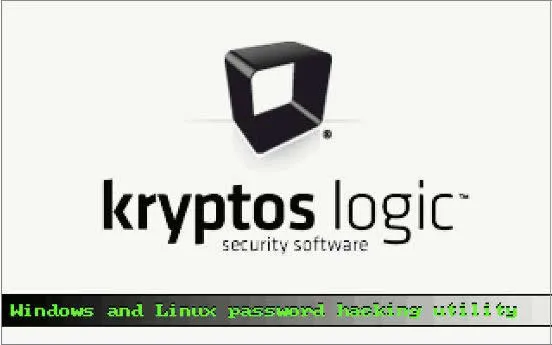 Step 4. The tool will exhibit another flash screen. Simply don't interfere with the normal performance of the tool.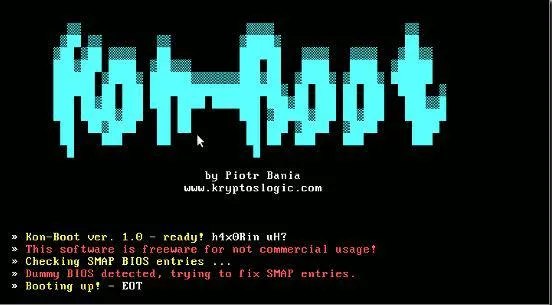 Step 5. Now; Kon-boot will simply boot your windows version on the hard drive, and so when the Windows login screen turns up, just render the password field empty and hit "Enter".
And there you go, Windows would let you use your desktop like before as if there has been no password set up as the feature is bypassed completely. Now you can set up a new password for the particular account.
Don't miss: How to Remove Windows 10/8/7 Password on Startup or Login Screen
Alternative #3. Format and Re-install Windows OS
This might be one of the familiar conventional method to get rid of the situation, but it is the best option actually to heed in case of emergencies. In this method, we will format and re-install your Windows OS instead of cracking your password, your entire hard disk, especially the primary disk is wiped out and you gain clean access to your locked account. Simply read the steps mentioned below to actuate the method: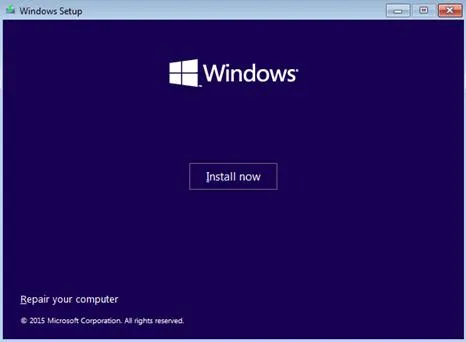 Step 1. Plug in your bootable disk loaded with windows OS into the locked down computer.
Step 2. After Windows loads all files from the bootable drive, a new installation window will turn up.
Step 3. Select "Install Now" option and follow the necessary installation procedures.
Step 4. Now format your primary disk and hit "Next" button to install the windows OS again. The process will take some time and but in the meantime it will take several restarts. So don't eject the USB drive while the process is running.
CONS:
1) Entire data stored in your primary disk will be erased.
2) You have to re-install all your previously installed softwares right from the beginning.
Conclusion:
Forgetting a password is not an issue as long as you have got TunesBro WinGeeker Ultimate too installed in your system. The other alternative tools still have got many downsides, but WinGeeker Tool has got no such setbacks to crack your Windows 10 password, thus it is the most reliable tool on the internet market lately available. In order to know more about the tool, login to our official website and check out other articles too.

---