Everyone knows how annoying those pop-up ads could be when you are right into middle of some important work. Whether it's in the world of computers or smartphones, developers just can't stop putting ads in their apps  to earn extra cash. But with the latest updates, developers have far-fetched their limits and started putting ads more than before. Considering malicious ads could even harm  the device by installing  viruses or malware. That is why we need an app to block ads on Android for safety and better user experience.
The ad blocking apps that we are going to share in this guide will most probably disable ads from apps and browsers that could be possibly threatening to Android smartphone. We recommend the best 3 ad blockers for Android which are totally harmless for your computer. So, you can finally say good bye to those annoying ads saying "purchase this and that" or "visit this link" and so on and have a smooth experience with your phone.
Best Ad Blocker App for Android #1: Adblock Plus (Free)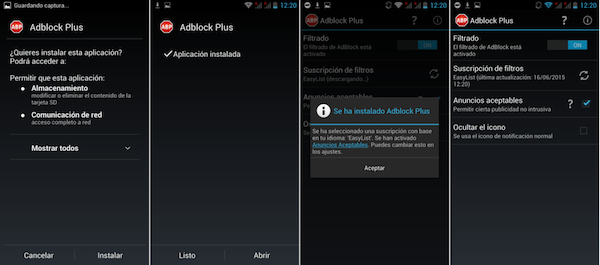 It doesn't matter if you are using a smartphone or a computer, whenever we talk about ads blocking, Adblock Plus is always considered as the king. There's no single ad in the world of internet that can not be blocked by Adblock Plus.
It can block all kind of ads on your phone, from Android apps to browsers like Chrome, Firefox, Safari etc. Additionally, it can also remove pop-up ads, sound ads, push notifications and any other kind of Java ads that pops up for no reason.
Unfortunately, this app can no longer be found on Google Play Store but thankfully, the app is still available as a third-party app and can be downloaded from the official website. If you have trouble finding the app on the internet then download the APK file by clicking here.
It is one of the most trusted app on the internet and a must have app for every Android user. We will definitely recommend everyone to install this app and have a flawless Android experience without those frustrating ads to show up.
Best Ad Blocker App for Android #2: AdGuard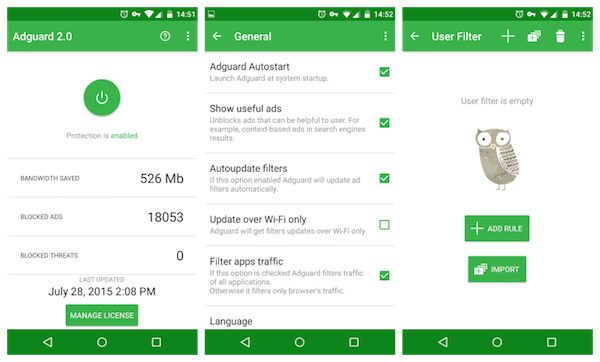 You might think that pop up ads only comes from the browser, but that's not true because even the apps, settings and other assets can show up ads which may be troublesome. That's why you must take a look into  AdGuard app. This is a famous editor's choice app freely available on Google Play Store that promises to filter out every single ad from your smartphone whether it's coming from your web browser or other installed apps. Permanently say good bye to them all.
You just need to install the app in your phone and enable the protection mode. That's all, your phone is now ad-free just like that. AdGuard for Android even has the potential to destroy the ads that comes from Android games. On the other hand, it also can disable firewall and block phishing websites to protect your smartphone. Moreover, it has an in-built VPN service that allows you to surf the internet anonymously.
Best Ad blocker App for Android #3: TrustGo Ad Detector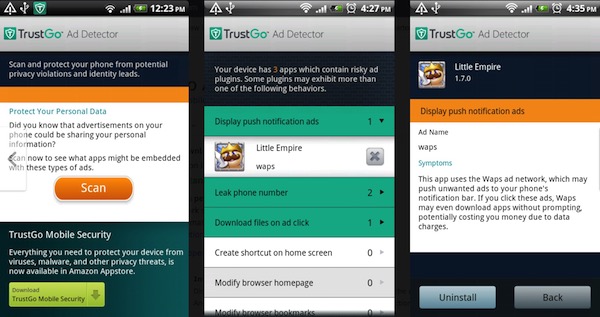 If your Android phone is rooted then TrustGo Ad Detector the best fit. It is  an advanced ad blocking app that can not only disable ads from smartphone but it even takes one step further and protects the personal information from your phone, making sure no identification is leaked from your device. No privacy will be violated whatsoever if you have this app installed in your phone.
TrustGo Ad Detector is distinct from any other ad detector apps as it is very serious about the security of your smartphone. Also, it can easily kill any kind of advertisements that are popping up from browsers, apps or games. You will have a flawless ad-free experience after installing this app.
However, this app is not completely free and includes in-app purchases to unleash all the features. But all-in-all, it's worth to keep this app in your phone to protect it against any kind of hacks, viruses, malwares, etc.
Conclusion
In 2018, you can not live without installing an ad blocker on your smartphone. The activities of advertisements have increased drastically that could frustrate the hell out of you. Some of the apps mentioned in this tutorial works only on rooted phones but we have also involved apps that will work on smartphones without rooting.
[Sassy_Social_Share]