Music is considered a great way to enjoy our life. Of course, most Android users recognize Spotify, Google Play Music, Apple Music and Pandora as the best music streaming apps and to be honest, these services are not enough to fulfill the needs of a music lover. But nothing gives you more pleasure than listening music offline without connecting to the internet all the time. This also helps to save mobile data and helps to stock up your own music collection.
Evidently, many users are satisfied with the default music player app, which most iPhone users do. In addition, if you switched from iPhone, then you may look for a good music player. So we  suggest  the best 5 music players for Android list since these apps offers so much features and benefits including amazing designs and better experience.
BlackPlayer Music Player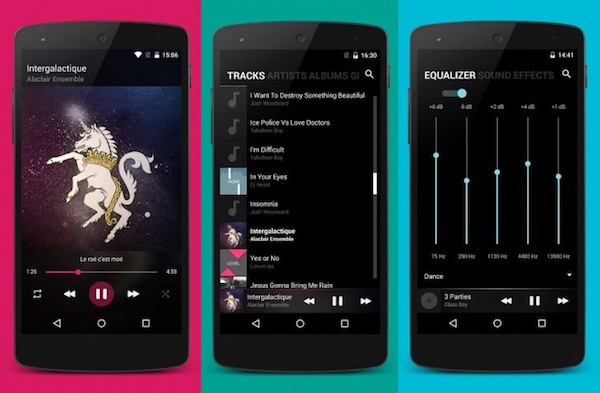 Seemingly, BlackPlayer is a free and most elegant music player available in 2018. With its classy and modern look, BlackPlayer offers many customization and preferences to satisfy your music experience while browsing the songs list.
It supports all standard music file formats like .MP3, .WAB, .OGG and so on. Plus, it offers prodigious in-built equalizer to customize settings like bass, effects, 3D surrounding and so on. Also, it shows albums cover photos and song names like we used to see in Windows phones before which was surprising stunning.
BlackPlayer also involves superb widgets including sleep timer and crossfading to customize it more according to your requirement. Obviously, it is free to use but you will need to pay $2.69 in order to unlock the premium features. When you downloaded the app, you might want to know how to transfer music from computer to Android.
Pi Music Player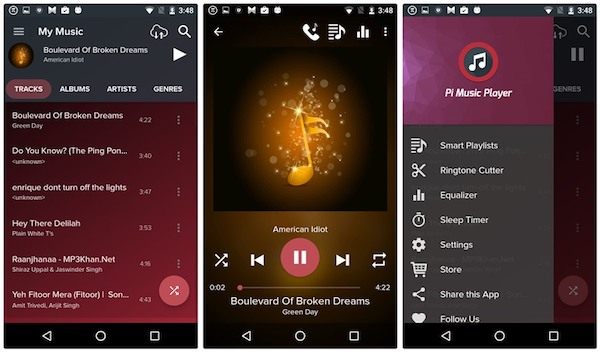 Another stunning and model crafted offline music player will be Pi Music Player. With over 10+ million downloads, Pi Music Player has been picked as Editor's Choice many times by Google itself. The equalizer is outstanding considering it adds awesome value when it comes to your music listening experience. The user interface looks marvelous and the layouts are cryptal crisp to retina.
The music folders displayed in this player is really enhanced which looks easy on the eye. The extra-ordinary feature that's offered by Pi Music Player is that it let you share music with your friends and family directly from the music player. Most music players do not have this feature which makes it really annoying when it comes to sharing music with others.
What's more, you can setup phone ringtones within a second and can cut/edit music files using the default music cutter offered by this app. Swipe to change songs feature is enable with 20+ amazing background themes.
Pulsar Music Player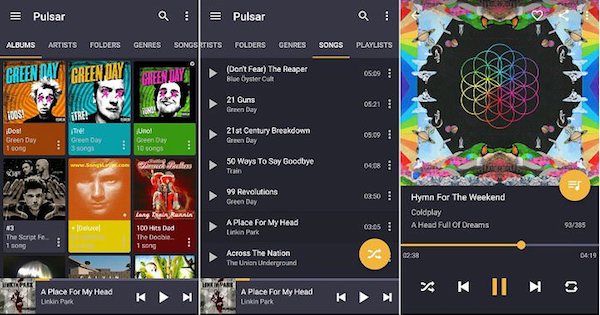 If you love the style of simplicity then Pulsar Music Player is your best choice. Gorgeous interface and UI with latest material design. Easily manage every song by its album, artist, genre and folder. Songs are indexed in Pulsar Music Player very quickly so that you can find any song within seconds.
What's different with Pulsar Music Player? The ability to show the songs lyrics in real time. That's correct, if you are connected to Wi-Fi or cellular network then this music player app can even show the lyrics of the song you are playing.
Sleep timer and colorful themes are available but extra features should be downloaded manually. Don't worry, everything in this app is totally free and you don't need to purchase anything at all. Install it today from Google Play Store today. Ad supported? BIG NO!
Rocket Music Player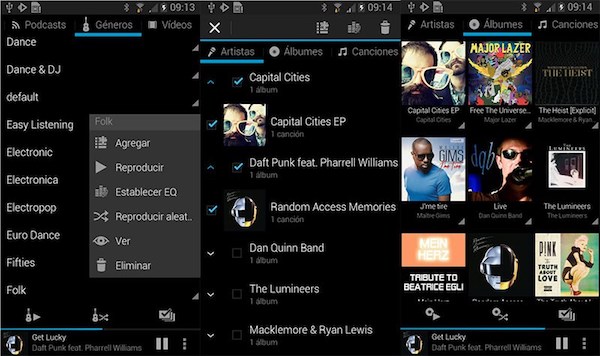 Do you like to personalize the design and art of your music player? If so, then Rocket Music Player offers the most customizable settings you have ever seen in a music player. It organizes all music and songs from their respective categories whether its artist, playlist, composer, genre, etc. and enables you to edit tags according to your requirement.
Rocket Music Player takes your playlists security seriously and hence offers additional lock screen feature. Sleep timer is pre-installed along with podcast bookmarks. Not only that, it has installed over 30+ background themes to keep you entertain with.
Like we mentioned, if you love the style of simplicity then go with Rocket Music Player. Only disadvantage is that it is ad-supported.
Poweramp Music Player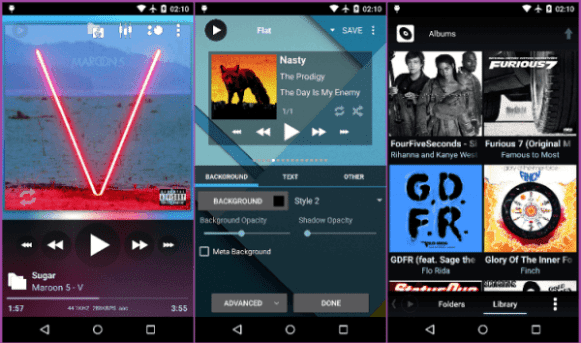 If you have some money to spend on a music player then Poweramp Music Player won't dare to disappoint you. Certainly, it's a premium app that has sensational features along with huge 10 band graphical equalizer with full optimizing features. Bass and treble adjustment are installed separately with mixing and balancing options.
You can create your custom library with custom cover photos of artists. It supports regular MPR, WAV and other music files. What's more, it even supports advanced music file formats like m3u, m3u8, pls, etc.
Themes and custom skins available inside the app and each theme comes with their own custom settings. You can configure every single settings and edit the tags according to your requirement
Conclusion
If you believe we have missed some best music player for Android then do let us know in the comments below! We regularly update our articles by hearing to the audience and certainly, your suggestions will be included as well.