It's easier than ever now to convert your Android smartphone or tablet into a portable home theater. The audio accessories are plentiful, and the content is pushing the limits of resolution quality. There are numerous Bluetooth and Surround Speaker options, as well as high quality personalized audio accessories such as headsets, earphones and wireless earbuds. There are also video options such as FHD, QHD and 4K, but unless you have a video player that's capable of handling such superior technologies, it's not much use having the latest Android smartphone or tablet.
Android devices typically have a stock video player built in as a native app, but it's not always the one you're looking for. Some of them, like Motorola, for instance, come with Dolby Atmos for a better audio experience, but what's available in terms of a great video player? Let's look at some of the top-rated video players for Android to see if something strikes the right note for you. 
Tips: How to transfer videos from computer to Android
VLC – All Format Video Player for Android
If you're looking for an app that can handle almost any video format you throw at it, then VLC is definitely the one for you. VLC is known for its robust desktop application, and much of that tech has made its way into the Android app. 
You can also stream videos directly from the Internet with VLC, and it streams directly from popular media platforms like Popcorn Time. For local files, those odd MKV or FLAC files are all in a day's work for VLC.
VLC does leave a lot to be desired in terms of UI and UX, however. It's not the most polished of apps, and even the desktop version is just bare bones with some paint. The developers have clearly put functionality ahead of pizzaz, which is a good thing when you don't want too much of customization. If that's what you're after, then look at the next one.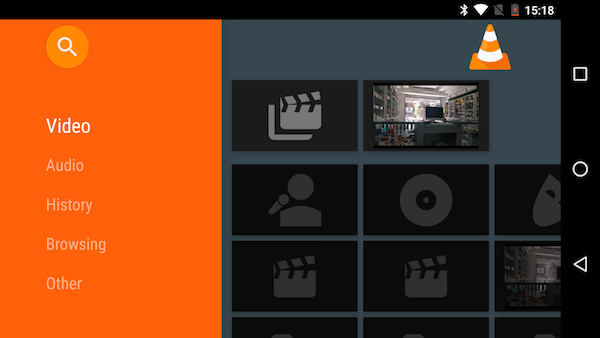 PlayerXtreme – Best Offline Video Player for Android
Riding on the popularity of the iOS version, PlayerXtreme for Android ports everything to Google's OS, from a huge range of file formats supported to the granular playback and other user controls that it gives you.
PlayerXtreme is also great for streaming content to a Chromecast device, with support for AirPlay built in. You can also access media that's stored on your NAS, PC or different websites.
If features, options and highly granular user controls are what you want, this could be the best video player for Android as far as you're concerned.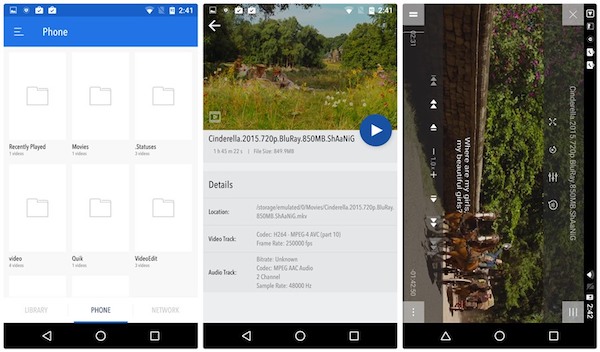 PlayerXtreme for Android APK Download
Video Player HD – Best HD Video Player for Android
This is another solid video player for Android, but what we really love about it is the swipe control support for volume, seeking and brightness. The sleep timer is also very useful, especially if you're in the habit of dozing off in the middle of a movie. 
As for basic functionality, as everything you could want: a wide range of video and audio formats supported, impressive subtitle format support, day/night mode, child lock, one-click mute, audio-only playback from video files and much more.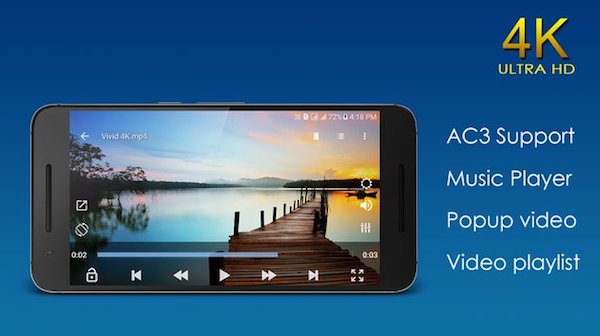 Video Player HD for Android APK Download
Choosing the Right Video Player for Android
Since there are literally dozens of great video player apps for Android on Google Play, it can be hard to pick the right one. That's why it's imperative to know exactly what you're after even before you start browsing for an app to download.
For example, if streaming is what you do most often, automatically eliminate any app that doesn't support that. If user controls are important, then do away with the basic ones that focus on file formats and deinterlacing and all of that. Other criteria may include 4K support and so on. You might also want to check for streaming support for specific devices such as Chromecast, Roku and Amazon Fire Stick. 
If you don't follow this system of "choice by elimination", then you run the risk of downloading several options and then using just one, resulting in ill-used space on your device and clutter on your home screen. So be clear about what you need and save yourself a whole lot of time, trouble and device memory.
Further reading: How to recover deleted videos on Android
[Sassy_Social_Share]