Windows 10 has been recently updated by Microsoft with some major bugs that are yet to be resolved. One of the issues that many Windows 10 users are facing after the update is that they have to login 2 times in a row in order to access their computer. Now, I personally didn't face this issue but I know many people who have encountered this same problem and not to mention, people around the world are already complaining about this issue in the forums and Q&A websites.
Although, Microsoft didn't mention any particular solution to this date but we have found 3 remedies to fix when login screen appears twice in Windows 10. 
Method #1: Disable the Auto Sign-in option after update
One of the reasons why the computer shows the logon screen twice is because many users enable the auto sign-in option after update. So, whenever your computer is updated the new computer setup detects your administrator users twice. One from the system and one from the update.  Here's how to disable that option –
Step 1. Click on Start and Search the Settings option.
Step 2. Select "Update & Security" button and click on "Advanced options"
Step 3. Under the "Choose how updates are installed section", find the option that says "Use my sign-in info to automatically finish setting up my device after an update or restart". Make sure to uncheck this option.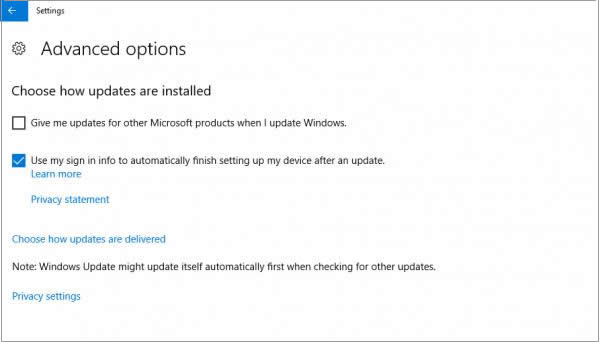 Step 4. Restart your computer and now you should be asked to enter the password once only. If you forgot the password, try WinGeeker to reset it to blank.
If the issue still persists then you may have multiple administrator accounts that can be removed by using the following method.
Method #2: Delete Duplicate Administrator Account Profiles
Like we mentioned, if your computer is still asking to enter the password twice then there's a high chance that your computer may have couple of duplicate accounts. You must remove them to dismiss this issue forever by following the below steps –
Step 1. Press Windows and R keys together to launch the Run app.
Step 2. Type "netplwiz" and press enter to open the user accounts menu.
Step 3. If you see two administrator accounts with the identical name then you must remove one to diminish this issue.
Step 4. Just select the username that you want to delete and click on "Remove"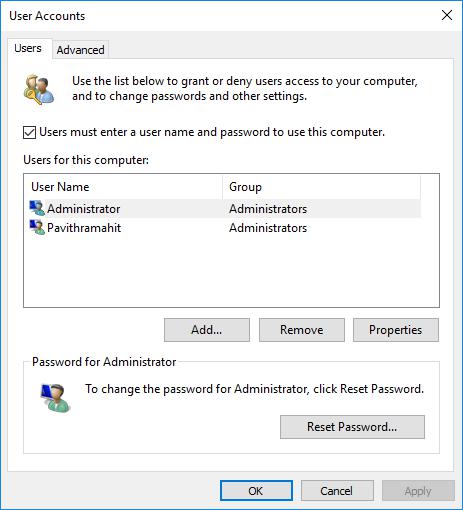 Step 5. Click on "Apply" followed by "OK" and reboot the computer.
This should resolve the issue for you if you had more than 1 administrator account in the computer.
Hopefully, the methods shared in this article will definitely resolve the issue – Windows loading screen appears twice and your Windows 10 computer will not prompt you to enter the password twice again
Also read: