Taking photos is one of most used activities on Android phone due to the rapid-growing camera technology. The recent flagships such as Huawei P30, Galaxy S10 are powered by decent cameras.
When the photos being saved, some sort of editing is required to polish the images. So when it comes to photo editing apps on Android, all the big names come to mind, such as Google and Adobe. This article showcases the three best photo editor apps for the Android platform. Let's look at the best features of each so you can decide which one is the right photo editor for you.
Snapseed – The Best Photo Editor App for Android
Not many people are aware that Snapspeed is a Google-owned brand purchased from German company Nik Software in 2012. The app is a powerful photo editor, especially if you have a great camera on your phone like the one on Google Pixel devices. Boasting 29 different filters and tools, Snapseed works with both RAW and JPG image formats. This is a pro-level utility with features like RAW Develop, which allows you to work with RAW DNG files and export them losslessly to JPG. Advanced features like white balance and curves add to the pro touch, while new users can fiddle around with cropping, detail highlighting, rotating, adding text and so on. 
With more than 50 million installs, this is easily one of the most popular photo editing apps for Android available on Google Play. All you need is a device running Android 4.4 KitKat or higher, but we recommend that you use it on later versions like Oreo or Pie on devices with higher memory capacity and faster processing speeds.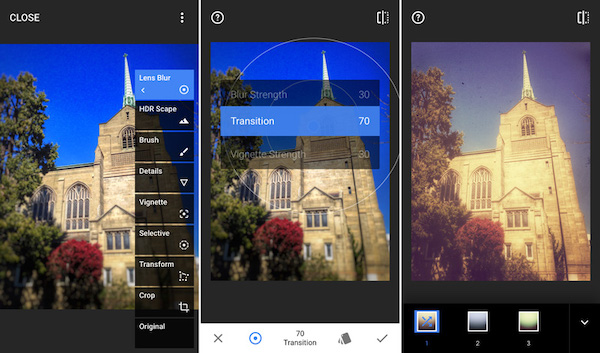 If you're looking for the perfect Android photo editor, you might not need to look further than Snapspeed. It's absolutely free, and offers the right foil to everything that Google Photos can't do. Whether you're after a retro look or an ultra-modern one, this is one photo editing app you have to try before moving on to anything else.
Suggest reading: how to recover deleted photos on Android
Google Photos – The Stock Photo Editing App on Android
For amateur users, Google Photos offers a surprisingly robust body of tools and filters. One of the unique things about Google Photos is the use of machine learning algorithms and deep neural networks to showcase your images. You have the ability to create your own customizations, videos, montages and collages, or you can get the Google smart assistant to do it for you. The tool is very intuitive, and for manual editing it offers a whole range of filters and other tools that you can try. 
14 filters are available in the app, and all it takes is one tap to get your photos to shine. Smart albums make it easy for you to edit images in a group, and the app will even pick the best photos to go into these albums. Simply add the filters you want and quickly share individual snaps or entire albums from right within the Photos app. You can also invite others to put their images into your albums.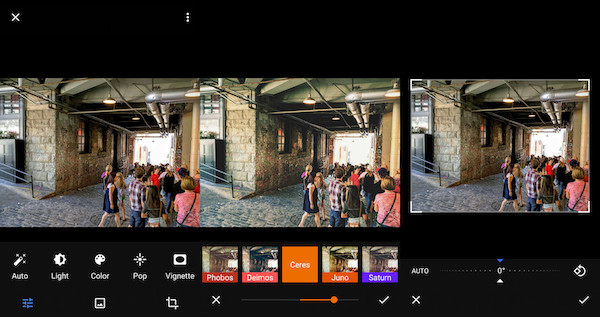 The reason Google Photos is so popular is that it offers unlimited storage, which means everything can be on the cloud and your Android device won't have to suffer the symptoms of bloated memory, which is especially useful if you want to have thousands of photos available to access from any Internet-connected device.
Remind: Don't forgot to backup Android photos
Adobe Lightroom CC – Free yet Powerful Photo Editor App
Most people think of Photoshop when they think of Adobe, but Adobe Lightroom CC, a mobile alternative, is no less capable as a photo editing utility for Android. This feature-rich application for Android offers free and premium features, the latter of which can be purchased in-app. Free features might be all you need if you're just starting out. They include robust presets that you can implement with just one tap, or you can go deeper and tweak contrast, color, exposure and other elements. You can also use a unique feature called Profiles to one-tap edit your images and give them a more professional look.
 The premium tools are more suited to devices with greater memory and processing capabilities. We recommend at least 4GB of RAM and at least 64GB of internal memory if you really want to take advantage of the premium features. These include selective adjustments to specific parts of the image, geometry tools to help you get perfectly balanced and symmetric images, raw editing from most DSLR camera brands, and even a healing brush to remove small or large blemishes and art effects from your photos.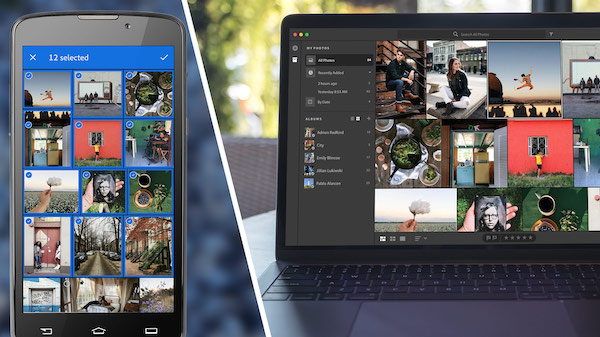 To be clear, Adobe Lightroom is not just a rehash of the Adobe Photoshop app for Android. In addition to powerful pro-level editing tools, it also helps you leverage the power of your camera by bringing its own camera function to the game. As part of the free features, the camera utility gives you more control over exposure, lens types, aperture and even presets that can instantly be applied when taking photos on your premium smartphone or tablet. It is also social-friendly, allowing you to share images with the #lightroom hashtag and even save it on the Adobe Creative Cloud so you can access it with Lightroom Web, the cloud equivalent of Lightroom for Android, or Lightroom CC for both Windows and macOS.