Security for  Windows 10 is a critical part of data privacy. Making sure that the computer is securely locked with a password or biometric authentication that prevents unauthorized persons from accessing data that may be private, confidential or sensitive. However, if you're working regularly on your PC, you might find it inconvenient to go through the unlocking process each time you come back to the desktop. That's why Microsoft has made it easier to use your smartphone to remotely lock or unlock a Windows 10 computer.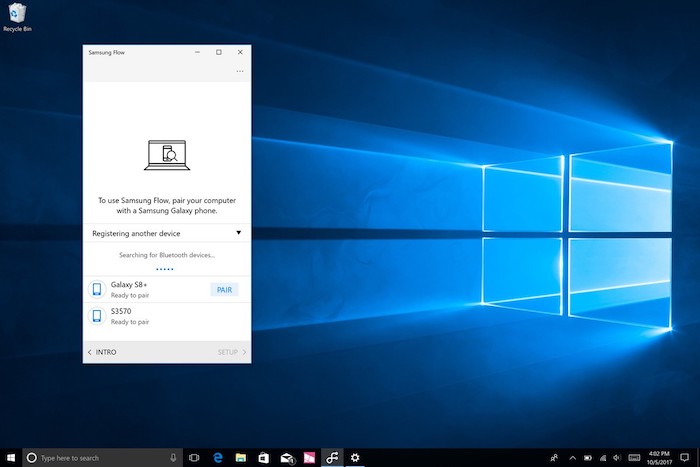 About Dynamic Lock
The Dynamic Lock feature came with Windows 10 Build 15031 in Feb 2017, and was an add-on feature for devices that had Bluetooth. Although not many older desktops are Bluetooth-ready, newer ones as well as laptops, notebooks and tablets have it as standard. For these devices, Dynamic Lock allows the user to set up a protocol so the Windows 10 machine can be unlocked when a designated smartphone is within Bluetooth range.
The logic behind this is that most users carry their smartphones wherever they go, so if they leave their desktop to go somewhere, it is being assumed that they took the phone with them. Once the smartphone is out of radio range, the system waits for 30 seconds and then locks itself. When the phone is once again in range, the PC detects it and automatically unlocks.
As such, this is a convenient solution for IT engineers and admins who are constantly on the move but are regularly logged into servers and other admin systems with privileged access. Even if they forget to lock their machines, they will almost certainly take their phones with them, which allows Dynamic Lock to secure the computer less than a minute later. It's also very useful wherever there are systems with access to confidential information, such as HR, Operations and Senior Management. It's not foolproof, but it offers a convenient way to automatically implement security in such environments.
How to Set Up Dynamic Lock on Windows 10
The following steps show you how to set up Dynamic Lock on your PC and pair it to your smartphone via Bluetooth.
Step 1: On your PC, go to Settings -> Devices -> Bluetooth & other devices, and toggle Bluetooth to On.

Step 2: Now turn on Bluetooth on your smartphone and make sure it is visible to other devices.
Step 3: Back to your PC, click on Add Bluetooth or Other Device (+ symbol), click Bluetooth and then click on your smartphone.
Step 4: Once the computer and phone are paired, go to Settings –> Accounts –> Sign-in options on your PC.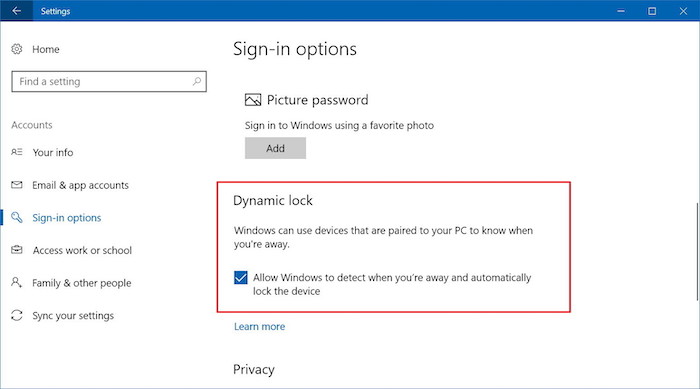 Step 5: Look for a section called Dynamic Lock and check the box.
Your Dynamic Lock is now set up. When you move away from your PC and out of Bluetooth range, the system waits for 30 seconds and then locks it down. To unlock it, you can either bring the paired smartphone back into Bluetooth range or unlock it by other means, like a login password.
How to Configure Dynamic Lock
Dynamic Lock works by periodically checking the strength of the Bluetooth signal with the paired device. It first connects to the device, checks the Received Signal Strength Indication (RSSI), disconnects and then determines the threshold value of the RSSI. If that goes below a certain threshold, that means the phone is out of range, and Dynamic Lock engages.
There's a workaround that you can use to define the actual distance at which RSSI threshold activates the lock. It's not for beginners, but if you want, you can use a tool called draconyx.exe  and try it out. Thurrot.com has a great article explaining how to do this.
Unfortunately, Dynamic Lock won't allow you to set a specific amount of time before it engages, so you're stuck with the default value. But it still helps create a more secure environment where sensitive data is concerned.