With the rapid involvement of smartphone technology, the newly shipped Android phone has more advanced features far beyond calling and text messaging. Now, we can do a lot of things on the phone such as taking photos, making notes or playing games. However, with inadvertent management, the battery can drain out very quickly. As we all know, battery is an indispensable accessory for cell phone, which can do nothing without it. And it is not quite convenient to take a powerbank all the time. So here, we offer some useful power-saving tips to extend the battery life of Android.
User Guide : How To Save Battery on Android Phone
Tip 1

Kill Unused Background Apps

You may think you have turned off one running app completely by pressing Home button, but actually it is still running in the background, which is the main reason to drain out the battery. So you should close those apps that no longer need to run in the background with a task manager to save your power.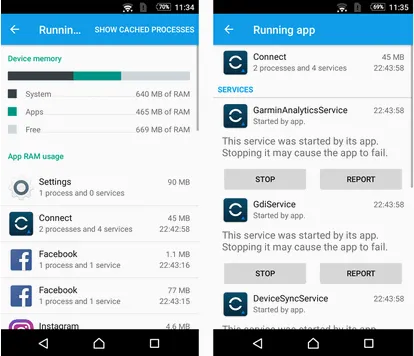 Tip 2

Reduce Screen Brightness

Go to Settings > Display > Brightness to adjust the brightness to a suitable level. Please keep in mind that the higher of the level, the more power will be consumed. So try to turn down the brightness as low as possible only if you can see the display well.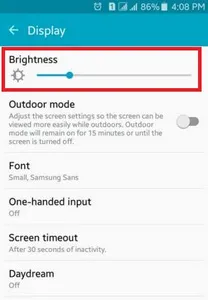 Tip 3

Shorten Screen Timeout

The shorter of the screen timeout, the more power you save. Because your screen will not shut off until the screen timeout is matched. So you can go to Settings > Display > Screen timeout to adjust it to a lower number.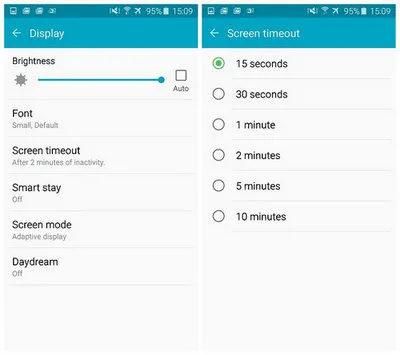 Tip 4

Turn off Wi-Fi When Necessary

Wi-Fi is really a big power-consumer. You don't need to turn on Wi-Fi unless you are downloading files or something. So why don't you turn it off when you are not using it. Try Settings > WLAN to turn off Wi-Fi.
Tip 5

Turn off GPS

Once GPS is activated, it constantly searches for satellites. So turn off GPS in your device unless you need to track certain locations or something. You may try to turn it off by going through Settings > Location, uncheck Enable GPS.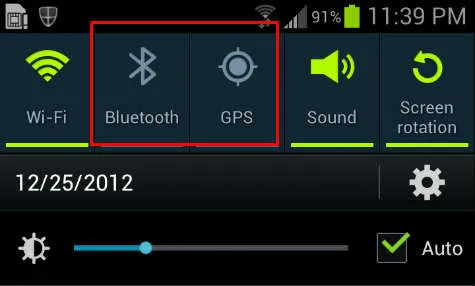 Tip 6

Turn off Bluetooth

Bluetooth, also a big power-killer, keeps wasting your battery resource when you are not using it. So remember to turn it off after usage by going through Settings -> Bluetooth.
Tip 7

Turn off Vibrating Mode

You need to switch your phone to vibrating mode when you are on a meeting or some quiet occasion. In normal time, you should turn off the phone vibration feature because this little gadget in your device will consume battery every time when the vibration is generated. Try Settings -> Sound, uncheck Sound and vibration .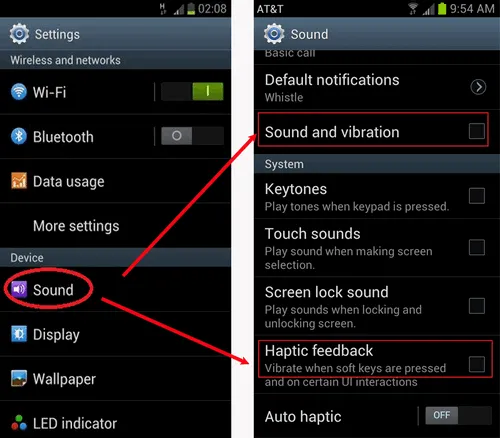 Now you may follow the above steps to extend your battery life. Although these traditional power-saving ways are simple, but there are still some other simpler ways that can help you quickly switch on/off these settings.
The first way is to install an app called Go Switch Widget, which enables you to quickly switch system settings, like Wi-Fi, Bluetooth, GPS, Screen Timeout, Data Connection, etc. Quick Switch Widget is a desktop widget, with which, you can easily and quickly turn on/ off system settings without dig through menu by menu.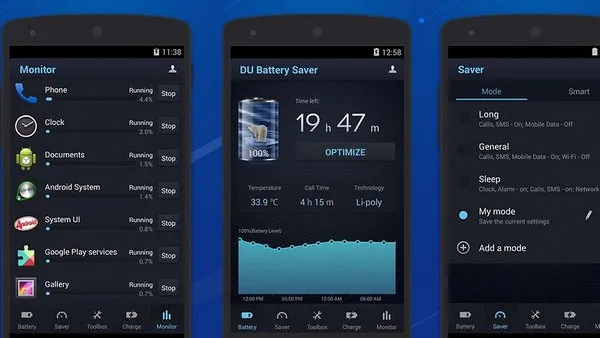 The second way is to install Battery Manager, which is designed for Android device to auto-configure battery management based on its power level. Battery Manger is also a desktop widget. It displays the current level of your battery on your desktop. Plus, battery level, statue, health, voltage and temperature are all provided. It total contains 4 modes, including power-saving mode, standard mode, low brightness mode and browse mode. Your phones will auto-switch to related modes according to different situations. Press the desktop icon to quickly turn on/off Wi-Fi, Bluetooth, Wireless and GPS. As we have known before, they are all big power-killers.

---