"My god! I have just deleted one very important video from my Android tablet. I checked my backup and the video wasn't in there. Please tell me what is to do next to restore it?"
This is a common scenario for most of the Android tablet users. We often delete files from our tablet by accident because of the touch feature. Or sometimes the file disappeared due to system crashes. If the file was a very crucial one like contacts or confidential text messages, it would be a great lose and could cause future problems in your life. That's the reason why it is necessary to find a perfect solution to recover the files.
Generally, there are threes ways to restore data from Android tablet. The most comfortable one is restoring from existing backups. The second choice is using third-party data recovery programs. The last available method is taking the device to a local workshop for more sophisticated repair. I will describe all of them in following parts.
Part 1: How to Restore Lost/Deleted Android Tablet Data from Backup
Unlike the earlier days of Android, there are a plenty of desktop and mobile apps that you can use for data backup in nowadays. Cloud storage services like Google Drive, Dropbox are also great supplement to the backup apps. Taking Samsung Galaxy Tab as an example, you can backup the data with Samsung Kies or with Samsung cloud storage, which are shipped in default on your tablet.
Once you backed up the tablet with the method mentioned above, then you can easily restore them. For demonstration purpose, I am here use Samsung Kies as the example. This is almost the same for other apps like HTC Sync Manager, Xperia Companion. First, open Samsung Kies on your computer and connect Galaxy Tab to it. Then from the top menu, select Backup/Restore. Now select the location of backup file and click Restore to put the deleted files back to your tablet.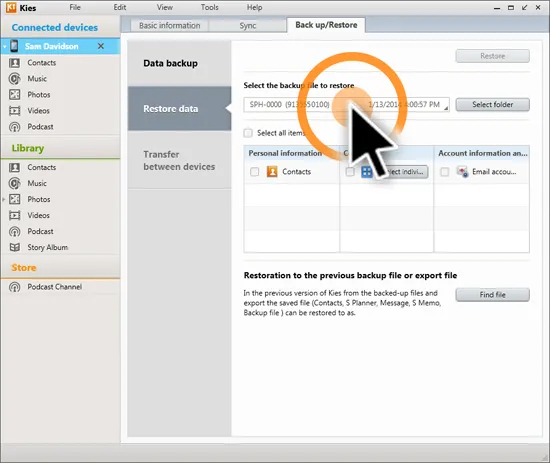 Part 2: How to Recover Deleted Files from Android Tablet with Recovery Software
If unfortunately, you forgot to backup the tablet, then the second choice is by using data recovery programs that was designed specifically for Android. The one I am going to introduce is called TunesBro DiskLab for Android, which is a smart and powerful Android data recovery program currently available on the market. It can scan and recover all kinds of files on any Android tablet. Also, you can preview the files before finally recovering them. Please read the steps below.
The file types available for recovery: Text Messages, Contacts, Photos, Music, Videos and Documents.
A short list of supported Android tablets:
Google Pixel C, Samsung Galaxy Tab S2/S, Sony Xperia Z4 Tablet, Nexus 9, Nvidia Shield Tablet K1, Dell Venue 8 7000, Sony Xperia Z3 Tablet Compact, Amazon Fire HD 6,Lenovo Yoga Tab 3 Pro, Asus ZenPad S and 200+ More.
Step 1

Install and Run TunesBro DiskLab for Android

Click the download button to save the setup .exe on a computer. Double click it to stat the installation process. Once it was installed, open the program and you will the main interface like this: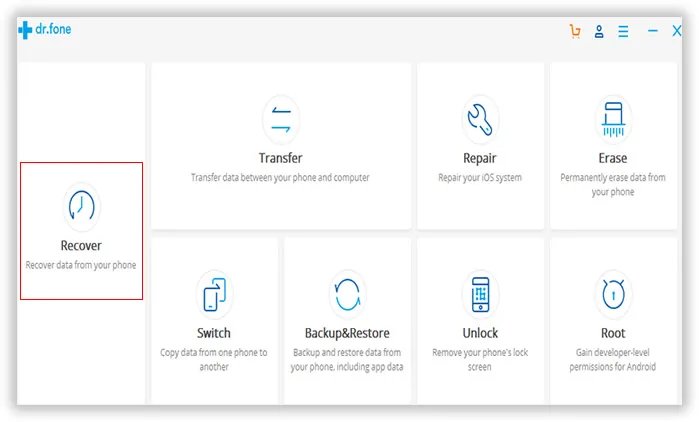 Step 2

Connect Android Tablet to the Computer and Turn on USB Debugging

Run the software on your computer and connect your Android tablet to the computer using the stock USB cable. Make sure that your device gets identified by the computer and for that USB debugging mode should be enabled on the tablet. If you don't know how to turn it on, then you should simply follow this guide.

Please note: It is highly recommended to root your tablet, which will increase the success rate of the recovery process.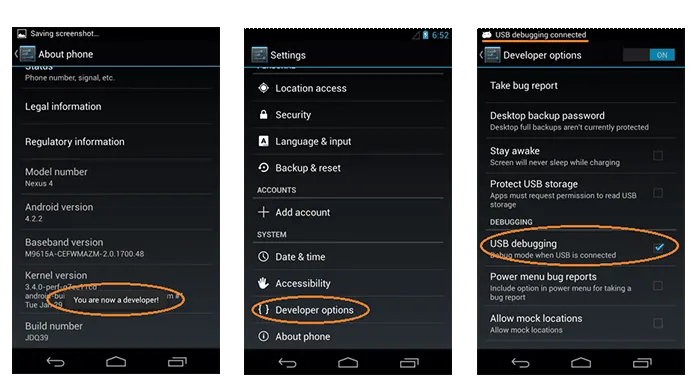 Step 3

Scan and Analyze Data on Android Tablet

Once you have already enabled USB debugging in your phone, the software will automatically detect the tablet. Now you should click Next button to start the scanning procedure. This takes a while. Please wait for a few minutes.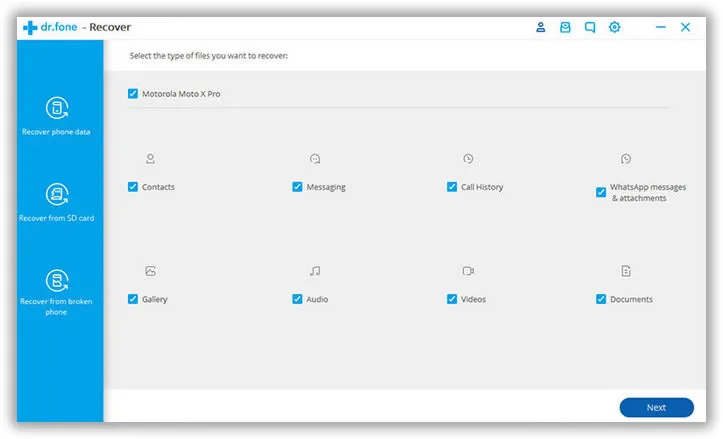 Step 4

Preview and Recover data from Android Tablet

Once the scanning procedure is done, all the found data will be displayed in categories for your preview. You can view data in different sections like photos, music, text messages, videos etc. Mark the items that you would like to recover and finally click the Recover button to save them on your computer.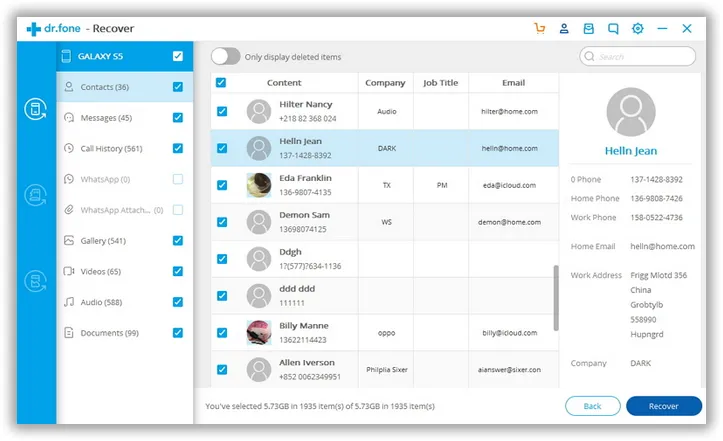 Now you have realized that how easy it is to recover deleted files on Android. No matter what type of data you have lost from your android tablet, with this software you can easily recover the data. This software is 100% safe and reliable.
Part 3: Take Android Tablet to Local Shop for Advanced Repairing
If the above two methods still didn't do any help for data recovery, then the last choice is to take it a repair shop for more advanced data recovery at hardware level. The reason is that the shop always has more tools and the data recovery program it uses will be much powerful than the one you downloaded from Internet. The major drawback of this method is the price, which could cost hundreds of dollars to get it fixed.
I have listed all the possible methods for recovering lost files from Android tablet. You can choose the one that works for you accordingly. Once you have recovered the files, don't forget backing them up regularly if they matters to you. Recovering from backups is the easiest method, which dramatically reduces the time and effort spent on it.

---