Nowadays, people have become very nosy and they keep peeping on your phone even without your permission, that's why it becomes an utmost responsibility to protect your iPhone with a secure passcode. However, you cannot be sure that your iPhone is secure after setting up the passcode because bypassing the passcode protection has been really easier these days by tweaking the glitches.
If somehow you manage to forget the iPhone passcode then you can restore the entire device from your PC with iTunes or iCloud to the last restoring point. This will also allow you to bypass the iPhone passcode and sync the iPhone with all the data stored in the previous backup file. Also note that Apple support staff cannot help you to unlock iPhone except they will offer the same restoring solution as well. The restoring process is simple and can be achieved by using few clicks only. Many people have tried restoring their iPhones to reset the passcode but this trick is overwhelming if you have personal data and files that are not synced with your iTunes or iCloud, thus, it will end up erasing all those personal files from the device. The other trick is to manipulate Siri but still there are many useful software and apps that can help to bypass iPhone passcode without Siri.
Method 1. Unlock iPhone Screen Passcode with iTunes
This is the easiest way to unlock iPhone. If you have the synced your iPhone with iTunes before then you can connect your iPhone to PC and restore the device. The best thing about iTunes is that if you have synced your iPhone previously then it can automatically backup all the files and data from your iPhone and save it again after you connect the device to PC. No passcode will be required in this case, but the data will be erased completely!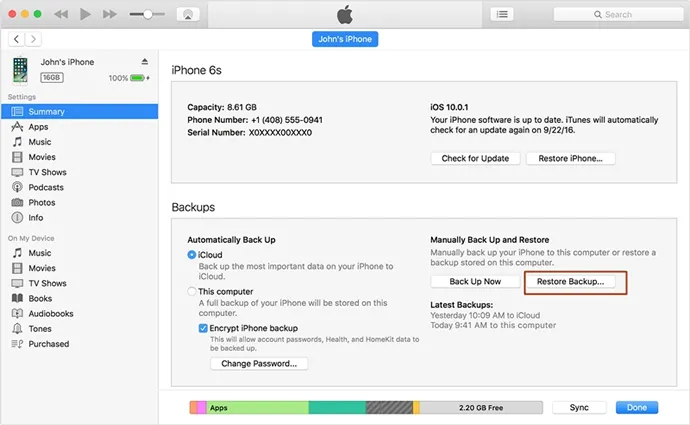 Step 1. Connect the iPhone to PC in which you have previously synced your device with.
Step 2. iTunes should automatically sync with iPhone. If not, just manually perform it and confirm that the syncing and backup process went successfully.
Step 3. Click on "Check for Update" in case there's a newer version available on your iPhone. Without updating the iTunes or iPhone, the process may not go smoothly.
Step 4. Then click on "Restore". Follow the instructions shown by iTunes to finish the restoring process. When your iPhone ask to set up the device, tap on "Restore from iTunes backup."
Step 5. Select your iPhone in iTunes and the most recent backup that was created by iTunes for your iPhone.
After following the steps, your iPhone will be restored with all the data and files from the most recent backup. Do not worry, you won't be asked to enter the passcode. It is recommended that if you setup a new passcode again then either remember it or do not use this feature again.
Method 2: Unlock iPhone 8/7/6/5/4 Passcode without Siri
If you wish to approach it in a simpler way then it is recommended to use Screen Unlocker. It is a magnificent program that allows you to unlock the iPhone password whether you are using 4-digit or 6-digit passcode to protect your iPhone as well as it can also unlock Touch and Face ID. Also, if your iPhone shows "iPhone is disabled, try again in 1/5/15/60 minutes" for trying too many wrong passcodes then also you can dismiss this issue with this tool. It is an extremely safe and astonishing program that helps to restore the iPhone and reset the passcode within minutes. It also gives you a more reliable and efficient way to update the iPhone's firmware without going through a brief procedure. Screen Unlocker can also be used for resolving tons of other iPhone and iOS related issues.

Unlock your iPhone passcode instantly without any data loss.
Bypass your 4-digit, 6-digit passcode, Touch ID and Face ID security of your iPhone 4 with ease.
It works perfectly with locked, disabled or broken iOS screen.
Fully support all iOS device: iPhone 8/8plus/X/ iPhone 7/ Plus, iPhone 6/5/4 and iPad.
Step 1

Download the Program and Connect iPhone to Computer

Download Screen Unlocker from the official website and follow the below step by step guidelines to unlock the iPhone. After installing the software, run the program and click on "Start" like shown in the below snapshot.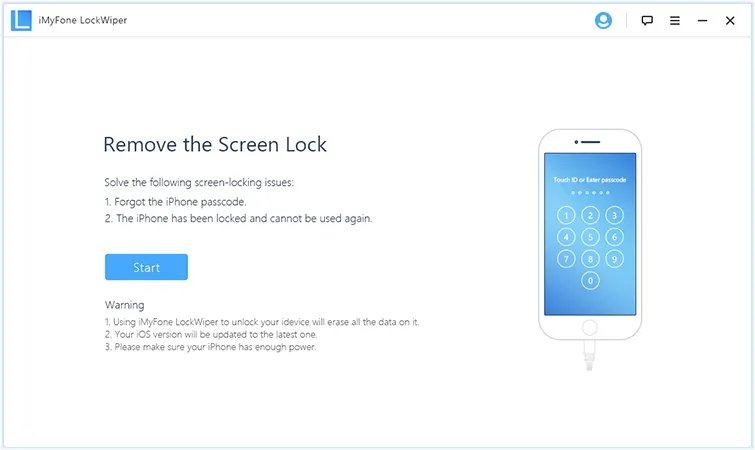 Step 2

Boot the iPhone in DFU mode

Now, boot the iPhone in DFU mode. This process can be accomplished by turning off the iPhone then turn it back on by pressing Volume Down and the Power Button simultaneously for at least 10 seconds. When the screen light shows up, leave the power button while holding the Volume Down button until the DFU mode is enabled.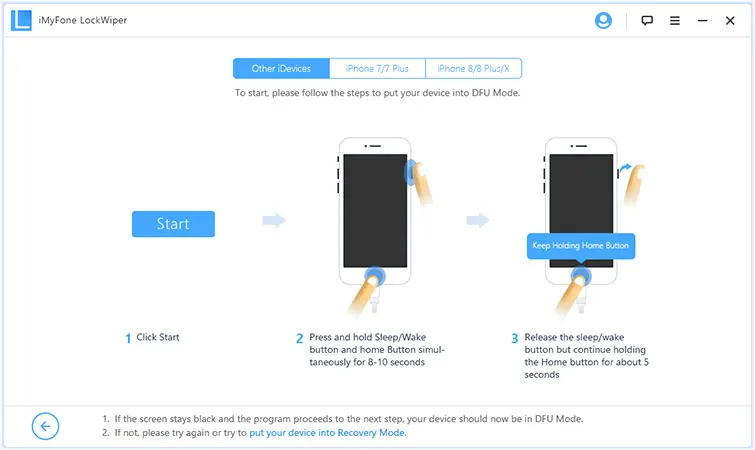 Step 3

Download the Firmware Package

Once the iPhone enters into DFU mode, Screen Unlocker will automatically confirm the iPhone's information like its iOS version, generation, etc. Choose the right information of your device and click on "Download".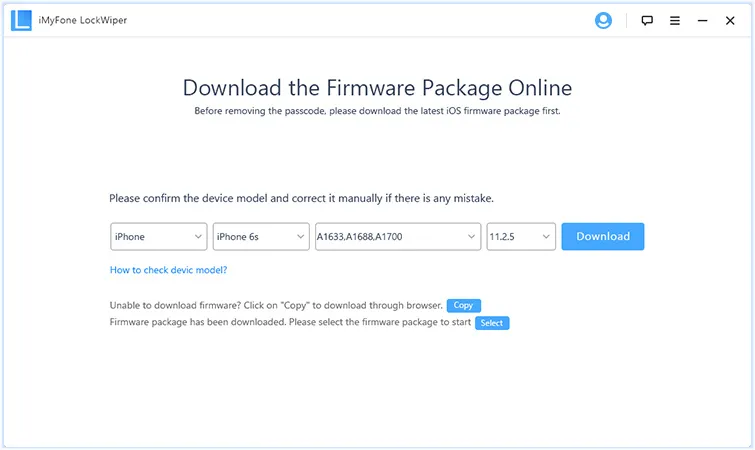 Step 4

Start to Verify Firmware Package

After the firmware package was downloaded, click "Start to Verify". Once the firmware package is downloaded (it may take several minutes since these files are larger in size). After the verification is completed successfully, click on "Start to Unlcok".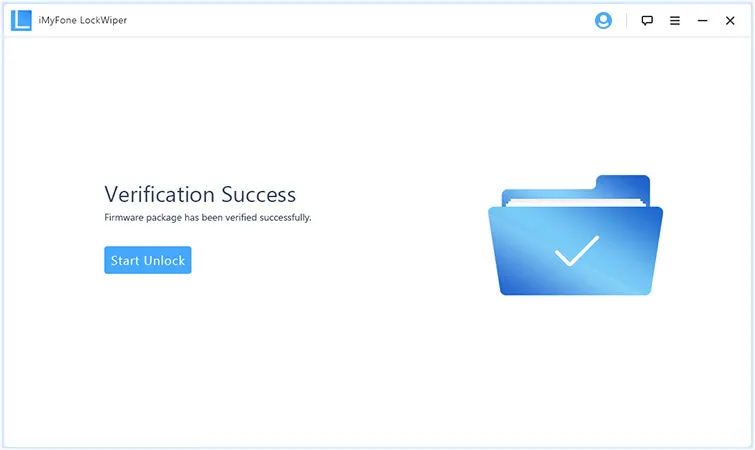 Step 5

Start to Unlock iPhone Passcode

On the promoted window, type "0000" and click on "Unlock". Then your iPhone passcode will be unlocked!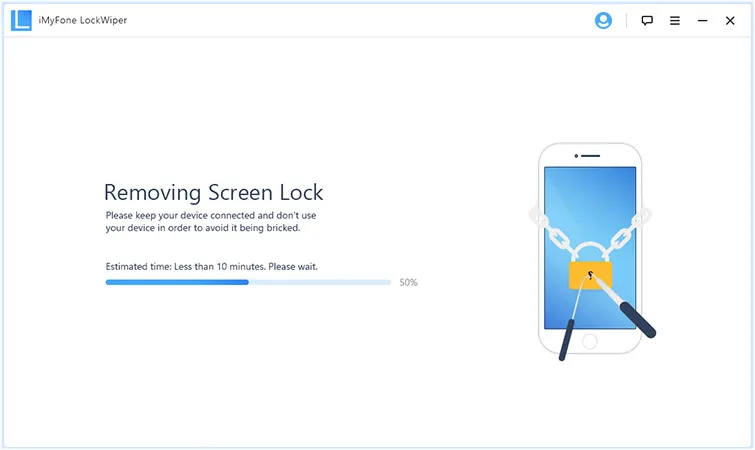 As you can see, your passcode has been unlocked by this software and your personal data still remains and nothing was gone.
Method 3: Bypass iPhone Screen Passcode with iCloud
Another way to bypass iPhone passcode is to use the Find My iPhone App. Yes, I know, you are thinking it is anti-theft stolen app but it also have some other features that you can use to your advantage and unlock the iPhone. Basically, if you have enabled this service then the app can find your iPhone and you will have to input the Apple ID and password to verify your ownership. Then you can securely unlock the iPhone without typing any passcode and restore the device data. This is an impressive feature included in Find My App program that most users are unaware of.
Step 1: Firstly, you will have grab a distinct iPhone or any other iOS device then visit icloud.com/find. Next, login to your account by providing the correct Apple credentials in which you have linked the iPhone.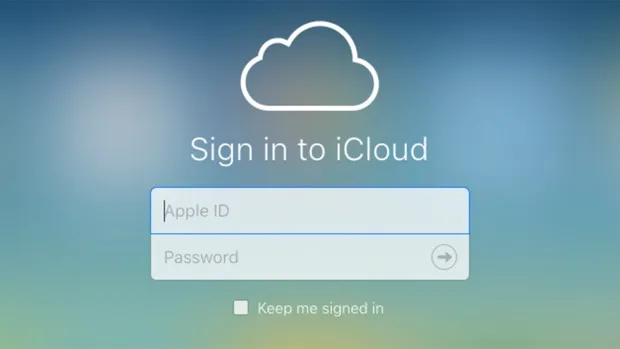 Step 2: Once you are logged in into your account, click on "All Devices" and locate the iPhone in which you have enabled this service. Then select the option "Erase iPhone" which delete all the files and data from your iPhone but in this process it will also erase the passcode as well. You don't even require to activate Siri for this process.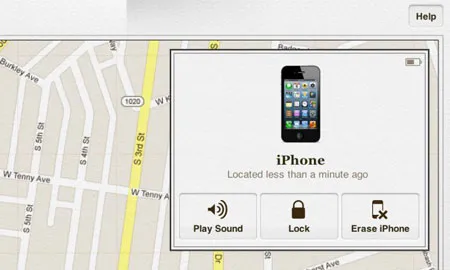 Note: After the process is finished, your iPhone will reboot automatically without the passcode. But you can also restore the data using any of your cloud service.
Conclusion
Unlocking an iPhone passcode could be a detailed long method with the risk of losing some data from the device as well. But it is important to make sure your device is secured and you must use a long strength passcode so that no one can access the device. But make sure to use a password that you can remember easily as well. For your benefits, do not use your petname, birthday, partner name, etc. as the password as they are easy to guess. But rather use a good combination of words and numbers and write it down on a paper so that you can retrieve them easily.

---
---