Apple puts much less restrictions on its macOS ecosystem than the mobile equivalent, iOS. The desktop operating system allows the installation not only from the Mac App store, but also from third-party developers. You have to tweak the settings to allow such installations, but it's a fairly simple process that doesn't involve OS manipulation at the kernel level. In other words, you don't have to jailbreak macOS to install third-party apps outside of App store.
The most well-known way of uninstalling a Mac app is to "Move to Trash" from the Applications folder after right-clicking it, and then emptying the Trash when you're done. This works on all versions of Mac OS X, but macOS has an additional method - using Launchpad. This method is very similar to the iOS method of app uninstallation, and you don't have to empty the trash to remove the app. Go to Launchpad, click and hold the app icon until all the icons start to jiggle. Then click on the X in the corner of the app icon and it will be uninstalled after you confirm.
Why We Need an App Uninstaller on Mac
From an uninstallation perspective, there's no difference in the way you treat Mac Store vs. third-party apps. But removing apps from your Mac is not exactly a straightforward process. You can certainly remove an app by trashing it and emptying the trash bin, but most apps will leave residual files that take up valuable space. Understand certain circumstances, the app won't be deleted as usual way, mostly indentified as malware, spamware or virus. Another probelm is that you won't find the app icon in Application folder so there is no way to delete it. That's why we need an app uninstaller on Mac, which can completely delete any app from Mac without leaving any trace.
No.1 CleanGeeker - Best Mac App Uninstaller in 2018
CleanGeeker was developed by the team at TunesBro, which has brought us classic Mac apps like DiskGeeker and iTunes Backup Viewer. It has an user-friendly interface with easy navigation and convenient features. The Quick Scan tool helps root out every last residual file left by apps, and it will save you a lot of memory space. There aren't any confusing settings to deal with, so even new users will find it simple to use. The best part is that the Uninstaller feature, one of most frequently tools by CleanGeeker users.
You can also keep your Mac clean by removing duplicate files, and optimizing auto-start items. In addition, it gives you a whole suite of utilities to help you manage your Mac more efficiently.

Remove any app from Mac completely.
Scan and delete junk files and app caches.
One-click duplicate file remover.
Turn off auto-start apps during login.
Free up more running memory to boost the overall performance.
How to use CleanGeeker to Uninstall App on Mac : CleanGeeker doesn't require any technical expertise to use. It is intuitive and needs minimal user input. In the Uninstaller tab, click on Quick Scan and wait for your apps to be displayed on the software interface. Select the ones you want to uninstall and click on 'Delete'. You can also choose to retain certain files if you need to, and once the apps are removed, CleanGeeker will show you how much memory you cleared up. It's as simple as it gets, but it does a thorough job of weeding out all residual app files.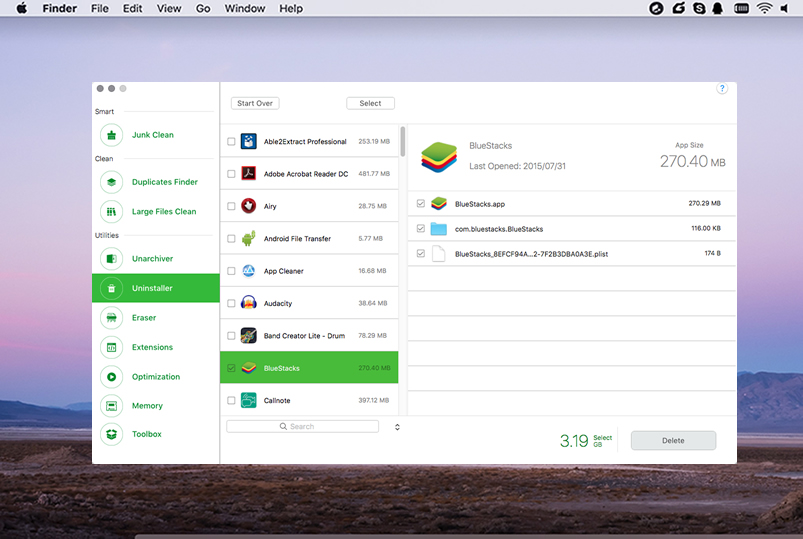 No.2 CleanMyMac X - Full Featured Mac Cleaner App ($41)
CleanMyMac X is a well-known Mac cleaner app that has a robust uninstall function. Apart from this, it also contains modules for cleaning up your memory, speeding up performance and keeping your Mac free from malware. One major claim to fame is that this app is used by Facebook, Inc. It has been developed by MacPaw, which is famous for apps like Gemini 2 and CleanMyPC. The UI is stunning and the menu is nice and clean, with categories such as Cleanup, Protection, Speed, Applications and Files, each of which has tools listed under it. The scan speed isn't as fast as CleanGeeker in the tests we ran, but only marginally so.
How to use CleanMyMac X to Delete App from Mac : CleanMyMac X is very easy to use. Just launch the app and go to the Uninstaller menu item under Applications. You'll see a button that will take you to the list of apps installed on your Mac. After selecting the app(s), you can choose whether to uninstall or do an app reset. The second option will bring the apps to their original state, and is very useful if your apps are acting funny. To uninstall, click on "Remove" and wait for the app and its leftover files to be wiped from your Mac.
Cons:
Very expensive if you're not going to use the other utilities.
No option to remove extensions
Scan not as fast as promoted.
Too laggy on old Mac models.
Open Automatically after restart.
No.3 IObit MacBooster 7 - New Generation of Mac Uninstaller ($39.95)
IObit's MacBooster 7 is a highly regarded Mac cleaning application that can remove up to 20 different types of junk files. To say that it is thorough is an understatement. The scan takes much longer that most other products, but it's definitely worth it because of how much space it can help clean up when removing apps. The UI is very professional looking, and IObit has thankfully removed the scary analog meters with unnecessary danger limits. The dark theme might not be for everyone, but the good part is that any potential issues are brought to your attention with specific details right next to the menu item in the left panel.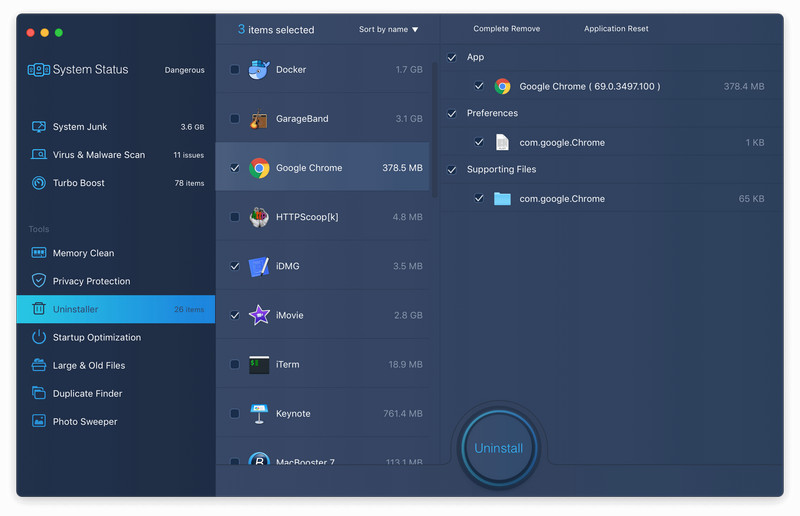 How to use MacBooster to Uninstall Mac App : MacBooster 7 brings the best of previous iterations along with improvements to the UI. The Uninstaller module can be found in the left-side menu, and clicking on it brings up a neat interface with all the scanned apps listed in the middle section, with specific file details on the right. The 'Complete Remove' option has to be selected at the top before clicking the big Uninstall button at the bottom; or, you can do an application reset to bring an app to its original state. Uninstalling will remove all app remnants.
Cons:
Marked as malware for anti-virus apps such as Avira and ESET-NOD32.
$39.95 for a single license for one Mac only.
Annoying pop-up alern when moving files to Trash each time.
Have to input a reason to delete a file on Mac.
IObit tends to use scare tactics to promote app usage.
No.4 AppZapper - A Pure App Uninstaller for Mac
As the name suggests, AppZapper is a no-nonsense app intended to remove all shred of data related to an app that's being uninstalled. The simple drag and drop interface makes it very appealing to new users, and experts have the option of retaining specific data like cache files. One very useful feature is the filter within the search function, which lets you see apps that are larger than a particular size or those that haven't been used during a specific period of time. This Hit List function will help you identify really old apps that you might not even remember installing. Also, it doesn't display any critical system files so there's no danger of accidentally deleting them. AppZapper also monitors app activity, which is quite unique in this class of Mac apps. Some users may also like the License Key management feature that tracks your app purchases and their activation codes by creating cards for them.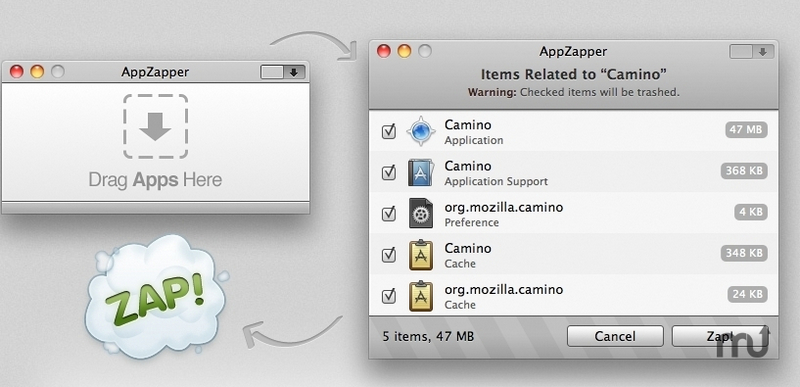 How to use AppZapper to Remove App on Mac : After launching AppZapper, you can either do a search or drag and drop an app from the Applications folder in Finder. The app will then list all the files associated with the app to be deleted. All you need to do is review the selection and hit the "Zap!" button to remove the app and all selected files associated with it.
Cons:
Limited functionality.
Out of date user interface.
App deletion incomplete.
No.5 Omni Remover 2 - A Modern App Uninstaller for Mac ($19)
Omni Remover 2 has been developed by the talented team at MiniCreo, which has previously released apps like Omni Recover and Omni Recover 2. The latest feature includes the ability to remove Sketch/Xcode Cache files that are created when these documents are modified. This is more for developers, but it does a clean job of removing installed apps, and even works with stubborn apps that won't go away with traditional uninstall methods. Case in point is apps like Kaspersky or the malware-like MacKeeper. The real-time app monitor helps manage your Mac's resources so you know what's eating up your compute power, and if any apps are misbehaving, you can reset them to their original state by repairing corrupt config files and restoring default settings.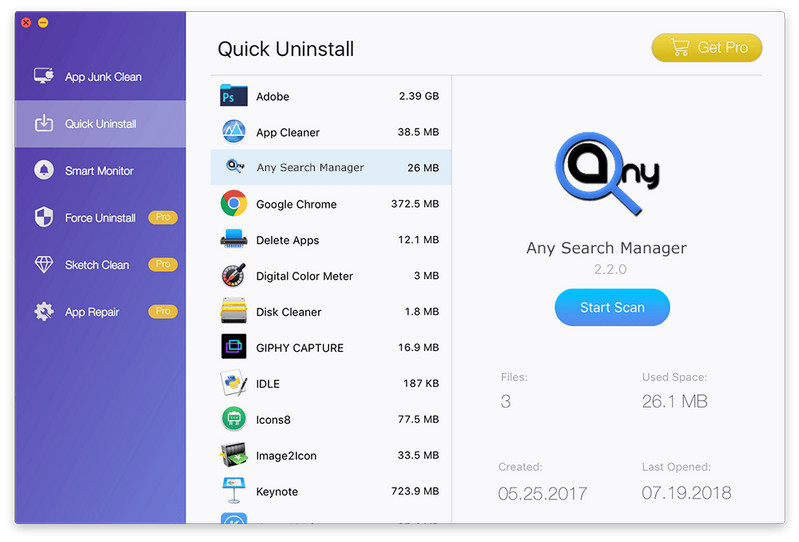 How to use Omni Remover to uninstall Mac Apps : To use Omni Remover to uninstall apps, launch the program and click on Quick Uninstall to see the list of apps on your Mac. Choose an app to to a scan for all related files, and then hit "Uninstall" to remove the app and its associated files. You won't need any prior knowledge, and the process is as simple as it gets. The additional functions are useful when you want to restore an app, initiate smart app monitoring or if you're developing Mac Apps on your computer, but the basic functions are pretty comprehensive for uninstalling apps.
Cons:
Don't expect a fancy interface with this app.
No information provided about what app junk is going to be deleted.
Free version is quite slow.
MacKeeper: Popular Mac App Uninstaller but Identified as Malware
Another possible Mac app uninstaller is called MacKeeper, which was a good candidate in the past but now becomes a malware after recent update. You can see a lot of reviews and display ads across the internet. Just stay away from it to void your Mac being infected. Once installed, the Mac is out of control! You can't delete the app in normal means. Possible malicous codes are identified by main stream anti-virus software.

Final Words:
Uninstalling an app on Mac is not a tough task but it needs further actions to completely delete the lefeover files and caches, which is can't be done in manual ways. In addition, the malware, spamware or virus is almost impossible to get them deleted by click "Move to Trash" option. That's why we need an Mac app uninstaller or Mac cleaner. It will keep your Mac clean and running much faster automatically.

---